UK pension scheme trustees now bear the responsibility to weigh ESG and climate change risks more explicitly
Key points
Trustees face new legal duties to disclose how they deal with stewardship and financially material ESG matters
The Pensions Regulator has said climate change is a core financial risk that trustees will need to consider when setting investment strategy
ESG considerations are expected to play a bigger role in manager selection and monitoring
Guy Opperman, UK pensions minister, is on a mission. And that mission has to do with climate change and UK pension schemes.
Recently, in various contexts, he has made clear that he sees the latter as having a role to play in reining in the former.
At an event during July's London Climate Action Week, an initiative backed by the city's mayor, he made an unequivocal statement. Pension funds "must play a massive role" in the 'path' the UK government is committed to after incorporating into law a target to achieve net-zero greenhouse gas (GHG) emissions by 2050.
Not long before that, in a statement about investment guidance for defined contribution (DC) schemes from The Pensions Regulator (TPR), he said schemes "have a significant part to play in tackling the climate emergency".
He linked this to meeting members' long-term interests, saying schemes should be considering how they could achieve this goal "by driving new investment in important sectors of the economy – helping to deliver sustainable environments, jobs and communities."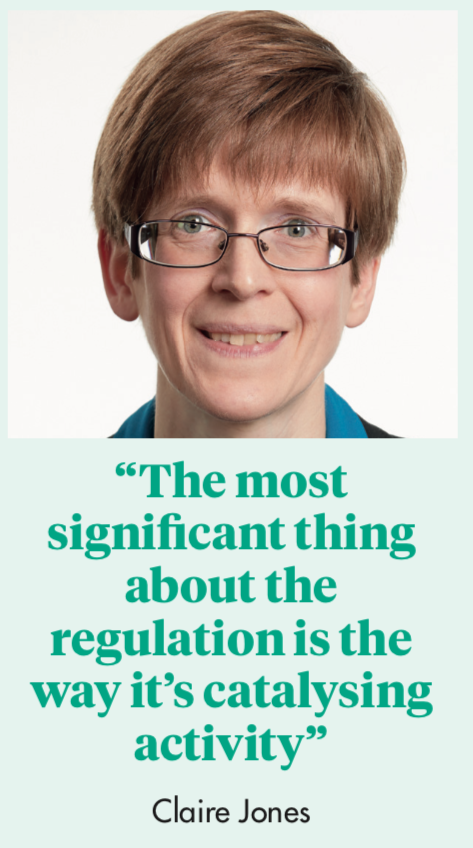 And in the foreword to a new guide for trustees from the PLSA, the UK's pension fund association, Opperman said forthcoming government action on climate change will affect the valuations of companies that are not adapting best practices. This will have implications for both DC and defined benefit (DB) pension schemes.
"Those are my beliefs – trustees will have their own," he said.
Both the TPR's guidance and the PLSA's guide are about new investment and disclosure regulations affecting trustees of DC and DB schemes. According to the law firm Eversheds, these face "ever increasing and changing new legal duties to have policies on and disclose how they deal with stewardship and environmental, social and governance (ESG) issues".
Opperman has spoken of "the government's game-changing regulations clarifying and strengthening pension scheme trustees' environmental, social and governance responsibilities".
This is a reference to amended regulations published in September 2018, which aimed to clear up apparent confusion about trustees' duties to consider ESG matters in investment.
A further set of new rules was published in June – four days before the transposition deadline – to implement the revised EU Shareholder Rights Directive. These relate to trustees' arrangements with asset managers, on which scheme statement of investment principles (SIPs) must also include policies, by 1 October 2020. The 2018 regulations require trustees to have a policy about financially material ESG considerations and stewardship by 1 October 2019.
What is in the new regulations?
From October, defined benefit (DB) and defined contribution (DC) scheme statements of investment principles (SIPs) must include policies on:
● financially material considerations, including ESG considerations such as climate change;
● stewardship of investments, such as exercising rights (including voting rights) and engaging with activities in respect to the investments;
● the extent, if at all, to which non-financial matters, such as members' ethical views on ethical or environmental matters, are considered when planning investments
● Deadline: 1 October 2019
SIPs must be published on a publicly available website:
● Deadlines: 1 October 2019 for DC schemes, 1 October 2020 for DB schemes
SIPs must include trustees' policies on arrangements with asset managers, and detail trustees' stewardship approach:
● Deadline: 1 October 2020
Trustees must report on how they have implemented the policies in their SIP (DC schemes to report on all policies, DB reporting scope is narrower):
● First annual report prepared by the scheme after 1 October 2020. Must be published online, although DB schemes have until 1 October 2021 to do so.
Food for thought
Simon Daniel, a partner at Eversheds, says requirements for DC and DB schemes are "gradually aligning through the levelling up of DB requirements, because policymakers probably don't have so much regard for the distinction between DB and DC and look at everyone as an institutional investor"
Getting on board
Focusing on the new requirements with the earlier deadline, the message is that their importance lies in making ESG a higher priority for pension schemes, at least for those where is not already integral.
Claire Jones, head of responsible investment at LCP, says: "When you look at the detail this is more of an evolution of market practice that started some time ago, and the most significant thing about the regulation is the way it's catalysing activity."
Sophia Heathcoat, client strategist at Cardano, has been working with trustees to meet the new requirements, and says the level of engagement has been encouraging.
She says: "Historically people thought [ESG] was a green issue, or tree hugging, whereas now people understand that by talking about ESG we're talking about understanding the risks facing investments that are being held in the portfolio. Trustees are on board with that."
Cardano finds that providing trustees with a draft SIP helped engender a robust debate.
Heathcoat adds: "You can't put a blank sheet of paper in front of trustees and say 'come up with a policy' or 'what are your beliefs on this or that'. If you put a suggestion forward it's easier for them to say 'I disagree with that' or 'I like what you're suggesting but I want to take it that step further'."
Huw Evans, director at BESTrustees, says the new requirements are "making trustees discuss ESG".
"The ESG investment process is likely to change materially in the next few years. Trustees need to take back control and hold their investment consultants and investment managers to account on ESG"
Vassos Vassou
He says: "Hitherto having sort of broadly decided they were in favour of ESG they would then leave everything to their fund manager. And now what they're being told is, in effect, 'you need an audit trail that shows you thought about this and that you challenge the fund manager and if someone were to challenge you you could explain what you've done about ESG'."
Jones paints a similar picture. "One of the common actions that I'm seeing being put into SIPs is a commitment from trustees to explicitly consider ESG factors when they are appointing and monitoring investment managers, so there will be increased focus on what managers are doing," she says.
"In the past, it was quite common for trustees just to leave their investment managers to get on with it and assume that was taken care of, but it's now pretty clear that that really isn't acceptable. Trustees ultimately are responsible for what asset managers are doing on their behalf and so they do need to be taking an active interest in what the managers are doing on ESG."
According to Aberdeen Standard Investments' website, the changes to the SIP regulations "present a real opportunity for trustees to improve how they communicate with their underlying managers".
The note continues: "Further, they are a concrete way for trustees to demonstrate what they expect of their underlying investment managers in terms of how they integrate material ESG considerations into their investment decision-making."
Vassos Vassou, senior trustee representative at Dalriada Trustees, says it is time for trustees to "take control" of ESG.
"Trustees need to appreciate that ESG is here to stay," he writes in a blog post.
"The ESG investment process is likely to change materially in the next few years. Trustees need to take back control and hold their investment consultants and investment managers to account on ESG."
He says he has heard many investment consultants telling trustees "to add vague words to the SIP so they are compliant with the new requirements. These are wishy washy statements at best, meaningless at worst, and make investment consultants appear weak on ESG," he writes.
Lawyers at Herbert Smith Freehills have warned trustees against seeing the new requirements as a tick box exercise. In an online note about the changes falling due on 1 October 2019, the firm says they "need to consider how they can demonstrate that they are taking ESG factors seriously, as the risks associated with paying lip service to them are increasing".
They point to the case of activist law firm ClientEarth, which in the UK is supporting members who are requesting information about their scheme's approach to ESG matters and threatening legal action if the response is inadequate.
"A similar threat has materialised for the Retail Employees Superannuation Trust in Australia," they add, "where a member is taking the trust to court for failing to disclose information on the potential impact of climate change on his investments and how the trust is addressing this."
Climate change
Mark Tennant, chairman of the £8bn (€8.8bn) Centrica Common Investment Fund, views the SIP requirements through the lens of climate change. Specifically, he looks at them in terms of how they can help achieve the government's 2050 net zero emissions goal.
His verdict is that the regulations "are fine as far as they go, but they don't get us to where we need to go". He argues that they rely on fund managers deciding that a potentially successful long-term fight against climate change will "increase the risk of taking this investment by x".
"That's a very difficult thing for a fund manager to do. I don't think there's anything wrong with it, I just don't think it gets us to where we need to get to."
According to Tennant, pension fund trustees should put pressure on fund managers to ensure the companies they invest in report a "properly annually audited carbon footprint" and that it gets smaller.
Tennant's idea is that if a company fails to cuts its emissions and is then forced to buy carbon credits "then it hits your bottom line and at that point it becomes clearly part of the financial considerations that the investor would look at, in the same way it might look at the deficit of a DB scheme in company accounts".
In the UK, quoted companies already have to report their greenhouse gas (GHG) emissions, although assurance is not a regulatory requirement. According to academics Valentin Jouvenot and Philipp Krueger at the University of Geneva, since the introduction of the UK's carbon disclosure legislation, UK firms have reduced their relative and absolute GHG emissions by 16% more than firms listed on other European stock exchanges over the same period.
Climate change, an example of an ESG consideration in the 2018 investment regulations, is addressed by TPR in its guidance for DC scheme trustees. The regulator says trustees should consider talking to their advisers and asset managers about how climate change risk is built into their recommendations and what, if any, measures are taken to reflect it within portfolios.
However, it acknowledges that climate change – and other macro-economic, systemic risks – "cannot be sufficiently hedged through portfolio construction and asset allocation alone" and says that trustees should also consider "how engagement could be used to mitigate these risks by engaging with investee companies, policymakers and collaborative industry initiatives".
From this perspective, it would seem that ESG-related investment regulations can be no substitute for governments regulating more directly for carbon.
UK: ESG moves up the trustee agenda
1

Currently reading

UK: ESG moves up the trustee agenda

2

3

4

5