Asset management offers poorer value for money than other service industries, if IPE's latest Focus Group survey results are anything to go by. Eighteen out of 36 respondents feel that it is worse while only 10 feel that it is better. Passive management is considered best in terms of value for money and investor-friendly fee structures, followed by benchmarked long-only active management and smart beta. Private equity and especially hedge funds are seen as the worst offenders.
Sixteen respondents think ad valorem management fees should get lower as an asset manager's assets under management (AUM) grow. "An ad valorem fee (if accompanied by a performance fee) should represent the opportunity cost to the manager of running that additional portfolio, and not a source of 100% additional profits," said one UK fund. "Cost savings should be shared among all clients in that strategy." As another UK fund put it: "The size of assets under management does not correlate with the costs of managing those assets – the infrastructure to manage £10bn (€12.3bn) is not 10% more costly than running £9bn."
Two-thirds of respondents like the idea of performance fees – and three-quarters think they are suitable for all types of investment strategy – but the other third does not necessarily agree. Most point out the risk of perverse incentives. "Outperformance is at least partly luck," said a Dutch fund. "This should not be incentivised because of possible perverse incentives. We only hire good managers and pay them a fair fee. They should deliver outperformance, otherwise we will fire them."
Peter Borgdorff, director at PFZW, has gone on record to suggest imposing penalty clauses in asset management fee structures that kick in following long-term underperformance. Over 70% of those polled think this is a good idea. "The pension fund is the only party paying the losses caused by a badly performing asset manager," observed one Belgian fund. "With this approach the asset manager is in the same boat." A Latvian fund agreed: "Long-term underperformance can lead to clients leaving the pension fund, or create problems for defined benefit plans. Thus the financial cost of poor results must also be felt by [the] asset manager." A Swedish fund thought this could complement the practice of redeeming funds.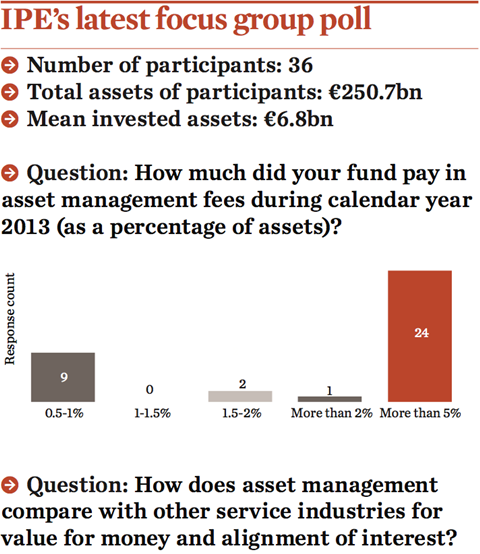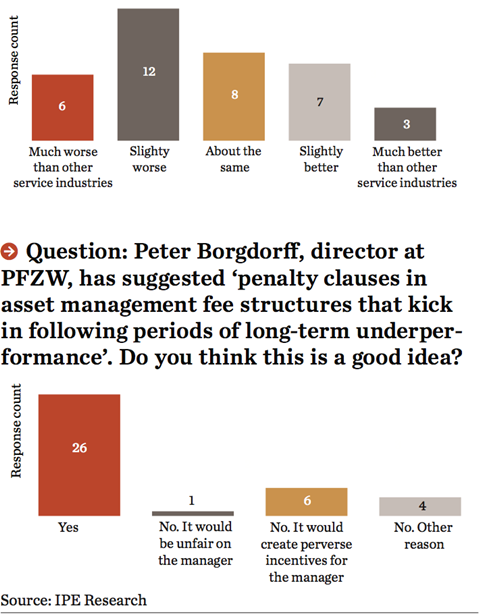 When it came to penalty fee structures, few were in favour of withholding management fees; most focused on adjusting the performance fee. Ten suggested holding fees in an escrow account, to be used as a 'top-up' fund in the event of NAV falling below its initial level; nine suggested that performance fees might be negative as well as positive; eight simply recommended longer-term performance fees. Some pointed out that different structures might be suitable for different strategies.
"The bonus-malus fee should be paid after each year," a Dutch fund countered. "However, it should be based on the service-level agreement (SLA) items between the parties. One of the SLAs could be the return outperformance versus a benchmark taking the risk into account. For this I would suggest a high watermark."
Looking at alignment of interest, 24 of 37 respondents prefer a fund whose portfolio manager invests personal wealth with them – three would never invest in a fund otherwise. A Dutch fund stated: "For us, it is important a manager invests his personal wealth if the fund is a hedge fund, a private equity fund or any other alternatives fund for which high fixed fees plus performance fees are paid." Six funds think it is important to address this issue according to the specific product and asset manager, and a further six said simply that the way managers invest their personal wealth is not relevant to their own fund's investment process.