Pensioenfonds Metaal OFP, the second-pillar fund for the Belgian metal industry, has recently turned 15 but already behaves like a seasoned investor. Greet Grauls (pictured left), finance manager, and Jan Frederickx, operations manager, tell Carlo Svaluto Moreolo about the scheme's strategy
Only 15 years after its foundation, Pensioenfonds Metaal OFP, the second-pillar sector pension scheme for Belgium's metal industry workers, is coming of age. It is the largest industry-wide pension scheme in the country in terms of assets under management.
The €1bn DC scheme is growing fast, primarily thanks to contributions, which come solely from employers. This means it has to diversify the portfolio, which is broadly split between bonds, equities and infrastructure.
The scheme has undergone a natural transformation from a small scheme with few internal resources, to a larger, well-equipped and forward-looking institution.
More importantly, despite its age, Pensioenfonds Metaal OFP has embraced investment in infrastructure and the domestic real economy within its long-term strategy. This places the scheme ahead of many of its peers.
Pensioenfonds Metaal OFP was set up by employers and trade unions in the metal industry in 2000. Since then, it has provided complementary pension plans to more than 360,000 workers of over 12,000 companies. Currently, the scheme has about 125,000 active members, and 210,000 deferred members and covers 5,800 employers.
From a pure investment point of view, 15 years is a substantial track record. But operations manager Jan Frederickx and finance manager Greet Grauls see the scheme as a young venture, still working through its infancy. This view is linked to the scheme's youthful age profile, which is an important strategy driver.
Legally, the scheme has to meet a minimum guaranteed rate of return. This fluctuates between 1.75% and 3.75% and is based upon the two-year average yield of 10-year Belgian sovereign debt. For 2016, the rate was 1.75%, a decrease from 3.25% in 2015.
Frederickx and Grauls explain that the scheme's long-term investment goal is to achieve a high long-term average return, while minimising risk. This as a priority more than reaching double-digit returns over the short-term.
The scheme's investment portfolio was launched with assets of about €50m. The board initially selected four investment managers, opting for an active balanced approach that would provide a sufficient level of diversification.
The initial portfolio allocation consisted of 60% bonds and 40% equities, based on an asset-liability management (ALM) study. As the assets reached critical mass, the board identified an opportunity to move from balanced investment management mandates to more specialist ones.
Subsequently, the board created a new internal investment management role to reduce its reliance on external consultants and a finance manager role to implement the scheme's investment strategy.
Grauls was appointed finance manager in 2004. During that year – which Grauls sees as a milestone for Pensioenfonds Metaal OFP – assets reached €200m, thanks to annual inflows of contributions totalling €50m.
Grauls, previously an investment officer at telecom giant Belgacom, took control of the scheme's investment management.
This involved increasing its in-house investment capabilities, from manager selection and monitoring to performance reporting. The other priority was restructuring the investment management strategy, replacing balanced with specialist mandates.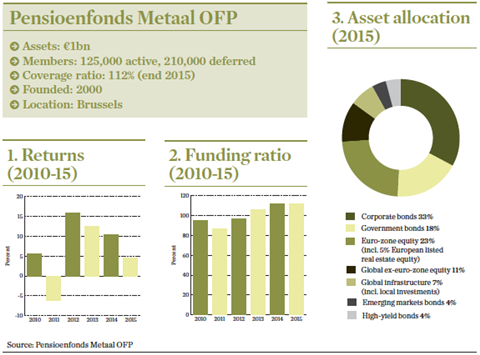 Under Grauls' leadership, the fund has added a number of sub-asset classes within the strategic 60/40 allocation. Manager searches are carried out internally, often using IPE Quest, the manager search platform.
Keeping asset management costs low has been a primary concern, and Grauls says the fund has been successful. It has been easier, she points out, to renegotiate fees with local asset managers than international ones.
In 2007, the board set up a financial committee. This bought together the finance manager, as well as board members and external advisers. In 2014, the board entrusted Grauls with greater responsibility and hired a deputy finance manager.
Grauls says the financial department will be further developed, and more financial management tasks will be insourced. These include researching the benefits of currency hedging and other overlay strategies, as well as public-private partnership agreements. Consultants will be employed on an ad-hoc basis.
By the end of 2015 assets had surpassed €1bn. The scheme's strategic asset allocation has remained stable throughout the period, based on the ALM studies carried out every three-to-five years.
The last ALM study, a collaboration between actuary firm Conac and Willis Towers Watson, was finalised in 2012 and confirmed the 60/40 allocation. However, due to the unusual circumstances in the fixed income markets, the scheme decided to introduce a tactical element to the investment strategy.
The financial committee took its first tactical steps in 2013, reducing the exposure to fixed income to 50%. Grauls explains: "These past years, the circumstances have been quite challenging. Interest rates are very low and the creditworthiness of a number of countries has been brought into question."
The finance manager says the move has borne fruit. From a tactical point of view, exposure is still tilted towards equities. This year the scheme will carry out a new ALM study, and Grauls is unsure whether the tactical positions will be retained. The current market conditions suggest that might be the case.
However, according to Grauls, one of the goals of the next ALM study is to diversify the portfolio. A likely proposed solution to increase the portfolio's sources of risk and return will be investing in alternative assets. Other than some infrastructure and listed real estate investments, Pensioenfonds Metaal OFP does not have any alternative exposure.
Frederickx and Grauls pride themselves on the scheme's exposure to domestic infrastructure. Grauls says: "For years, our goal has been to play a role in the development of social and environmental infrastructure."
In 2011, Pensioenfonds Metaal OFP was among the first Belgian funds to invest in local infrastructure, when it signed a partnership agreement to support infrastructure in Belgium and neighbouring countries in the form of the PMF Infrastructure Fund. It provides the scheme with a portfolio of loans and equity in local renewable energy and infrastructure projects. Pensioenfonds Metaal OFP is the main investor in the fund. Later, in 2014, the scheme invested in a sport-related infrastructure project in Belgium.
Both projects can be classed 'impact investing', referring to investments made to generate a measurable, beneficial social or environmental impact alongside a financial return. It is a more focused component of the ESG universe.
A recent addition to the 'impact investing' portfolio, dating from the end of 2015, is a €40m commitment – consisting of both debt and equity – to local small and medium-sized enterprises. The stated objective of this investment is stimulating national employment, not only in the metal sector.
Grauls says: "We try to stimulate local sustainable projects that can have an impact in terms of environment, employment and social services. If you look at the three projects amounting to about €80m of commitments within the total portfolio, we see it as a sizeable exposure."
The remainder of the portfolio is split between bond and equity mandates. Currently, the scheme has four bond mandates with Deutsche Asset & Wealth Management (DeAWM). The mandates are implemented through segregated accounts and cover the whole fixed income portfolio.
DeAWM manages a global sovereign fixed-income portfolio, a global corporate bonds portfolio, an emerging market portfolio consisting mainly of sovereign bonds, and a global high-yield portfolio.
Three firms manage the equity portfolio. Degroof Petercam and Alliance Bernstein (AB) each manage an individual active equity portfolio with a value style tilt. Degroof Petercam focuses on euro-zone equities, while AB oversees a global ex-euro-zone portfolio.
The scheme has also chosen two Northern Trust institutional funds to implement a passive global equity portfolio, with a combined growth and value style tilt.
The remaining assets are invested in a global infrastructure listed equity portfolio and a listed European real estate equity portfolio. US real asset specialist Cohen & Steers manages the global infrastructure equity portfolio and AXA Investment Managers manages the real estate. In 2013, the fund selected Cohen & Steers, having opted for an actively managed specialised mandate to invest in shares in infrastructure. The listed infrastructure mandate was initiated to maintain, in a flexible way, the 6% target infrastructure allocation that resulted from the 2012 ALM study. This allowed the scheme to research more local projects.
Grauls says that the board's long-term vision underpins investments, both in local projects and traditional asset classes.
However, the scheme is willing to adapt to changing market conditions to meet long-term objectives. Grauls says: "In the short and medium term. a combination of growth and value could bring more stability in the expected return." That is the reason why the passive style-neutral equity mandate, awarded to Northern Trust, was added.
The key development of the last two years, according to Grauls, has been the evolution of the funding ratio. It went from a low point of about 80% in 2009 to a high of 121% in the spring of 2015. At the end of 2015, however, it was back at 112%, where it started the year.
Under Belgian pension regulation, depending on the plan specifics, schemes have to stay above the 100% coverage ratio. The country's financial services and markets authority, FSMA, can impose recovery plans upon non-compliant funds, which can include cash injections from the sponsors.
Pensioenfonds Metaal OFP spent a long period, from 2008 through to 2012, below the 100% funding mark. "But since we are an ongoing concern, a young scheme, with much larger inflows than outflows in the upcoming years, we were given the chance to recover gradually," says Grauls.
Although, the funding ratio is back on track, the scheme is not prepared to increase its allocation to risk assets. The finance manager says: "A surplus of 12% is not that high. When markets move as widely as we have seen recently, the funding ratio can decrease quickly."
Instead, the scheme will lobby for what it sees as more sensible pension scheme regulation. Grauls explains: "We are not an average pension fund. As an industry-wide pension fund, we cannot get direct sponsor support. It is difficult to ask the thousands of companies to contribute more in times of turmoil in financial markets." That, she notes, would be a countercyclical move.
The issue, Grauls argues, is whether a young pension scheme such as Pensioenfonds Metaal OFP should aim for 100% coverage at all times. "We have big inflows, and a long-term plan. We don't believe we should be focusing on the short term. We believe the rules should be defined on a case-by-case basis depending on the characteristics of the fund," she concludes. As a large, and unique, Belgian pension scheme, Pensioenfonds Metaal OFP is compelled to participate in the regulatory discussion.
Despite being young, Pensioenfonds Metaal OFP could be seen as part of a dying breed of industry-wide, equal employer/employee representation schemes. Many are still found in the Netherlands, Germany and Italy, but they are struggling to keep afloat, as the evolution of pension systems speeds up, and different arrangements replace these institutions.
One way to protect the model could be increasing those pension schemes' involvement in domestic economies. Pensioenfonds Metaal OFP is pursuing that idea with conviction. If the idea proves right, the scheme will find a reliable driver of growth.