Andrea Ash (pictured), investment director at RPMI Railpen, tells Carlo Svaluto Moreolo about the UK pension fund's private markets strategy
The impact of Brexit might be the dominant theme within mainstream discussions on the UK economy. However, there are several trends that could have just as transformative an impact. Perhaps the most significant is the fading power of banks. Until the financial crisis their dominance as providers of credit to the economy was unchallenged. Today, partly owing to regulation that curtails their ability to lend to businesses, banks are gradually giving way to other players.
UK pension funds are at the centre of this structural shift. They are already significant equity investors in private markets such as infrastructure, real estate and the small and medium enterprise (SME) sector. Bank retrenchment leaves ample opportunities for them to invest in private debt, which offers higher yields at relatively lower risk than public debt. The shift is happening so quickly that strong competition for private debt investments is already putting spreads and lending standards under pressure.
To gain a competitive edge in the sector, some UK pension funds are growing their internal investment capabilities in private markets. Railpen, the £28bn (€32bn) pension scheme for the railway sector, one of Britain's largest pension schemes, recently hired a new investment director for its private markets team. Andrea Ash's appointment was part of a larger programme to bring the bulk of the scheme's asset management capabilities in-house that began in 2014. As part of the programme, Railpen's investment committee was replaced with the Railpen Investment Board, an entity with full delegated authority to invest the scheme's assets.
Ash joined Railpen in November from Tesco Pension Investment, the supermarket chain's pension investment operation, where she spent more than three years managing alternative investment funds. She has worked in the financial services industry for over 15 years and has focused on alternative funds since 2006. Today, she works alongside colleague Richard Moon, reporting to Paul Bishop, Railpen's head of private markets.
The private markets team is responsible for about £4bn in assets, including a multi-asset Illiquid Growth Fund. The fund has two key areas of focus: a core portfolio that invests in private equity, primarily buyouts, and private debt, and an opportunistic portfolio that looks to capture long-term market trends, regardless of the asset class.
The pension scheme has made no secret of its plan to grow its private markets investments. Richard Williams, Railpen's CIO, said last year that the organisation had hired more than 10 new staff, including Ash, for the private markets team. The CIO added that, owing to its unusual status as an open and relatively immature defined benefit pension fund, Railpen was encouraged to invest in long-term, uncorrelated assets. Williams suggested that the scheme would raise its risk exposure to private assets and change the way it had invested in private markets so far.
The challenge for the organisation is two-fold. One one hand, it has to keep learning new ways of accessing private assets, given the dynamism of the market. At the same time, it must be vigilant as the credit cycle runs its course.
Ash first wanted to conduct a deep review of the market. Private debt is more than direct lending. "The aim was to strategically lay out the alternative credit space for us," she says. "The questions that I posed to the team were: how do we think about credit? What can it do for our clients' portfolio? How do we break it down? Where are we today, where do we want to be, and how do we get there?"
Ash says the process was designed to provide a top-down assessment of how the various opportunities behave along the growth cycle. This is a requirement for building a strong alternative credit portfolio. "The beauty of credit is that there are a lot of different sub-strategies with various risk-return factors. There can be notable risk and return asymmetries between the strategies – therefore, different strategies can blend together across a cycle. If you can get the strategy mix right, you are 60% of the way there."
Investors may be tempted to focus on predicting how the growth cycle will develop, but that is notoriously difficult. Ash says: "We believe it is less about trying to time the cycle, and more about getting the portfolio mix right and being in a position to take advantage of opportunity as it arises. Take the example of distressed debt, which is drawing a lot of interest at the moment because investors are worried about the end of the cycle approaching. When the cycle turns, distressed debt can give a real return kicker in a recovery, but it is a bit like trying to catch a falling knife."
Other strategies are less cyclical, points out Ash. One such strategy that she considers attractive is regulatory capital, or the provision of capital to banks so that they can meet their capital thresholds. "That is less about the credit cycle and more about picking up a premium, akin to an insurance premium," she says.
Railpen's preferred approach to asset allocation is flexible, rather than highly dynamic. "I'm looking to adopt the most flexible approach to invest across asset classes, but it is different to a traditional multi-strategy approach. There are many synergies between all the myriad sub-sectors that you can invest in. From corporate credit to real estate debt, the idea is being able to flex across different parts of the broader alternative credit space, such that, hopefully, one experiences less cyclicality."
The scheme is ready to start making new investments, says Ash, and the good news is there is capacity to grow the private credit portfolio.
As Ash says, however, getting the strategy mix right is only half of the job. The other key part of the job is getting the implementation right. This is challenging at the moment owing to the significant growth of alternative credit.
"A lot of money has flown into the sector, which has become somewhat crowded as a result. This is not atypical of when asset classes or strategies do well, but it does mean that selecting a partner becomes ever more important , especially at the top of a cycle."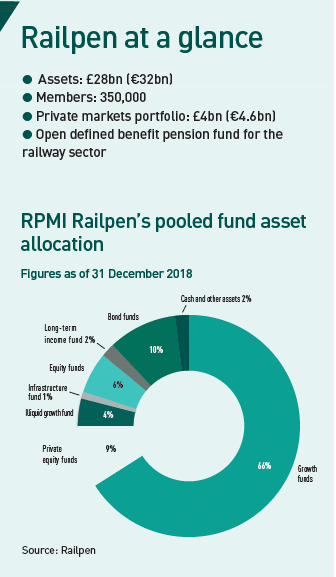 This point is particularly relevant for direct lending. "Investors seem concerned that this asset class may have become riskier, partly because returns have come down significantly from the double-digit numbers that were available on an unlevered basis until a few years ago. You could also argue that direct lending no longer provides the illiquidity premium versus public markets."
But, she says: "We still think the asset class definitely has a role to play in a private debt portfolio and that is why we keep our current exposure to it."
When investing through funds, Ash favours those managers who have operated throughout a credit cycle. "That is really important for me, because the downside on performing credit assets is potentially significant. I actually like to see people who have lost money. Understanding why a manager has lost money is equally important," she says.
"If you can get the strategy mix right, you are 60% of the way there"
There are fewer such managers than one might wish, according to Ash: "If you are looking for a track record that is long enough, that wipes out a large portion of managers."
"I like to see that managers have an in-house restructuring capability. Some may have a distressed business, which the direct lending team can leverage off. Some may have independent portfolio managers that focus on restructuring. Some manage investments from cradle to grave, meaning from origination to workout."
At the same time, Ash prizes a degree of "emotional detachment" from investments. "A manager's ability to get a fresh set of eyes to analyse the credit is quite important for me. It's also important to remember that when things go wrong, workouts can take a lot of time, but a manager still has to do the day job alongside the workout process. Resources are very important."
Managers can have different attitudes towards leverage, says Ash, but leverage matters, particularly in view of the maturity of the current cycle. "Given where we are in the cycle, if I was going to add leverage, I would prefer to take it on the senior paper, than the intrinsic leverage offered by positions lower in the capital structure. Leverage preferences obviously depend on an investor's needs in terms of yield. If one is happy with mid-to-high single-digit returns, then leverage is not necessary.
"But it comes back to our approach of building different factors into our portfolio," she says. Her intention is that Railpen's private debt portfolio will be flexible in terms of leverage, depending on the underlying strategy or asset.
A similar logic applies to covenant protections, which have declined across the private debt sector, albeit to different extents. Ash says: "Covenants are a key concern, particularly in the direct lending space, but it generally depends on where you are looking to invest. Cov-lite is less common in Europe, although growing, and even in the US, where it's more common, there is a range of approaches to covenant."
"I've spoken to managers who absolutely will not do cov-lite and to managers who would do cov-lite with the right company, rather than picking a worse company with a stronger covenant. Even with covenants, the approach is important. LPs shouldn't feel safe simply because there are covenants in a deal. How those covenants are set is equally as important."
Ash is not suggesting that Railpen forecasts an imminent end to the credit cycle or a sudden rise of corporate defaults. Ultimately, private debt assets, even the most illiquid, should be more resilient than listed assets. "I find it interesting when people express concerns on direct lending spreads being too tight, yet they are still adding to equity buyout strategies." she says. "When the cycle turns, equities will suffer first. That is not to say private debt will not be affected, but probably to a far lesser degree than listed equity assets."
Speculation aside, and despite the pressure on yields, it is an exciting time to be active in private markets. Railpen is neither the largest pension fund nor the largest private market investor in the country at present, but it is seriously committed. It is likely that the scheme will increasingly take centre stage in this dynamic market.