How We Run Our Money: Stapi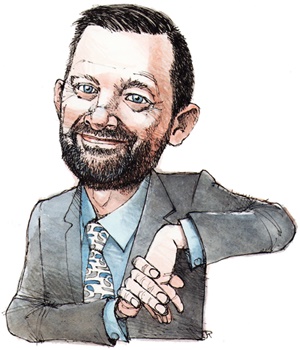 Arne Vagn Olsen , CIO of Stapi (pictured), tells Carlo Svaluto Moreolo about the pension fund's asset allocation strategy as the capital controls on Icelandic pension funds are gradually lifted 
The life of Icelandic pension funds may soon return to normal as the capital controls in place since the 2008 financial crisis are gradually lifted. This January, the Central Bank of Iceland announced that pension funds would be allowed to invest a total of ISK20bn (€141m) overseas for the first four months of 2016. The actual amount allocated to each fund is a measure of size and annual inflows. This follows another exemption last July. 
For Stapi, the ISK157bn pension fund based in Akureyri, a town in the north of the country, the share of the total will be 0.5%. "But, it definitely a step in the right direction", says Arne Vagn Olsen, CIO of Stapi. "I wouldn't be surprised if the central bank provided similar-sized exemptions for the following quarter. The economic situation is quite favourable for the lifting of the controls. We have had a huge inflow of funds through the tourism sector that has strengthened the krona. So it would be positive to get some money going in the opposite direction to stabilise the currency", he says.
Within the limits imposed by the capital controls, Stapi has tried to diversify its portfolio. "We always need to balance our assets and liabilities, and think in terms of liability-driven investment (LDI) to an extent", says Olsen. Like most Icelandic pension funds, the scheme is a private entity that provides hybrid defined benefit (DB) and defined contribution (DC) pensions. If liabilities exceed assets, Stapi can cut benefits.
In this context, diversification is key. The CIO stresses that it is important for Stapi and its peers to increase the allocation to overseas assets. "We are not going to jump from, say, a 25% to a 50% allocation to overseas assets in one year, but gradual exemptions would definitely help us in terms of portfolio diversification", he says.
Stapi at a glance
• Assets: ISK157bn (€1bn)
• Members: 87,446 (active 
• Hybrid defined benefit (DB)/defined contribution (DC) scheme
• Location: Akureyri, Iceland
• Founded: 2005
It is hard for Olsen to say, at this point, how Stapi's portfolio will be reshuffled as the capital controls are lifted. It is likely, however, that the fixed-income portfolio will not be restructured. This is mainly invested in Icelandic fixed income, an asset class still providing attractive returns. Many European pension funds would like to be in the situation that Stapi finds itself in: "We are getting a 6% nominal yield on 10-year government bonds. That is in an economy that is growing at 4% with low unemployment. And I believe our ratings may be revised on the upside soon. That is a strong yield for a stable economy. I'm not sure that we would reshuffle that part of the portfolio when the controls are lifted," says Olsen. The demographic trends, he adds, are supportive of the country's growth prospects.
In the post-crisis years, Stapi has focused on Icelandic bonds. The allocation to domestic fixed income, including government bonds and corporate credit, covers 50% of the portfolio. "Focusing on domestic fixed income means that our risk level generally dropped in the past few years. We have tried to make up for that by taking slightly more risk overseas than we would normally do," the CIO says.
Since the capital controls prohibited pension funds from investing new assets overseas, Stapi has focused its overseas allocation on equity, both public and private. 
At the end of 2015, 25% of assets were invested abroad, mostly in equity. Half of this is invested in private equity. Olsen says: "We look at public and private equity as the same asset class. We see them as providing the same underlying risk exposure. The difference is that you get a daily valuation on public equity and a quarterly one on the unlisted part."
Investing in real assets, mainly in a private equity context, has been important during the capital control years. It has helped funds diversify risk away from domestic fixed income and public equity. 
Investment in private equity has become a pillar of Stapi's investment philosophy, and Olsen shared that belief before joining the fund in 2012. He says: "The main purpose of allocating to private equity is to generate outperformance compared to public markets."
However, Olsen says the fund has been reluctant to invest in infrastructure. "We have not yet found suitable vehicles to invest in infrastructure. But, I think that is an asset class we, as an investor, need to invest in going forward. This is becoming a topic of discussion. There is a need for Iceland as a country to invest more in infrastructure."
But the line between infrastructure and private equity is blurred, suggests Olsen. He says: "From a buyout perspective, we have invested in some interesting companies, both through funds and co-investments. We have been quite active in that space."
Stapi also has exposure to real assets through real estate, according to the CIO. Investments in this asset class have been deployed in various ways, including public equity and non-listed vehicles. 
Olsen explains that there is a tactical element within Stapi's asset allocation. Once a year, the fund carries out a "deep and heavy" analysis of the portfolio and the markets: "We look one to three years ahead of us, and those views will inform our investment policy for the following year. Our goals will be reflected in a benchmark and a series of investment restrictions."
Although the long-term view is reviewed annually, the board will reassess its views outside of the reviews, if a situation calls for intervention. Olsen explains: "If things change rapidly, and we need to develop a new approach, for instance as the capital controls are lifted, we will resume the discussion."
The tactical allocation can change more often. "We have quite deep discussions every quarter, and 'lighter' discussions every month, to monitor how the markets are moving. We regularly shift our portfolio based on our tactical views. It can happen every three months. The tactical views we take can have a two to four months' horizon."
This approach entails internal management of a large portion of assets. "Within Iceland, we do more or less everything in-house. A smaller part of the fixed income portfolio is outsourced. We obviously outsource the management of our unlisted assets, where we commit to specific funds, for instance buyout funds or real estate assets."
Stapi's overseas exposure is fully outsourced. Olsen adds: "We may allocate to some regions through an ETF [exchange-traded fund], which we can do internally. But we are not stock-pickers. Our internal work is focused on picking the right managers for overseas assets." 
Three professionals, including Olsen, work within the investment team. Olsen looks after the overseas portfolio. The responsibilities are then split between fixed income and private equity and alternatives. "We all take equal part in the discussion on strategic and tactical allocation. Our CEO is also part of the asset allocation discussion."
"We are not going to jump from, say, a 25% to a 50% allocation to overseas assets in one year, but gradual exemptions would definitely help us in terms of portfolio diversification"
One of the main conclusions from recent asset allocation discussions is that the scheme will face increased market volatility, says Olsen. This may lead the scheme to alter the split between active and passive management within the equity portfolio. 
"In our public equity portfolio, we follow a core/satellite approach. The core is invested passively, through index funds for instance. The satellite part is mostly invested through active equity funds, but also tactical or regional funds, which can include ETFs. The ratio between the core and satellite parts is 70/30. But it is not a fixed ratio: we can fluctuate. Recently, we have increased the active part."
That shift towards active management may intensify, given market volatility. "We believe the volatility should increase the likelihood of an active manager producing alpha outperformance", says Olsen.
Asset managers working with Stapi must take into account its ESG policy. "We follow an internally-designed ESG policy. We also try to make sure that our overseas managers have the same. Decisions on individual stocks are made on a case-by-case basis. The policy is on our website for everyone to see," says the CIO.
As the capital controls are lifted, the investment climate will warm up for Icelandic pension funds. From its northern base in Akureyri, Stapi is ready to make the most of the improved climate. 
What remains to be seen is how quickly the controls will be lifted. The quota system means each pension fund can only allocate a very small part of the portfolio, if the exemptions are granted in similar sizes going forward. But Olsen is hopeful: "The government may decide to lift the controls altogether at one point in time."