Good relationships can last

Our pension scheme has invested in hedge funds for more than 20 years and we have invested with some of our managers for that long. We expect to maintain an allocation to hedge funds for the foreseeable future. At the end of the last quarter we had 3.22% of the assets allocated to hedge fund strategies. The strategic allocation to the sector is 4%, so there is capacity to increase it. The purpose of the allocation is to enhance returns by selecting strategies with low correlations to equity and fixed income markets.
The portfolio consists of a fund of funds, as well as direct hedge fund investments. The manager of our fund of hedge funds conducts operational due diligence on our behalf on strategies that appeals to us. The fund of hedge funds is invested in several strategies. Our direct hedge fund investments are also diversified, consisting of emerging market debt, US high yield, European long/short equity, UK long/short equity, CTA [commodity trading advisers], alternative-beta as well as an emerging market multi-asset strategy.
Over the past two years, we have divested from global macro strategies, added alternative beta and emerging market multi-asset strategies and introduced UK equity long/short.
Since the end of last year, absolute returns from hedge funds have been generally poor, primarily due to a lack of volatility that is required for finding trading opportunities. However, on a relative basis, our hedge fund portfolio has performed well versus industry benchmarks such as the HFR indices.
This year, there has been a marked increase in average performance, although there is notable dispersion within the portfolio. For instance, the European equity long/short strategy is outperforming significantly, as is the emerging market debt one, whereas the UK equity long/short strategy is significantly underperforming.
Performance and costs are a concern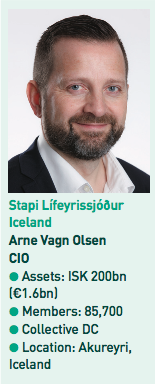 We currently have a legacy portfolio of hedge funds, which amounts to about 1% of overall assets. Prior to the global financial crisis, the plan was to use hedge funds to mitigate the volatility of our public equity portfolio But that programme had to be put on hold due to the capital controls that were put in place after the crisis in 2008.
Now the capital controls have been lifted, we have to decide whether we will grow the hedge fund portfolio or divest in entirely to focus more on other alternative assets.
Our hedge fund portfolio has delivered below our expectations over the past years and has not provided the risk mitigation benefits we were hoping for. That is probably linked to the financial crisis, which has changed everything. At the same time, we have become more cost aware and hedge funds are typically the most expensive asset class you can invest in.
Regulation is changing the sector, too. If you compare some pure strategies to their UCITS format, the track record and the characteristics are not the same. This is probably because the UCITS framework limits the investment policies of hedge funds, even though it provides added protection to investors. That said, we value transparency very highly, because of our fiduciary duty. We will not invest in a manager if we do not fully understand how and where the returns are coming from.
Regulation has changed the sector

We had a long-term allocation to two funds of hedge funds, which we divested in 2016. We divested because there were tax issues, as the funds were domiciled offshore, but also because the funds were falling short in terms of diversification. We observed increasing correlation between the two funds as well with rest of our portfolio. However, the investments had done well overall.
We originally had a plan to set up our own vehicle, domiciled overseas, to invest in hedge funds. That proved to be too challenging from a regulatory perspective. Therefore, we opted for an alternative UCITS fund that invests in no more than 10 hedge fund managers. This is how we have implemented our 5% strategic allocation to liquid alternative assets, for the time being. This fund's objective is to give us yield, while we work on our long-term plan. That is to select a manager who will invest in hedge funds on our behalf, based on our guidelines. The purpose of this allocation would be enhancing returns.
In our experience, UCITS has transformed the world of hedge funds. A hedge fund strategy, even a straightforward one like long/short equity, is not the same in UCITS form, because of the liquidity, NAV and leverage requirements it has to meet. This is something the industry needs to address.
Interviews by Carlo Svaluto Moreolo