---
• The IASB wants a new financial performance measure alongside EBIT
• DB sponsors would report interest under Profit before financing and income tax
• This raises questions about the disclosure of DB interest costs
Back in 2010, the IASB and its US counterpart, the FASB, published a document that proposed a re-think of financial statements. Although those proposals were more wide-ranging than the IASB's current plans to add new sub-totals to the income statement, they nonetheless serve as a sneak preview of not only where the IASB is heading with its primary financial statements project, but also where it is likely to stumble.
The boards proposed that assets, liabilities, revenues and expenses should be categorised as operating, investing and financing, with separate sections for taxes and discontinued operations on primary financial statements. Never ones to dodge controversy, not only did the IASB propose a direct-method cashflow statement, they also planned a single statement of comprehensive income.
Fast forward seven years from that document, and the board has launched its latest presentation project by thinking about how a notional non-financial entity could report an EBIT-like sub-total and a management-defined performance measure in its financial statement. Those discussions started in June and recommenced in September.
In a shift from where the board was in June, the IASB now wants to prioritise the development of a new financial performance measure – other than earnings before interest and tax (EBIT) – for the income statement. They have conceded that work on a management-defined performance measure will now take a back seat.
As IASB member Ann Tarca put it: "I think it is more productive to be focused on EBIT or similar subtotal, which many preparers already do. I think we can deal with the management performance measure in the notes somewhere. I don't think it needs to be on the face of the income statement."
In fact, the focus has shifted from a single EBIT subtotal to two new subtotals: Profit before investing, financing and income tax and Profit before financing and income tax. Staff have acknowledged that if these EBIT-like line items are too restrictive to accommodate a management performance subtotal, the latter could either end up as a separate reconciliation or in the notes.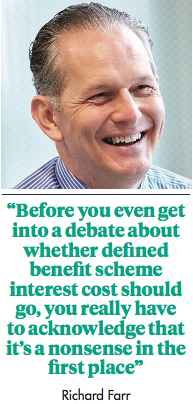 In line with the board's pointers from the June meeting, staff have developed proposals for a separate investing category. They have tentatively defined investing income/expense as income or expense arising from assets and liabilities that both yield a return for the entity and which "do not result in significant synergies for the entity in combination with other resources of the entity".
If the board takes this path, they will have to change the reference to "investing activities" in IAS 7 to "capital expenditure and investing activities". Crucially for pensions, defined benefit (DB) scheme sponsors would have to report any interest income under Profit before financing and income tax.
Helpfully, staff have mapped these developments in Appendix B of board papers and we can see the rationale behind the investing category is to allow the board to introduce the two subtotals. In addition, the items that qualify as finance income or expense are more narrowly drawn than they were after the June 2017 meeting.
But, for all the board's efforts to refine its thinking into a coherent position, Lincoln Pensions managing director Richard Farr thinks they are on a hiding to nothing. "If you start with nonsense you get more nonsense. The accounting numbers are true but they are not fair. After all, what could be fairer than the reality of the negotiated settlement between the trustees and the sponsor?
"The pensions number is really a proxy to allow comparisons between companies. That is a fine objective in itself, but it does not represent the true and fair view of a company's actual risks and costs. At the moment, we have a parallel universe with an artificial accounting number where the reality of marking to market goes through the reserves."
The warning to the IASB from the pensions-restructuring expert is clear: "They need to look at the reality of what is going on rather than dealing with the same old fudge. FRS 17 was an attempt to provide a comparison across companies. Instead, it opened Pandora's Box. We've done that, and now it's time to close the box and get back to reality.
"There is never a magic number or single-line item in company financial statements that discloses everything. It depends on who is doing the analysing. A true and fair view of a company is not about one single number, so don't try to dumb it down," Farr says.
"Accountants need to embrace the 21st century. Look at a company like Uber. How do you value it? It is not about EBIT, it is not even about cash flows, it is about disruption. The IASB has to ask itself how this project would be relevant to a valuation of Uber as well as to traditional companies."
In fact, it's hard to avoid the conclusion that the IASB is a prisoner of time: "In a nutshell there are two aspects to this," says Farr. "EBIT is a quasi-cash number. In the past, everyone looked at the P&L and normalised earnings per share. But, that has fallen into disrepute as companies manipulate their disclosures with extraordinary and exceptional items.
"It used to be the case that listed companies and their reporting standards were the gold standard, but many companies now are owned by private-equity specialists who focus on cash and exit values. So accounting standards and disclosures need to reflect the reality of the users," Farr continues.
"The pensions number in my view is a finance charge and it represents the cost of servicing liabilities. For this reason, I've always taken the view that a pension scheme should act like a bank for the simple reason that it is a creditor."
Farr's argument is that the true cost of a pension scheme is the tariff trustees have demanded in their funding negotiations with sponsors. So, he reasons, if the IASB wants to plug a number into the accounts, it should let the cost of pensions be classed on the P&L as deferred pay.
"Before you even get into a debate about whether defined benefit scheme interest cost should go, you really have to acknowledge that it's a nonsense in the first place. The only thing that the accounting number achieves is it that its forces the market to disclose the underlying issue. Frankly, when I look at a company, I ignore the accounting numbers and look at the disclosures to guess what the real numbers actually are."
Something that IASB members will find hard to ignore are the board's plans to find better ways to communicate other comprehensive income during its November meeting. The meeting papers recognise that playing with the geography of other comprehensive income (OCI) could prove controversial. Will the board heed the warning?