Plugging the GAAP
What happens to UK accounting standards after Brexit?
The June 2016 referendum vote for Brexit has thrown up the question of what will happen to the United Kingdom's financial reporting framework after it leaves the European Union in March 2019. 
Among those warning that UK practitioners and policymakers have failed to give sufficient thought to the implications of Brexit is the Institute of Chartered Accountants of England and Wales (ICAEW). 
And so the ICAEW has kickstarted the debate with a policy discussion paper entitled Brexit: Implications for Financial Reporting*. On balance, the institute supports a UK-specific endorsement mechanism for new IFRS accounting standards. 
Unsurprisingly, it is the IASB's recent machinations with its proposed amendments to its asset-ceiling guidance, IFRIC 14, that have lent added weight to calls for the UK to take charge of its accounting destiny. 
At the moment, UK generally accepted accounting principles (UK GAAP) broadly mirror IFRS. This has been the case since January 2015 for both the UK and Ireland. Of course, any UK decision to go it alone would have consequences in Dublin. 
The starting point for the domestic accounting framework at the moment is FRS 100, Application of Financial Reporting Requirement. This documents points preparers at the appropriate accounting regime. This is invariably EU-endorsed IFRSs, FRS 101, FRS 102, or, following the phasing out of the Financial Reporting Standard for Smaller Entities in 2016, FRS 105. 
The Reduced Disclosure Framework allows qualifying entities to adopt the recognition and measurement requirements of EU-adopted IFRS, but with fewer disclosures, while FRS 102 is a cut-down version of the IFRS for small and medium-sized entities.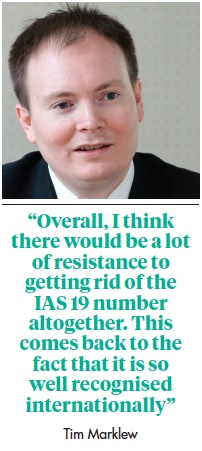 Pensions accounting is covered by Section 28 of FRS 102, which replaced Financial Reporting Standard (FRS) 17, Retirement Benefits. Essentially, little has changed, because DB sponsors must still calculate obligations using actuarial assumptions, net off any plan assets, and book the resulting number on the balance sheet.
But even with the UK in the EU, the direction of travel has not always been pure convergence with IFRS. In August 2014, the FRC released FRED 55, Draft Amendments to FRS 102 – Pension Obligations. This proposal – since incorporated into FRS 102 – means that a sponsor does not have to report any additional liability in respect of an agreement to pay deficit contributions.
The amendment short circuits IFRIC 14 and means a sponsor books any pension surplus or deficit at the balance sheet date. Of course, where a sponsor recognises an additional liability under IAS19, it follows that there will be a GAAP difference with their statutory accounts. 
But it is perhaps the IFRS IC's latest proposals to amend IFRIC 14 that, with Brexit looming, create the biggest risk to date of a carve-out between IFRS as issued by the IASB and UK GAAP. 
Within IAS 19, the starting point for recognition of a balance sheet asset or liability is paragraph 64. This limits any net defined-benefit asset to the lower of either the plan surplus or the asset ceiling, which is "the present value of any economic benefits available in the form of refunds from the plan or reductions in future contributions to the plan".
Life is, however, rarely that simple. In 2007, the IFRIC published IFRIC 14, The Limit on a Defined Benefit Asset, Minimum Funding Requirements and their Interaction. IFRIC 14 tells preparers they can only report a surplus when they have "an unconditional right" to a refund.  
An uneasy truce around IFRIC 14 persisted until 2014 when the IFRIC's successor, the IFRS Interpretations Committee (IFRS  IC) looked at the effect of a scheme trustee's power to increase member benefits or close a plan on a sponsor's right to recognise an unconditional right to a refund of plan contributions.
An exposure draft emerged on the project during 2015. By 2016, the IFRS IC's redeliberations raised the prospect that DB sponsors might end up having to book additional liabilities. 
The FRC also weighed into the debate and urged DB sponsors to apply the IFRIC 14 exposure draft as if it were already finalised. The Royal Bank of Scotland did just that and booked a £4.3bn (€4.8bn) liability. 
Although the state-backed bank might have had an incentive to use the FRC announcement as a fig leaf for getting bad news out of the way, wiser counsel prevailed elsewhere. According to a 2017 study by KPMG, the majority of UK schemes have ignored the FRC.
This caution might yet pay off. At its September meeting, the IASB agreed staff should "perform further work to assess whether [they can] establish a more principles-based approach…. for an entity to assess and measure its right to a refund of a surplus".
The IFRIC 14 project, which predates Brexit by two years, begs the question whether the UK should contemplate a move away from IFRS after March 2019. Tim Marklew, a partner with LCP, says he can see little case for ditching IFRS, although he suggests there might be a case for carve-outs in specific instances:
"I believe that were the IASB to get IFRIC 14 wrong and render it unworkable for UK companies, I can see quite a bit of pressure on UK regulators after Brexit to sort the problem out and level what is starting to look like a very uneven playing field for UK companies.
"IAS 19 already has principles-based disclosure requirements and encourages companies to provide information about their funding position in the accounts. It is possible that a UK-specific solution or guidance could be relevant here.
"But, overall, I think there would be a lot of resistance to getting rid of the IAS 19 number altogether. This comes back to the fact that it is so well recognised internationally. Yes, it has its flaws and should not be seen as the sole true measure of pensions, but it is at least a widely understood standard internationally, and that is a good starting point.
Simon Robinson from Aon Hewitt agrees: "IAS 19 is pretty objective, and while there are definitely arguments about the detail, it is broadly comparable between companies.
"It is also quite transparent. If you don't like the number you see on the balance sheet, an informed reader of the accounts can adjust it. But when it comes to the IFRIC 14 amendments, we would be justified post-Brexit in asking whether this was the right answer for the UK environment.
"However, you also have to remember that if the UK refused to endorse these changes and the EU did, any UK company with an EU parent would still need to apply them. Fundamentally, we can leave the EU but we haven't left Europe. Any UK carve out for that type of entity would mirror the complexity under UK GAAP with IFRIC 14."