Lærernes Pension, Kempen, Wellington, ESMA, PIMCO, Partners Capital, Capital Group, Aviva Investors, LGT Capital Partners, MaPS, LifeSight, Dalriada, Impact Cubed

Lærernes Pension – Carsten Gjede has been appointed by the Danish teachers' pension fund Lærernes Pension to the newly-created position of chief financial officer. Gjede, who is currently chief risk officer at Industriens Pension, is set to start the new job on 1 May.
Karsten Kjeldsen, chief executive officer of Lærernes Pension, told IPE why the pension fund was introducing a CFO role, saying the fund was in the process of preparing for a new reality, where it was facing increasing amounts of regulation, not least within the areas of investments and risk.
"This will continuously have an impact on all areas of Lærernes Pension, and it has therefore been important for me to have it integrated naturally in our top management," he said.
Gjede, who worked at AP Pension and PensionDanmark before Industriens Pension, will be part of Lærernes Pension's top management, the pension fund said.
---
Kempen Capital Management – Jorrit Willigers will join the private markets team on 1 March as director. In his previous role as head of private equity portfolio construction at Generali Group, Willigers was responsible for the North American private equity portfolio. Prior to this position, he worked as an investment manager for Gilde Equity Management and as a corporate finance specialist for KPMG and Deloitte.
Sven Smeets, managing director of Kempen's private markets team, said: "Over the past 15 years, Jorrit has gained a wealth of international experience in the private equity sector. We are, therefore, extremely pleased to welcome him to our team. We are convinced that this addition to the team will help us to evolve and refine our private equity proposition to anticipate the needs of our clients even better."
---
Wellington Management – The $1.2trn independent management firm has hired two climate-focussed senior investors, Greg Wasserman and Sean Petersen for its private investing capabilities. Wellington said both brough significant venture capital background, with extensive experience leading rounds of financing in companies targeting climate change.
Wasserman has previously invested in technology, innovation and climate-related strategies at Galaxy Digital, Generation Investment Management, and Goldman Sachs. Petersen joins Wellington from AI Fund, an early-stage venture capital fund, where he served as a general partner. Prior to that, he held roles with the International Finance Corporation and with Good Energies.
---
Laborfonds – The Italian scheme has named Christine Tschöll as new deputy general manager. In her new role, Tschöll will be responsible for reinforcing the fund's presence for workers and employers in South Tyrol. Laborfonds has been strengthening its internal structure in recent years to face the challenge of an increasing number of members. It targets young people, women, and workers with seasonal or part-time contracts, in urban centres and in the valleys, among other groups.
---
ESMA – The board of supervisors of the European Securities and Markets Authority has appointed Annemie Rombouts, deputy chair of the Belgian Financial Services and Markets Authority, as chair of the corporate reporting standing committee (CRSC).
The CRSC's mandate includes contributing to and/or monitoring of regulatory developments as well as establishing appropriate supervisory convergence on issues relating to accounting (under International Financial Reporting Standards – IFRS), periodic financial reporting, nonfinancial reporting, electronic reporting developments and storage of regulated information (in the relevant areas under the CRSC's remit) as well as audit.
---
PIMCO – The major fixed income investment manager has named Kimberley Stafford as global head of its product strategy group. She is currently head of Asia-Pacific and will return to PIMCO's Newport Beach office in the middle of the year to take up the new role, overseeing traditional strategies and alternatives.
Alec Kersman, currently hed of strategic accounts in US global wealth management, will become PIMCO's new head of Asia-Pacific.
The firm also announced other key leadership roles: David Fisher, currently head of traditional product strategies, will become co-head of US GWM strategic accounts alongside Eric Sutherland, president of PIMCO Investments LLC. Ryan Korinke, head of hedge fund and quantitative strategies, based in Hong Kong, will join PIMCO's executive office in Newport Beach.
---
ING – Anne-Sophie Castelnau has been appointed ING's global head of sustainability from 1 April 2021. She will succeed Amin Mansour, who fulfilled the role on an interim basis. Castelnau is currently head of wholesale banking for ING in France.
Castelnau joined ING in France in 2005. Before she became head of wholesale banking, she held various senior management positions, including head of corporate lending and head of client coverage. Before she joined ING, Castelnau worked for French banks Natixis and Crédit Industriel et Commercial.
Since she became head of ING wholesale banking in France in 2017, Castelnau has had a strong focus on sustainable finance. She has been involved in bringing over 25 sustainability deals to fruition, including the first sustainability linked loan in France in 2017.
Announcements on Castelnau's successor as head of wholesale banking in France will be made as and when appropriate.
---
Partners Capital – The outsourced investment office has appointed Kristen Eshak Weldon as global head of ESG and impact investing.
Weldon is currently an independent advisor to the Cambridge University Endowment Fund with a particular focus on their push towards carbon neutrality. She joins Partners Capital from the Louis Dreyfus Company, where she was a member of the executive group and was responsible for steering the company's sustainability-focused investment activities. She led the launch of LDC Ventures, the company's investment fund management group, and was also head of food innovation and downstream strategy. She previously served as senior managing director and co-head of the London office for hedge fund solutions at Blackstone.
---
Capital Group – Rob Hardy, formerly of JP Morgan Asset Management, is now corporate governance director at Capital Group and member of the firm's ESG leadership team. He had been at JP Morgan for more than 20 years, most latterly as head of investment stewardship for the EMEA region.
Capital Group hired Jessica Ground, from Schroders, as its global head of ESG last year.
---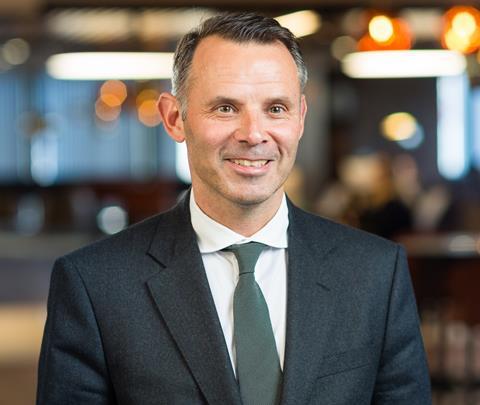 Aviva Investors – The global asset management business of Aviva plc has appointed Daniel McHugh as chief investment officer of its £47.3bn real assets business. This follows the appointment in January of former real assets CIO, Mark Versey, as chief executive officer of Aviva Investors.
In his new role, McHugh will report to Versey and will be responsible for the strategy and growth of Aviva Investors' integrated real assets business, encompassing real estate, infrastructure and private debt. He will oversee around 300 professionals working across fund management, asset management, development, transactions, origination, underwriting, research, and business management. McHugh will also join the Aviva Investors executive team.
McHugh joined Aviva Investors in April 2018 as managing director, real estate. In that role, he was responsible for business strategy, product initiatives, and external engagement across real estate, as well as leading the firm's direct investment activity across the asset management, development, and transaction teams. He is also a member of the real assets senior leadership team.
McHugh has more than 25 years of experience in UK and continental European real estate. Prior to joining Aviva Investors, he was head of continental European real estate investment at Standard Life Investments.
A managing director, real estate, successor will be announced in due course. In the interim, James Stevens, head of development, global real estate, will lead the team.
---
LGT Capital Partners – The firm is expanding its capabilities and enhancing its offering for sovereign strategies in emerging and especially in frontier markets by adding a Nordic team of six experienced professionals with a long-standing track record in fixed income.
With this addition, LGT CP will enlarge its capabilities and offering for fixed income strategies in emerging and frontier markets, which is regarded as a highly attractive asset class, especially given the current low yield environment. The six professionals joining the firm have been investing in emerging market and frontier market sovereign strategies as a team with a proven track record based on profound experience over multiple market cycles. Their long-term investment views as well as their approach to systematic integration of ESG into the investment process is an excellent fit with LGT CP's investment beliefs.
"We are pleased that these experienced professionals have decided to join our platform," said Pius Fritschi, managing partner of LGT CP, adding that the firm can now "provide our global institutional investor base with additional attractive investment opportunities going forward".
---
Money and Pensions Service (MaPS) – The organisation has announced three senior appointments including a new chief finance officer and new pensions dashboards programme director. Joining the MaPS board and executive leadership team from 1 April 2021 is the new chief finance officer Mal Singh. He brings with him extensive experience of senior finance roles within digital, welfare reform, operations and strategy.
Most recently Singh worked at BPDTS Ltd, the digital technology company which was set up to provide specialist digital technology services to the Department for Work and Pensions (DWP), where he has been chief finance officer and a member of the board since 1 April 2019.
Joining on the same day as Singh are Mark Gray, who has been appointed on a permanent basis as chief risk officer, and Richard James who is joining MaPS as pensions dashboards programme director.
James brings 23 years of experience in the public sector, spanning operational, finance, policy, and transformation roles across the DWP, Inland Revenue, HM Treasury, and HMRC. In 12 years of senior programme delivery roles, he has led large and complex programmes to introduce digital personal tax accounts, implement changes required to support the UK's exit from the European Union, and deliver a trader support service within Northern Ireland.
Gray has been interim risk, compliance and assurance director on an interim basis since June 2020 and is now appointed chief risk officer. His previous experience includes working as the chief risk officer at the British Business Bank, advising the Nuclear Decommissioning Authority and Her Majesty's Land Registry on their risk and assurance frameworks, and interim chief risk officer at Homes England.
---
LifeSight – Willis Towers Watson's £9.5bn UK defined contribution master trust has appointed Helen Jones as its new trustee. She replaces Russell Picot, who recently stepped down from the trustee board.
Jones is currently SVP head of audit and assurance with GlaxoSmithKline and has over 30 years' experience working as a finance and risk management professional within industry and the advisory profession.
She was a trustee of the GSK Pension Fund for seven years, in addition to sitting on the treasury committee and pension committee for GSK. She was also trustee and chair of the Reuters defined contribution scheme for five years. In addition, from September 2015 to December 2020 Helen was a non-executive member of the Financial Reporting Council's Conduct Committee.
Jones said: "Pensions are complex, but LifeSight's focus on the highest professional standards, innovative tools and engaging communication enables members to be better informed and more effectively plan for their future. I am delighted to join the board and support the drive to make pensions work for members."
---
Dalriada Trustees Limited – Leanne Coomber and Aimee Nguyen have been appointed as professional trustees at the firm, one of the largest providers of independent professional trustee services to pensions schemes in the UK.
Coomber was most recently trustee governance manager and scheme secretary for multinational pharmaceutical company Bayer's £1.5bn UK pension scheme, with its multiple sections and complex issues. Before that she worked for pensions consultancies Aon and LCP. Nguyen was most recently at Tesco, where she was a pensions manager on its defined benefit scheme. She has also held consultancy roles at both PwC and Willis Towers Watson.
Tom Lukic, chair at Dalriada, said: "Demand for leading professional trustee services has never been higher and I am delighted to welcome both Leanne and Aimee to the Dalriada team."
---
Impact Cubed – The specialist ESG impact firm will now house Auriel Investors, its parent asset management and fintech business, under its brand. Libby Bernick, former head of sustainability at Morningstar and managing director at S&P Global's Trucost business, is stepping in as CEO.
Impact Cubed provides analytics and investment solutions to help investors understand and manage their ESG impact. Its portfolio impact model has been endorsed by several European pension funds. Auriel Investors delivers ESG specialist overlays and bespoke separately managed accounts.
"We are entering a new era where investors still care just as much about risk and return but have added a third dimension, impact, into the equation," said Larry Abele, founder of Auriel Investors. "They want reliable, objective data that provides visibility into their impacts both intended and unintended. Gordon's Gekko's credo 'greed is good' has no place in 21st century capitalism."
To read the digital edition of IPE's latest magazine click here.