Nordea Liv & Pension, Robeco, PLSA, Hoogovens, MJ Hudson Allenbridge, Provisum, Avenir Suisse, BeFrank, Research Affiliates, SER, Carmignac, Aon, State Street, WisdomTree, Aviva Investors
Nordea Liv & Pension – Anne Broeng has been voted in as the new chair of Denmark's Nordea Liv & Pension, following the Nordea subsidiary's transfer of ownership to the Norliv association on 17 April. Broeng has several non-executive directorships in the Danish financial sector. She held the roles of chief risk officer, chief financial officer and chief investment officer at the PFA group during her employment there from 2001 to 2014.
Other new appointments to the supervisory board were former Nykredit group director Karsten Knudsen , the HR director of healthcare equipment and services firm Agilent Technologies Denmark Lene Klejs Stuhr, and Chrilles Svendsen who is director and CFO of the Swedish fuel company OKQ8 Scandinavia.
Robeco – Lucas Daalder, CIO for investment solutions at the €152bn asset manager Robeco, has announced he will leave at the end of June for an opportunity elsewhere. He said he will stay on until then to ensure a smooth transition of his tasks and responsibilities to his team members. Robeco said a decision about his successor would be made in the coming period.
Daalder joined Robeco in 2009 as a senior strategist and was appointed senior portfolio manager multi-asset in 2011. In 2014 he was appointed CIO for investment solutions and head of the solutions products team, which manages Robeco's fundamental multi-asset funds.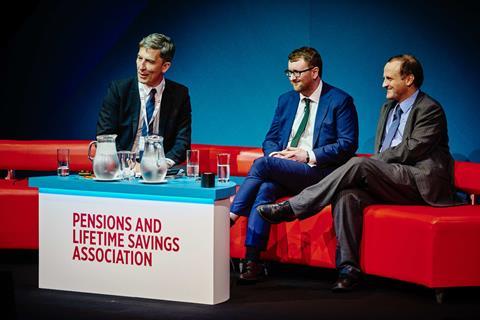 Pensions & Lifetime Savings Association (PLSA) – Graham Vidler is leaving the UK trade body for pension schemes after four years as director of external affairs.
He was a leading spokesman for the association on issues such as regulation, auto-enrolment and pension freedoms. His team will report to CEO Julian Mund until a successor is appointed.
Vidler said: "The job of improving the nation's retirement incomes is far from complete but I'm proud of the progress we've made over the past four years. I look forward in particular to seeing the results of our ground-breaking work on retirement income targets and defined benefit scheme consolidation and I'm confident that I leave behind a great team who will continue to move these and other projects forward."
Hoogovens – PensionsEurope chairman Janwillem Bouma will join the board of the steelworks scheme on 2 June. As well as his role at the European pension umbrella organisation, Bouma is also managing director for the Shell pension funds in the Netherlands.
MJ Hudson Allenbridge – The UK investment consultant has hired former Heineken pension manager Pauline Gordon as a senior adviser. Her responsibilities include developing new business with UK pension funds.
At Heineken she oversaw the firm's Irish pension funds and led work on a £2bn longevity swap transaction for the Scottish & Newcastle Pension Plan in 2015. Gordon is also a trustee to a number of schemes and endowments.
Provisum – Joost van Engers started as director of Provisum, the €1.5bn Dutch pension fund of retailer C&A, on 1 April. He succeeded Ward Linthorst, who has retired after almost 10 years at the helm. Van Engers was director of Amsterdam-based Anthos Bank since 2004 and has been on the board of Provisum since 2010.
Avenir Suisse – Jérôme Cosandey will take over as head of Romandy – the French-speaking part of western Switzerland – at the Swiss think tank Avenir Suisse as of September. He will succeed Tibère Adler, who will remain active for Avenir Suisse but with a reduced workload in the role of adjunct legal fellow. Cosandey will continue in his role as senior fellow and head of social policy research in addition to taking on the role of director. Cosandey has been at Avenir Suisse since 2011 and Adler since 2014.
BeFrank – The Dutch low-cost defined contribution vehicle (PPI) BeFrank has appointed Anne Wilschut as chief executive. He succeeds Marianne de Boer, who left the company in January.
Wilschut was previously a director of the PPI run by Nationale Nederlanden (NN) which is to be legally merged with BeFrank's PPI. The merger comes in the wake of the takeover of insurer Delta Lloyd – the founder of BeFrank – by NN Group. Wilschut will head BeFrank together with Jan Hein Rhebergen, who has been the vehicle's commercial director since 2016 and has acted as CEO during the past few months.
Research Affiliates – The factor investing specialist group has bolstered its presence in Europe by relocating two senior staff to its London office. Vitali Kalesnik, head of equity research, will develop a "European research agenda", the company said, while still providing input to work at Research Affiliates' California headquarters. Lillian Wu, vice-president in product management, will contribute to the company's European strategy and client relations.
SER – The Dutch Social and Economic Council (SER) – the government's main advisory body, made up of employers and workers – has granted the growing trade union VCP a second seat, which will be occupied by Liane den Haan. The additional VCP representation comes at the expense of large union FNV, which had to hand over one of its eight seats. Union CNV will keep its two representatives. The SER is still in the process of fleshing out proposals for a new pensions system.
Carmignac – The French asset management group has appointed Giorgio Ventura as global head of sales. He joined Carmignac in 2012 as head of Italy, a role he will retain. He is also a member of the company's strategic development committee. Ventura began his investment career at Caboto Securities and worked for Lehman Brothers for eight years before moving to Eurizon Capital.
Aon – The consultancy firm has hired Emma Adair as head of client service for UK investment. In the newly created role, she will focus on client relations and interactions. Adair joins from Cardano where she worked for 10 years, latterly as head of its client management and client delivery. She previously worked for P-Solve and Hewitt – the latter is now part of Aon.
State Street – The financial services giant has named Richard Irons as head of sales for Europe, the Middle East and Africa (EMEA) for its data and analytics arm, Global Exchange. He will be responsible for State Street Global Exchange's sales strategy in EMEA. He was previously head of account management and customer support at Fenergo, which provides back-office software and support to financial services companies.
WisdomTree – Exchange-traded fund (ETF) provider WisdomTree has named Christopher Gannatti as its head of research for Europe. He has worked at the group's New York office since 2010, initially as a research analyst. He was promoted to associate director in 2014. He will lead a team of four analysts including Nitesh Shah and Aneeka Gupta, who joined as part of WisdomTree's acquisition of ETF Securities' European business.
Aviva Investors – The asset management arm of UK insurer Aviva has hired Charles Jewkes as head of global financial institutions, a newly created role. He was previously director for global financial institutions at Fulcrum Asset Management, and has also held client relationship roles at Schroders.