The Dutch people are used to drawn out pension reform
The Netherlands is no stranger to protracted coalition negotiations: it took 208 days to form a government following the 1977 election. But this pales into insignificance in comparison with the length of time the Dutch have been talking about pension reforms.
Dutch pensions have been in flux since 2008, the year in which occupational funds collectively lost €120bn. Years of pension austerity – entitlement cuts and no inflation rises – have led to a widely shared belief that the system is failing.
As long ago as 2010, a commission chaired by Jean Frijns, former CIO of ABP, recommended a new system with two types of contract, real and nominal, depending on the level of risk the participants were prepared to bear. The cabinet then unveiled a successor to the FTK in July 2013 but this was later watered down.
Then, in 2015, the cabinet launched a nationwide 'pension debate' with a view to ending average contribution rates, perceived to be unfair; introducing some form of individual accrual combined with collective risk sharing; and bringing in mandatory supplementary pensions for the self-employed.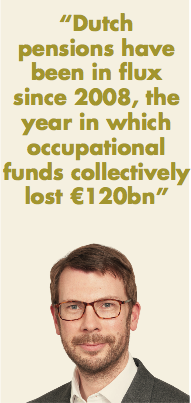 In May 2016 the Social and Economic Council came up with two collective variants – a 'target' real-terms pension and an individual/collective hybrid, which the Dutch Pension Federation endorsed.
This was all thrown into doubt by the elections in March 2017; a recent collapse of the coalition talks has led to a renewed crisis. Gerard Riemen, director general of the Pension Federation, thinks a delayed formation of a government will mean pension funds will be unable to make the necessary system changes by 2020, when the transition was expected. The transition could now take as long as 10 years.
While the Dutch continue to dance to the same old tune, new mood music in Brussels is also worrying in that Brexit could lead to a reshuffle of the European supervisory authorities that disadvantages the Netherlands. The fear is that, when the European Banking Authority (EBA) moves out of London to a new EU home, the Commission will merge the EBA with EIOPA. Pensions issues would be a third order issue after banking and insurance, with knock-on effects for the Dutch system.
A significant fear is the loss of the UK as a market-friendly negotiating ally in occupational pensions policy. If President Macron continues his policy to introduce pension funds, insurance-minded France and Germany would easily outgun the Netherlands in pensions issues at European Council level.
Brussels aside, Riemen also fears that Dutch people won't understand the new system properly. But as ever, the real danger is that politicians won't do anything, so when the next big decision on occupational pensions comes around, the Dutch won't have a new system to defend. Meanwhile, the music continues.
Liam Kennedy, Editor
Perpetuum mobile
1

Currently reading

Perpetuum mobile

2

3