How did Dutch pension fund respondents to the PFPP survey perceive their asset managers relative to other European investors?
The PFPP Research Programme is an independent research project providing detailed information on how pension funds in 19 European countries assess their asset managers. A confidential peer group information sharing programme facilitated by IPE, it is entirely controlled by the pension funds, providing detailed intelligence on over 200 asset managers to participating investors.
Befitting a major player with two of the ten largest pension funds in the world, Dutch mandates accounted for between 9% and 19% of the typical 2,200 responses received within the PFPP research programme.
The average score across all 65 rating assessment questions was the lowest of any country with a score of 6.90 against an average 7.28 (where 10 is the highest rating) with a range of 6.90-8.78 and a median of 7.37. Perhaps Dutch pension managers, with their long experience, are harder to please than other countries.
In the PFPP survey, six areas relating to the oversight of asset managers were covered by asking respondents to rate various specific capabilities of their asset manager. These were:
Portfolio performance (7 questions)
Fees (7 questions)
Quality of reports (8 questions)
Non-statistical risk (7 questions)
Service provision (24 questions)

Expertise of asset manager (14 questions)
The figure sets out the perceptions that Dutch pension funds have of asset managers on these issues. The number represents the average quartile rank of the relevant questions, a simple arithmetic average – the lower the number the better the perception. A score above 2 implies that some third or fourth (or both) quartile rankings were given for some individual questions. A score above 3 implies a majority of responses were third or fourth quartile.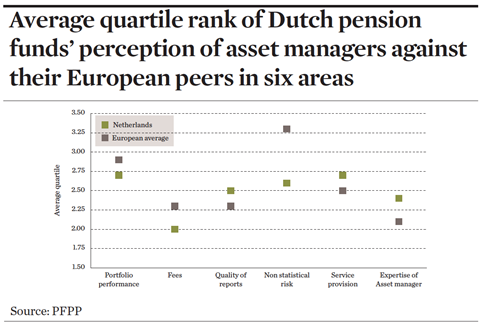 The ratings of asset managers by Dutch pension funds are similar to those given by pension funds from the rest of Europe. For instance within the issue of portfolio performance, there is the perception that performance outcomes are disappointing and value for money is not provided, while compensation for errors was appropriate. Despite the value for money concerns, Dutch pension funds scored managers better than average on fees, in part because of their positive and top quartile view of best execution, forex and transaction cost as well as a positive view of the structure and transparency of fees. This suggests Dutch pension funds have made more effort to negotiate appropriate fees and structures than their counterparts elsewhere.
PFPP: Key findings for the Netherlands
• Dutch pension funds are more critical of their managers than those in other European countries (average score 6.90/10 compared with 7.28/10).
• Of the six three assessment areas, funds rate managers slightly better than their peers on performance against objectives and on non-statistical risk.
• They rate managers slightly worse than their peers on quality of reports, service provision and on manager expertise.
• Dutch funds score their managers better than average on fees, partly due to positive views on best execution, FX and transaction costs as well on their structure and transparency of fees.
• They give higher ranks for managers' capabilities in managing OTC derivative counterparty risk and collateral management.
The main divergence of views between Dutch and European pension funds is with respect to non-statistical risk which looks at factors that can affect the ability to meet anticipated outcomes. The more positive view of the Dutch reflects higher quartile rankings for asset managers' capabilities in managing OTC derivative counterparty risk and managing collateral posted by OTC counterparties.
However, in common with others, there is a poor view of asset managers' abilities to assess the impact of environmental, social and governance (ESG) issues and the information on leverage and liquidity appears to be rated as inadequate.
Additionally, pension funds rate asset managers as bottom quartile with respect to their ability to implement governance guidelines. This suggests Dutch pension funds, can play a role in making their service providers improve their ESG capabilities.
The poor performance of asset managers on ESG is also reflected in the disappointing
perception of asset managers' expertise, with a rating of 2.40 against the European average of 2.10. Asset managers may need to enhance their reporting of softer issues to their pension fund clients.
For more information on the PFPP research programme, click here or contact Louise Ashmore on louise.ashmore@ipe.com
Dutch pensions policy: In the balance
1

2

3

4

5

6

Currently reading

PFPP survey: Dutch pension funds' high expectations