Trustees, consultants and other pension professionals gathered in Edinburgh in early March for the annual investment conference of the Pensions and Lifetime Savings Association (PLSA).
Titled 'Investing On The Brink', the short and long-term investment outlook for the global economy was front and centre, with Brexit an obvious theme. However, away from economic discussions there was much talk about positive developments in cost transparency and illiquid investment access for defined contribution (DC) schemes.
In a dedicated cost transparency session, Mel Duffield, pensions strategy executive at the Universities Superannuation Scheme, gave an update on the Cost Transparency Initiative (CTI) that was launched in November by the PLSA, the Investment Association and local authority pension funds.
Duffield, the inaugural chair of CTI, said it expected to release cost reporting templates for institutional investors in late April or early May this year, and would be looking for a healthy take-up by April 2020. She indicated there would need to bem"difficult conversations" with the regulator if this had not happened by then.
Joining Duffield on stage was Victoria Bell, director of trustee accounting at RPMI Railpen, the in-house asset manager for the UK railways pension scheme. RPMI has been trialling the templates in an effort to develop better "cost awareness".
Bell indicated the scheme had saved a provisional 84bps a year since 2011 as a result of its cost-awareness work, which has included hiring a forensic accountant to delve into complex fee structures. Bell said RPMI wanted to lower its total expense ratio still further.
Some investment managers had initially been unwilling to fill in the CTI test templates, but Bell said they came round after RPMI explained how difficult it was to extract cost information from year-end accounts.
The CTI template was "not quite yet" user-friendly, said Bell, but "that's the whole point of doing the pilot study". "I have no doubt it will be [user-friendly] when it's released in the spring," she said.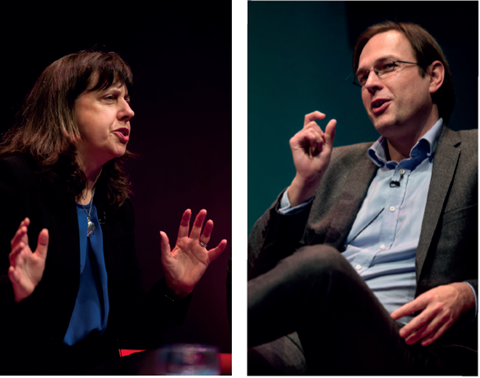 Overall, the amount of support managers needed to complete the template was a indication of how much a standardised template was needed, according to Bell. "We really need the managers to understand their costs before they can report it to us," she said.
Bell was optimistic about the impact the template would have, saying it would "absolutely" drive consistency and comparability.
"It will make it very easy for trustees and investors to understand the full cost of their investments," she said. This in turn would allow them to make better decisions for their members.
Costs and DC
Panellists at a headline session on 7 March, the main day of the three-day conference, also discussed costs in the context of DC investing.
The UK government wants to see DC schemes investing more in so-called illiquid assets, such as infrastructure. However, existing rules requiring daily pricing and liquidity for DC investments have so far limited the ability of schemes to access these asset classes.
Mark Jaffray, partner and head of DC consulting at Hymans Robertson, said schemes needed to use a range of asset classes and vary allocation, depending on how far members were from retirement. Capturing return and illiquidity premia from venture capital or other types of alternative asset classes made sense when members were far from retirement, he said, but then there was a need to diversify, perhaps introducing private debt. For members at retirement, income-generation became more important.
Emma Douglas, chair of the PLSA policy board and head of DC at Legal & General Investment Management, warned that schemes only had a budget of 10-15bps to allocate their main default investment fund, due to the cost cap imposed on auto-enrolment pension funds.
"Maybe it's not going to be possible to hold some of these illiquids directly and we have to think about how else we hold them," she said.
Nico Aspinall, CIO at DC master trust The People's Pension, suggested that DC schemes shouldn't necessarily be thinking in terms of new asset classes or vehicles, and that the question should instead be framed in terms of accessing the economy. It was about "getting access to the right parts of the economy for our long-term themes at a price that gives value to members," he said.
On the topic of costs, Aspinall cited Alecta, saying that the Swedish pension provider charged 3bps and that he wanted to know "what their secret sauce is".
He added: "I suspect they don't look anything like what a DC pension trust would, so don't be looking out for a 3bps announcement from us."
Overall, however, according to Aspinall, DC schemes had the potential to be at the heart of disruption in the financial services system.
Future takers or future makers
Environmental and social issues were also on the conference agenda, with Jane Ambachtsheer, global head of sustainability at BNP Paribas Asset Management, encouraging trustees to decide if they were "future takers" or "future makers".
"That will really dictate the kinds of memberships you have, the kinds of managers you should hire," she said.
The concept of 'future takers' and 'future makers' was used in a seminal report by Mercer in 2015 about the investment implications of climate change. Ambachtsheer left Mercer to join BNP Paribas last summer after more than 10 years at the investment consultancy.
Ambachtsheer said investors should assess external asset managers and push them to improve where they might be lagging, reminding them that "asset owners are at the top of the food chain".
She added that trustees should push their industry associations and managers to be more active in responding to consultations on ESG themes, to help create a regulatory environment that would enable investors to achieve goals of the Paris Agreement.
"As long-term investors it's a fundamental objective and we're not doing enough to actually get there," she said.