Auto-enrolment to be rolled out in Poland as the second pillar is wound up
Key points
Pension plan auto-enrolment starts in mid-2019
Stiff penalties for employers who fail to comply
The market is open to insurers, investment and pension fund asset managers
Diversified investment policies tailored to age groups
Existing second pillar to be dismantled in 2019
Poland's radical pension reform, including the overhaul of the second-pillar OFE funds in 2013-14, will continue in 2019 after president Andrzej Duda signed off the auto-enrolled employee pension plan (PPK) law in November 2018.
The first tranche of companies – private firms with a minimum 250 employees – signed up in July, to be followed every six months by ever-smaller employers. The roll-out is scheduled to end by January 2021, by which time companies with fewer than 20 employees will be included, as well as the public sector and its two million workforce.
Observers dismiss concerns that the first groups to sign up will be pressed for time. "The PPK was one of the best publicly consulted bills," notes Marcin Tarczyński, communications and analysis manager at the Polish Insurance Association (PIU). "Employers also participated in the consultations. There is no doubt that companies will have enough time to implement the PPK."
The PPK is the brainchild of prime minister Mateusz Morawiecki. In drafting the legislation, his Law & Justice government has drawn a clear distinction between the new system and the exisiting second-pillar OFEs. Crucially, under the PPK law, accumulated assets are private. Assets in the OFEs were ruled to be public monies, enabling the previous government to strip the second pillar of all sovereign bond assets in 2014.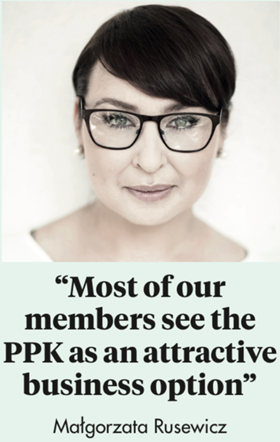 Other features written into the PPK law include inheritability, and the ability to access funds before retirement in some circumstances, such as house purchases. Employees will be automatically enrolled, with the onus on them to opt out, a process that repeats every four years.
"Our research shows that for savers the most important thing is that the funds in the PPK will be private and can be inherited," says Tarczyński. "In addition, one will be able to use those funds in certain cases before reaching the age of 60."
The law covers all employees, with only the self-employed excluded – a potential total of 11.4m workers.
For employers the system is mandatory – unless they had already set up an employee pension programme (PPE) – with a contribution rate of at least 3.5% and 25% coverage.
The law highlights severe penalties for non compliance, including a maximum fine of PLN1m (€233,000) for those failing to conclude a PPK management contract, enrol staff or pass on their contributions. There is also a potential penalty of up to 1.5% of the previous year's total salary costs if firms encourage employees to pull out of a PPK. The only exceptions are when staff have provided misleading information.
The basic PPK contribution rate is 3.5%, with a minimum 2% from employees and 1.5% from employers. To encourage low-waged workers, the employee minimum for those earning below 120% of the minimum wage has been reduced to 0.5%.
Employees can increase their contribution rate by a further 2%, and employers by 2.5%. Additionally, the state will provide an annual PLN240 subsidy and a 'welcome' bonus of PLN250.
Companies will have to choose their provider in consultation with employee representatives. There is a range of providers to choose from –fund management companies (TFIs), pension fund societies (PTEs) and insurance companies. To qualify as a PPK provider, firms require at least three years operation in Poland, as well as meeting a minimum capital threshold. According to the finance ministry, 14 TFIs, 21 insurers and all 10 PTEs meet the criteria.
While PTEs have the monopoly on second-pillar management, insurers have relationships through financial products and its big market share in third-pillar individual retirement accounts (IKEs). TFIs dominate individual pension insurance accounts (IKZEs).
One consideration for providers is that management fees have been capped at 0.5% of net assets, with a further 10bps possible as a success fee if returns exceed benchmarks. "Most of our members see the PPK as an attractive business option in the long term, with a break-even point in about the seventh year of providing it," explains Małgorzata Rusewicz, president of the Chamber of Pension Funds.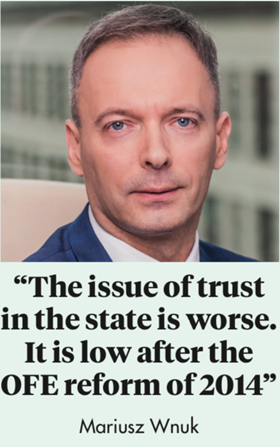 "PTEs are not the only type of financial institutions entitled to offer PPKs and they are part of financial groups that will decide which of their companies will finally offer this long-term savings product."
For the government, it will be crucial to convince workers that the returns via a PPK will compensate in the long run for a lower net salary.
Rusewicz identifies three factors crucial to the project's success: "The first is connected with employers' attitude towards this new solution and their initiatives to support employees' decision on staying in that system. The second is a smart and efficient campaign to explain the reasons and benefits of participation, and the third depends on the condition of the Polish capital market and its ability to provide efficient return rates from savings".
Mariusz Wnuk, vice-president and chief investment officer of Pocztylion-Arka PTE agrees about effective communication from the state. "The biggest challenge for the PPK is to change the attitude of customers, ie employees, because the current attitude is not good," he says.
"There are two areas of distrust: the capital market and the stability of systemic pension solutions. Price volatility is a typical concern of investors and there are ways to mitigate it. The issue of trust in the state is worse. It is low after the OFE reform of 2014, when the state treasury took over the assets of OFEs deposited in government bonds."
PPK draws lessons from second-pillar constraints
Having devoted itself to the PPK project, the Polish government intends to complete the dismantling of the second pillar OFE funds in 2019.
According to prime minister Mateusz Morawiecki's plan, 75% of the funds' assets would be transferred into individual pension insurance accounts (IKZEs), and the remainder to the state pension buffer Polish Reserve Fund. The OFEs would be transformed into investment funds.
As a result of previous policies, OFEs' equity-orientated structure (over 85%) proved disastrous in 2018, with annual returns generating an average 6% loss in September, contributing to a 9.2% fall in net assets to PLN163.2bn (€38bn) according to the Polish Financial Supervision Authority (KNF).
Despite strong growth and corporate profitability, the Warsaw Stock Exchange (WSE) remained vulnerable to outflows into dollar assets, as well as financial sector scandals, which culminated in November with the arrest of the former head of the KNF on bribery charges.
"Macroeconomic indicators have been at their best for years and many companies are participating in this boom. They have challenges in a period of growth, mainly related to labour costs, but there is certainly no correlation between the performance of companies and the fall on the Warsaw Stock Exchange," notes Mariusz Wnuk, vice-president and chief investment officer of Pocztylion-Arka PTE.
"On the other hand, there was the problem of reputational crises of several companies from the financial sector, which exposed the structural weakness of the Polish stock exchange: low liquidity, outflow of individual investors and lack of the stabilising influence of institutional investors. The PPK, if it develops as expected, will help to solve at least one of these problems."
In contrast, PPK investment aims for higher diversification and target-date investments. The law specifies a minimum of five 'defined date' funds, the date referring to the number of years left until retirement, as well as asset allocation limits for each category.
At one extreme, funds for members with more than 20 years until retirement have equity limits of 60-80% and debt limits of 20-40%. At the other end, funds for those with less than five years' work ahead have a maximum equity allowance of 15% and a minimum debt holding of 85%.
In the case of debt instruments, a minimum 70% must be in sovereign or quasi-sovereign assets such as Polish and EU government and municipal bonds, central bank bonds and term deposits of up to 180 days, while other debt investments such as corporate bonds, have been capped at 30%.
In the case of equity, a minimum of 40% must be held in companies in the WSE main WIG20 index, a maximum 20% in the medium-sized mWIG40, and a minimum 20% in shares on other regulated OECD markets. As with OFEs, total investment in foreign currency instruments is capped at 30%.
For the longer-dated funds, there is an allocation for alternatives.
"The Polish capital market will benefit from strengthening institutional investors, such as defined-date PPK funds," says Wnuk. "If the contributions are at the level of the best open pension funds… the WSE will again be an attractive place to raise capital and IPOs."
Poland: A policy gear change
1

Currently reading

Poland: A policy gear change

2

3

4

5