Portugal is an example of how a bailout can turn around a nation's finances. Sovereign debt has returned to investment grade and is popular again with domestic pension funds
Key points
• Portugal's financial comeback continues with stable growth and falling unemployment
• Investment-grade status for government bonds has seen allocations rise
• Risk management is a priority with the emphasis on duration risk
Amid the political and economic fragility of other southern European countries, Portugal stands out as an oasis of comparative calm and economic stability. This is in contrast to the financial crisis, followed by the IMF/EU bailout in 2011, which ended in 2014.
The last general election was in 2015, after which the Socialist Party, with the most seats but no majority, formed a coalition government with other left-wing parties.
"After the elections, the market was sceptical on capacity and longevity of the current government alliance, but it has proven to be stable at least on the important themes," says João Eufrásio, head of institutional portfolio management at BMO Global Asset Management Portugal. "Portugal has become a reference in Europe in recovering from a financial assistance programme into direct funding in the capital markets supported by a period of stable growth, a structural primary surplus and declining unemployment."
However, he cautions: "Nevertheless, risks still remain, especially given the high level of debt, the ongoing healing process in the banking system and pockets of political unrest that could delay needed reforms in the public sector, justice and labour market."
José Veiga Sarmento, chairman of the Portuguese Association of Investment Funds, Pension Funds & Asset Management (APFIPP), says: "The fact that Portugal has been enjoying economic growth, especially in the tourism sector, and falling unemployment, has allowed the government to cancel or at least to reduce the impact of some of the most restrictive measures taken by the former government during the bailout and under the supervision of the troika."
And he points out: "Despite the fact that no new measures to attract investment have been taken, the real estate sector, which suffered during the crisis, has been one of the main contributors to the current dynamic economic environment."
Pension funds in Portugal are more conservative investors than those in other countries: with about 65% of portfolios held in public or private debt as at 30 June 2018, according to figures from APFIPP and ASF, the Portuguese Insurance and Pension Funds Supervisory Authority.
Equities made up 17%, and real estate 11%, of portfolios. The figures cover 88% of the Portuguese pension fund market.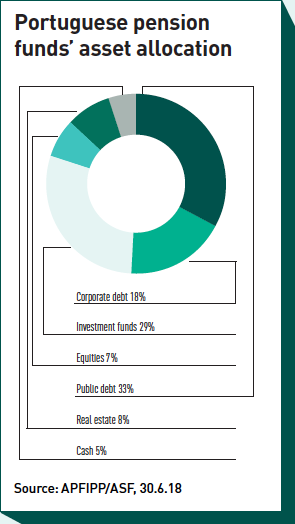 The only noticeable change year-on-year has been an increase in directly-held government debt from 29% in June 2017 to 33%. According to Veiga Sarmento, this is because of the recent uprating of Portuguese government debt to investment grade has enabled pension funds with an "investment grade mandatory" rule to increase their positions to levels last seen before Portugal's financial crisis.
Luis Alvarenga, portfolio manager at BPI Gestão de Activos, says: "Although the government solution was apparently fragile at the beginning, it has resisted the political setbacks that always occur; this stability has supported Portuguese assets. Perhaps the best evidence has been that whenever stress has occurred in other peripheral countries like Spain and Italy, Portuguese government bonds spreads have remained well behaved, adding to diversification and still offering a pick up relative to German debt."
He adds: "The performance of the sovereign bond market has helped corporate debt, and banks have been able to issue subordinated debt, an important step in improving their capital structure."
José Marques, senior consultant at Willis Towers Watson, says: "Some investors have an expectation that yields will rise beyond market-implied levels, which leads to a preference for shorter-term bonds. For pension funds, this return-seeking argument needs to be balanced with the aim of controlling funding volatility where the interest rate hedging provided by long-term bonds is, in most cases, more important."
In overall terms, Eufrásio says that global growth synchronisation – although probably already peaked – is a key driver of BMO Global Asset Management Portugal's asset allocation: "We continue to be more biased towards equities, less constructive on fixed income and opportunistic in real estate."
However, the Federal Reserve's tightening of monetary policy, the unfolding trade war and political changes in Europe have shaped allocations, making it more constructive on US equities, at the expense of Japanese holdings, while maintaining a positive bias on European equities.
"On fixed income, albeit maintaining the underweight stance and shorter duration, we have dynamically shifted our preference to core or periphery government bonds to benefit from politically induced spread volatility," says Eufrásio. "And as the end of the European Central Bank's (ECB) quantitative easing looms, credit has become less of a preference within fixed income, and selection has become important."
He says BMO Global Asset Management Portugal has, in the last year, moved to a more geographically diversified approach to real estate by using professionally managed instruments to access niche markets and sectors.
Equities drive returns
In terms of results, Portuguese pension funds achieved average annual returns of 2.3% to 30 June 2018, according to Willis Towers Watson. The firm uses a sample of 69 occupational pension funds.
"Fixed income had returns broadly consistent with current interest rate levels," says Marques. "On the other hand, equities have performed strongly since June last year, with returns close to double digits. As most Portuguese pension funds have relatively small allocations to equity, this has led to a very moderate but positive 12-month period overall."
Risk management is still a priority; planning for a rise in interest rates or inflation is currently exercising pension fund managers.
"The performance of the sovereign bond market has helped corporate debt"

Luis Alvarenga
According to Alvarenga, Portuguese pension funds are more defensive in relation to duration risk.
"With credit spreads for European corporate bonds trading around the long-term average, funds favour credit risk relative to duration risk, given the solid economic performance of the euro-zone in recent quarters," he says. "In addition, with inflation ticking up and an ECB that has signalled its willingness to raise rates, bonds in longer maturity buckets would suffer more if yields rise."
Eufrásio agrees that duration is a key determinant of risk management. "Portuguese pension funds have followed ECB moves and communication to get a read on interest rate and inflation evolution," he says. "Consensus now is that rates will not overshoot, but instead will gradually move upwards as inflation finally adjusts to fit global growth and falling unemployment."
"Taking that into consideration, we think that interest rate management has been done at duration level, reducing the sensitivity to higher interest rates and gradually moving into floating-rate assets."
Eufrásio does not see changes within asset allocation weights, with asset classes being "fine-tuned" rather than slashed or increased.
But he says: "We also see that there has been a slow move into specific strategies that provide protection against higher interest rates mainly by using certain types of ETFs, smart beta, short duration, floating-rate notes, or unconstrained and total-return bond funds."
According to Marques, "Some pension schemes spend a material amount of time thinking about risk management and for those, typically, the focus is to hedge against interest rate changes (which broadly means not losing or profiting from any interest rate changes) which they do by either buying long-dated bonds or using interest-rate derivatives. There is, however, in some pension funds, some reluctance to hedge this risk, as this will remove the possibility of profiting from an eventual rise in interest rates above what is currently priced into the bond market."
Meanwhile, new legislation will allow participants in defined contribution schemes to choose a partial drawdown of their fund throughout retirement, instead of the purchase of an annuity.
As a result, Marques predicts: "There will be more assets under management for longer, while participants will not have to be as conservative with their asset allocations close to retirement. Participants will effectively become longer-term investors, hence theoretically increasing their risk appetite."
Spain: Unintended outcomes
1

2

Currently reading

Portugal: The success story