Joseph Mariathasan speaks with Luca Peyrano of the London Stock Exchange about its Elite programme for late-stage private companies and finds that it is preparing to spread its influence beyond the UK and Italy to the rest of Europe
The European SME sector is the driver for much of the growth in GDP and job creation in Europe, yet the financial crisis hit European smaller companies hardest as they were subjected to a freezing of their traditional sources of bank finance.
Outside the UK, family-owned smaller companies are invariably financed by bank loans, with a very significant proportion of short-term debt.
"That is the perfect recipe for killing innovation and long-term growth, which is exactly what European companies need to be able to compete at a global level with Asia and the US," says Luca Peyrano, head of Italy and Continental Europe primary markets at the London Stock Exchange Group (LSEG).
LSEG's Elite programme is designed to help companies access as wide a range of funding options as possible, facilitating direct engagement with Europe's capital markets, whether through listed equity, private equity or bonds, ultimately allowing these businesses to accelerate growth. LSEG is now expanding the programme across Europe, having seen success first in Italy and more recently in the UK.
Profile
The genesis of the Elite programme was in Italy in 2011. As Peyrano explains, the financial crash had shut down capital markets and bank finance had dried up for the small, family-owned, high-quality companies that were the mainstay of the economy.
Borsa Italiana's response was to set up a programme to persuade such companies that they did have alternatives for raising capital, perhaps not immediately or tomorrow, but, if they got ready, certainly by the day after tomorrow. Elite was launched as a coaching programme to help companies restore their confidence, prepare themselves for the next stage of growth and, at the same time, create an appetite for investment in them from a wide universe of investors.
"Elite has become a platform for high-quality small and mid-sized companies that are great businesses but not necessarily great at presenting themselves," Peyrano explains. "It allows them to develop the expertise needed to make informed business and funding decisions and increases their profile with global investors."
Following success in Italy, the programme was launched in the UK in April 2014. More recently, LSEG chose the European Parliament as the venue to announce that it was rolling the programme out across the rest of Europe.
The Elite programme consists of three stages. The first is in partnership with a local business school, which provides a comprehensive training course for founders and managers delivered by academic professionals, industry experts and other entrepreneurs. It is designed to stimulate cultural and organisational change, understand the language of the financial community and help in evaluating long-term financing opportunities. In London, this is done by Imperial College Business School and can be undertaken either through physical attendance or via online sessions.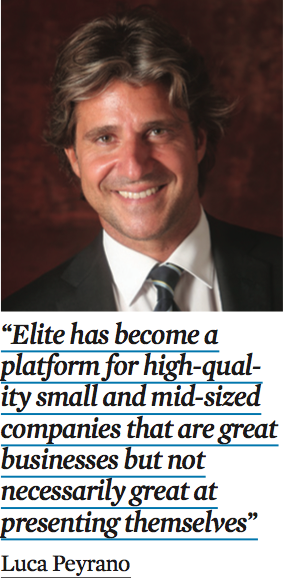 The second stage, which Peyrano sees as perhaps the most important, is the progressive adoption of new management practices.
"We undertake an audit of the company focusing on five key areas: business planning, internal controls, corporate governance, transparency, and communications," he says. "Almost every time, a company has a couple of areas where it requires some improvement and change. At that point, we offer them the ability to engage with selected advisers on the Elite platform."
The third phase occurs when a company is seen to be committed to change. It enables the firm to capitalise on the benefits associated with the new model by accessing new business, networking opportunities and funding options.
"We see it as offering all the benefits of being a public company before actually being listed," Peyrano says.
Participation figures
How successful has the programme been so far? In terms of numbers, 30 companies have been admitted every six months in Italy, while almost 40 have joined the UK programme since April 2014.
While the Italian companies have all been long-established family-owned companies, some in their fourth or fifth generation of family ownership, UK companies have been predominantly younger, high-growth companies reflecting the much more dynamic nature of the UK's capital markets, which family-owned companies have always been able to tap.
Over Elite's first 30 months, there have been 15 IPO announcements, 15 private equity transactions, 11 bond issues and 35 M&A transactions and joint ventures.
The next phase of the programme has already begun – namely, an expansion across the rest of Europe. The first cohort of European companies from Germany, Greece, Switzerland, Spain, Romania, Slovenia and Denmark are set to join at the end of April.
"There are cultural differences across Europe, but the financing needs of SMEs are the same," says Peyrano.
Clearly, stock exchanges across Europe are seen as national champions, and companies outside the UK and Italy may be reluctant to list in either London or Milan, but Peyrano does not see that as an issue.
"We take a neutral position on Elite," he says. "Firstly, companies joining the programme are not obliged to go public and they may prefer private equity financing."
Indeed, the majority of the 70 or so investors on the platform are private-equity investors, along with some family offices. Moreover, as Peyrano points out: "When you speak to a family-owned company, their eyes will glaze over after a few minutes if you start off by explaining the technical differences between listed equity and private equity. Instead, we focus on what their ambitions and plans are, and then describe how tapping capital markets can help them achieve their goals. A company is free to go public on any exchange it wishes. It is very difficult to limit options at the beginning."
Both the LSEG and the companies themselves need to be realistic about who is likely to benefit from such a programme, which, at €10,000 per year, is not expensive, but does take up a large amount of the CEO's or other board members' time.
From LSEG's viewpoint, it is looking for high-quality and highly ambitious businesses that can demonstrate historic growth and future potential with convincing growth projections, credible management and the motivation to deal with the cultural, organisational and managerial changes eventually required to access long-term financing opportunities.
Companies benefit from bespoke access to a network of leading local and international advisers, investors, experts, entrepreneurs and public companies. They also have the opportunity to participate in earlier engagement with the investor community, helping them access capital from a range of sources.
The ecosystem that Elite is building has the objective of supporting and promoting innovation, entrepreneurialism and growth. For many CEOs, one of the most valuable benefits may be the opportunity to interact, share experiences and learn from other companies with similar growth objectives and aspirations. Longer term, LSEG would like to see institutional investors such as pension funds, insurance companies and mutual funds as part of the ecosystem built around Elite. For Europe, any such developments can only be a good thing.