Jennifer Bollen looks at the private equity industry's latest response to calls for increased financial transparency and discovers a geographical divide in reporting standards
The private equity industry is well known for its opaque nature. Some of its most respected brands shun the press, refuse to disclose deal values and investors in buyout funds are often uncertain how much the asset class costs them. A string of initiatives has attempted to resolve the latter but one of the latest has received mixed reviews from European investors.
In January, Canada-based trade body the Institutional Limited Partners Association (ILPA) – whose members globally represent more than $1trn (€900bn) of private assets – published a template for fee reporting that it described as "landmark". It said that the template, which in an Excel document sets out all monies paid to a private equity manager, third parties and affiliates, was the private equity industry's first effort to "to unify and codify the presentation of fees, expenses and carried interest information by fund managers to limited partners".
It has received public endorsement from some noteable private equity investors, including Ontario Teachers' Pension Plan, the California Public Employees' Retirement System (CalPERS) and the insurer MetLife.
However, European investors expect the guidelines to have a limited impact on European private equity firms.
"Most LPs [limited partnerships] think it is certainly a step in the right direction and something that we welcome," says Graeme Keenan, a partner and chief risk officer at fund of funds Pantheon. "There are still concerns over the take up of this from the GP [general partner] community and the consistency in which it is applied by the GPs given different fund structures and accounting methodologies. That said, initial feedback from European GPs is that they are actively looking at implementation."
Jeremy Golding, founder and managing director of Germany-based fund of funds Golding Capital Partners, welcomes the template but echoes Keenan's doubts regarding adoption. "We monitor it, it's compatible with Invest Europe guidelines but there are few LPs who have really embraced it. There are very few GPs reporting on that level of detail," he says.
A spokeswoman for ILPA says a poll it had instigated had indicated more than half of respondents would adopt the template and that 42 investors had also publicly endorsed it. However, she added, just two GPs – Carlyle Group and TPG – had publicly supported it and were integrating it into their broader reporting processes, despite the template receiving support in principle from "the vast majority" of managers.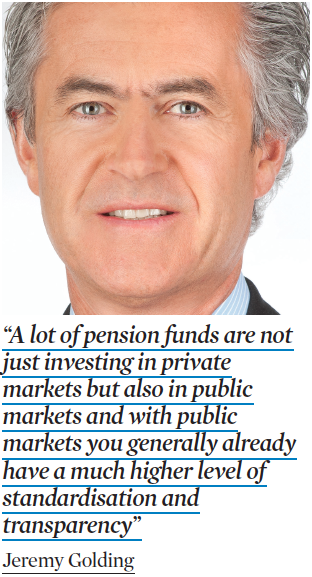 The template's publication followed pressure on private equity firms to improve transparency. Efforts to increase disclosure have included the UK's Walker guidelines, initially outlined in 2007 following a review led by Sir David Walker; the 2011 European regulation, the Alternative Investment Fund Managers Directive, and the Invest Europe Handbook of Professional Standards, first published in 2013 by the trade body formerly known as the European Private Equity and Venture Capital Association and updated last November.
In 2011, ILPA published an updated version of its 2009 private equity principles, which focused on alignment of interests, governance and transparency.
Much of the lobbying for improved standards has come from pension funds, according to Golding. "A lot of pension funds are not just investing in private markets but also in public markets and with public markets you generally already have a much higher level of standardisation and transparency," he says.
Jos van Gisbergen, a senior portfolio manager at Dutch investor Syntrus Achmea, describes the fee template as "déjà vu".
"All kinds of initiatives on an individual basis were taken [internationally]," he says. "In order to get it more streamlined ILPA took the lead to come up with best practice. In the meantime, we already had guidelines from the Pension Federation here in the Netherlands.
"The current template does, indeed, fit within the category 'best practice' and, for sure, would help to get more transparency. It, however, will only work if all ILPA members demand it as a standard."
Golding agrees: "As far as I'm aware, the template is right, it's asking the right questions and the right amount of data but it depends on getting critical mass from the GPs. The large ones are prepared to provide that data. The pressure is on the American GPs to provide that data first."
Van Gisbergen adds small firms with stellar returns are also likely to avoid adopting the fee guidelines and easily raise new funds regardless.
Large private equity firms with greater administration resources are expected to provide the most detail, with small to mid-sized firms likely to provide investors the least.
The template offers two tiers of detail from which managers can choose – a system ILPA says will ensure the template meets different investors' needs. Tier one refers to summary content and is the minimum level of detail ILPA recommends GPs provide. Tier two calls for further granularity and itemisation, such as subtotals for fees or reimbursements received from investee companies, and fees subject to offsets and partnership expenses.
"Most GPs will probably opt for the minimum," says Keenan. "The largest GPs with the largest amounts of commitments from large investors are more likely to go into more detail. The resources they have available to adapt their system and reporting means it is more likely they will do it."
ILPA told IPE: "It is true that the bigger the GP the more resources they are likely to have, and so we do expect this to have a top-down effect. However, the template is not overly onerous and we are seeing plenty of interest and activity at the mid-market level as well."
The push for transparency among European trade bodies and regulators has led to overlapping guidelines and rules for the private equity industry. The latest version of Invest Europe's professional standards handbook, which shows its members how to practically implement its code of conduct, brings together elements of existing transparency guidelines. These include guidelines already published by ILPA, according to Marta Jankovic, vice-chairman of Invest Europe's professional standards committee and senior sustainability and governance specialist at APG Asset Management.
"ILPA is not the top priority right now for European investors," says Golding. "They have got the [Invest Europe] guidelines, which are doing a nice job. I don't think there is a rejection of the ILPA guidelines, it's just a long way away and European LPs are still focused on fulfilling their own specific local regulatory requirements."
Jankovic says Invest Europe had been careful to ensure the latest edition of its Investor Reporting Guidelines – part of its professional standards handbook – and ILPA's fee reporting template were "complementary" but said there had been "a large degree of overlap" between the two.
"If a GP in Europe does not have any investors asking them to take the ILPA reporting template into account, then this is a matter for the GP and their investors," Jankovic says. "It boils down to the composition of the LP base and the GP's and the LP's negotiation."
Tomas Wijffels, a policy adviser at the Federation of the Dutch Pension Funds, says the fee template is "helpful" and welcomes its addition to transparency measures. "You [would] need a standard which all countries agree on and that might be a very difficult thing."
He adds the template will help retirement schemes in the Netherlands to comply with the trade body's Recommendations on Administrative Costs for the Dutch pensions sector, first published in 2011. This includes requirements to report pension management costs in euros per participant, asset management costs as a percentage of average assets under management and transaction costs as a percentage of average assets under management.
Pension funds will receive greater detail from buyout firms using the template, making their own compliance easier, he says. "Dutch pension funds can really say to their private equity managers 'we are obliged to include all costs [in three main areas]'… In the future, it will become easier to include all costs because the pension funds will, if they start a new contract [with a private equity manager], include cost transparency [requirements]." The
Proxy access: Flexing muscles
1

2

3

Currently reading

Private Equity Fees: Standardisation still elusive

4