Is Project Iris, a joint effort by Italian pension funds to invest in alternatives, a sign of things to come?
Key points
Five Italian second-pillar funds have pooled assets to invest in private equity
This is the first joint investment in alternatives for this kind of investors
Other pension funds in the same category are pursuing alternatives for the first time individually
The project represents a blueprint for future partnerships
Earlier this year, a consortium of five Italian pension funds announced that it had launched a search for private equity managers. The five pension funds have assets of just over €6bn in total and the size of the investment is €216m. By European standards these figures are small. But few involved in the Italian pension fund sector would deny the importance of the news.
For years, Italian pension funds have been criticised for two main reasons. First, their portfolios are too concentrated on liquid assets and conspicuously lacking allocations to alternatives. Second, they are underweight Italian assets, which means they are not doing their bit to help the domestic economy, which has been struggling for years.
Judging by the report released in June by COVIP, the pension fund regulator, those critiques are valid. According to Covip, as of the end of last year Italian pension funds allocated 21.4% of their assets to Italian government bonds, out of a 41.7% total allocation to sovereign fixed income. Less than 3% of total assets, equating to about €3.7bn, were allocated to Italian companies. Investments in domestic assets held in funds were worth €1bn. Pension funds also had €3.4bn invested in domestic real estate. A grand total of €36.7bn, or 27.7% of overall assets, was invested in domestic assets.
These are small sums in absolute terms and relative to the total assets managed by the sector, which were €167.1bn at the end of last year. That is why pension funds have frequently faced calls to increase their participation in Italy's economy. Lawmakers, however, have offered little in terms of incentives. While limits on asset allocation have been gradually lifted, pension funds still operate in a strict regulatory environment. Tax-based incentives to invest in real assets are thin. Pension funds lament a lack of suitable instruments or solutions – for instance, implicit state guarantees that minimise risk.
The other important challenge, of course, is that pension funds themselves have lacked the size and the skills needed to invest in alternative assets such as private equity, private debt and infrastructure.
These factors have not stopped several pension funds from taking initial steps in the alternative sector individually (see box). But the announcement that five funds – Foncer, Fondenergia, Fondo Gomma Plastica, Pegaso and Previmoda – have pooled assets to invest in private equity is a sign that things may be changing for the better.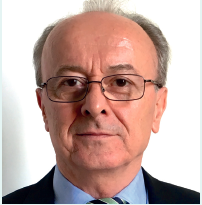 The partnership, named 'Progetto Iride' (Project Iris) was created with the specific aim of investing in alternative assets. According to the website launched in support of the project, the partnership "stems from a deep analysis of the alternative investment market, as well as the conclusion that these investments are sustainable over the medium term, given the funds' positive contribution flows.
"These investments are also expected to improve our yield expectations and provide a considerable contribution to performance. In this phase of low yields, the goal of these investments is to achieve further diversification of our portfolios and sources of return, in order to strengthen the return objectives of our members".
As required by Italian regulation, the pension funds launched a public tender. They intend to award a mandate to a manager that will select and manage private equity funds on their behalf. The winner of the tender will focus on buyout strategies, targeting a cash multiple of 1.5, and is expected to invest a significant share of the portfolio in Italian companies. The mandate will run for 10 years.
The consortium has earmarked €216m for the investment. It is split between the five funds as follows:
● Fondenergia – €72m
● Fondo Gomma Plastica – €46m
● Previmoda – €39m
● Pegaso – €30m
● Foncer – €28m
At the time of writing, the consortium was engaged in the process of evaluating the 20 offers that it had received. A final decision on the winner is expected in the autumn. Prometeia Advisor SIM, one of Italy's leading advisers to pension funds, is providing assistance.
By joining forces, the funds are not only responding to the calls for greater institutional investment in the Italian economy. The funds are also able to diversify and enhance the prospective yield in their portfolios.
Roberto Arioli, the chairman of €1.2bn Previmoda, the pension fund for Italy's fashion and textile sectors, says: "We started from the common awareness that we needed to find new sources of return and diversification, given the low expected returns from traditional asset allocation models. Our portfolios are already diversified within liquid, listed assets and the next natural step is private markets.
"At the same time, we knew that in recent years pension funds that attempted investing in private markets faced significant challenges. Private market investments require significant due diligence and monitoring capabilities and it seemed clear that collaboration among funds would help us achieve those capabilities, create synergies and take advantage of economies of scale. This is especially relevant when it comes to risk reduction and cost control," Arioli says.
An explicit objective of the project is to contribute to job creation through investment in productive assets. Within the debate about pension fund investment in the Italian economy, it is often said how job creation is a means to support future pension fund contributions.
The fact that the same trade unions are represented on the pension funds' boards facilitated the collaboration, according to Arioli. This is an important development, since collaboration between Italian pension funds has been limited, supposedly by the lack of common interests among governance boards. Pension funds have often been criticised for their reluctance to work together and tendency to defend their own turf.
Arioli suggests this was never really the case. "Our funds had worked together on several projects in the past, including communication to members, so the decision-making process for this project was smooth. We have leveraged on our common ability to communicate among each other. At the end of the day, the governance of our funds are representative of the same social partners," he says.
A recent regulatory development eased the establishment of the partnership. Until last year, the rules concerning investment by pension funds in private markets were unclear. Most interpreted the relevant law as stating that, while investors could award mandates for investment in public markets, they could only invest in private markets directly. Covip, the regulator, finally clarified the matter, stating that pension funds can award mandates for private market investments. Without Covip clarifying that indirect investment is a possibility, the project might not have seen the light of day.
Arioli says that private equity was preferred over private debt and infrastructure because of its better expected risk/return profile. The consortium felt that private equity was a more established market compared with the two other asset classes. Real estate, probably the most established non-listed market, was considered generally less attractive.
Progetto Iride: the basics
• Pension fund consortium for investment in alternatives
• It has launched a tender search for a manager that will invest in private equity funds
• The participants (data as Dec 2018):
Fondenergia (energy), €2.18bn Fondo Gomma Plastica (plastic), €1.8bn Previmoda – fashion and textiles, €1.18bn Pegaso (utility sector), €1bn Foncer (ceramics), €455m
• Value of the mandate: €216m
• Duration of the mandate: 10 years
• Target: 1.5 cash multiple
• Investment universe: Europe-focused buyout funds with significant allocation to Italian companies
• Tender details: no leverage allowed; manager to have at least €2bn in private equity AUM
• Progetto Iride, or Project Iris, refers to the structure of the human eye and the wide range of colours it can take, a metaphor for portfolio diversification
Education was an important aspect of the project, according to Arioli. The first phase consisted of the five funds learning about alternative investments in a joint fashion through several workshops. Similarly, other groupings of pension funds may learn from this experience and invest in alternative assets in tandem. Arioli says: "We took a new and different approach compared with pension funds that had previously invested in alternatives. Our decision to award a mandate rather than investing directly is one important distinguishing feature. If other pension funds adopt this model, investment in alternative assets could increase."
Arioli also stresses that the project is entirely autonomous and independent. By that, he means that the consortium did not bend to the 'soft' pressure exerted by policymakers to invest in Italian assets. He explains: "There is an intense debate in Italy about the need for pension funds to invest in the real economy. Our initiative was totally independent and for many is a step in the right direction." Naturally, process that took some time and various steps. Organisations have matured and some external obstacles that have been removed.
For Arioli's pension fund, Previmoda, the project is an opportunity to test a private equity portfolio in a 'protected' environment, in the event that the fund will invest individually as well. The investment will represent 3% of Previmoda's portfolio, but Arioli says: "Our portfolio is evolving and in time we may have to raise the strategic allocation to alternative assets to beyond the current level."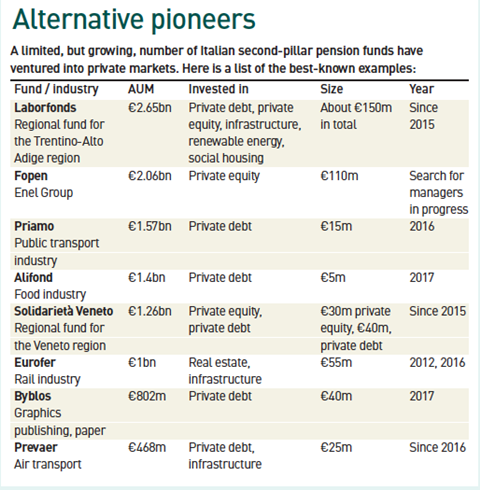 Another relevant aspect of the project is that the mandate up for grabs contains few limitations, according to Andrea Nanni, partner and head of pension fund and insurance advisory at Prometeia, the firm that advises the consortium. Although the funds are investing in private equity for the first time, and under a strict regulatory environment, they are leaving ample room for the prospective manager to build a diversified portfolio.
The tender says that managers are expected to invest a significant share of the assets in Italy, but it does not specify a figure. The only limitations are that the portfolio will not be invested in venture capital or distressed assets, that leverage is not allowed and that participating managers must have at least €2bn of alternatives assets under management.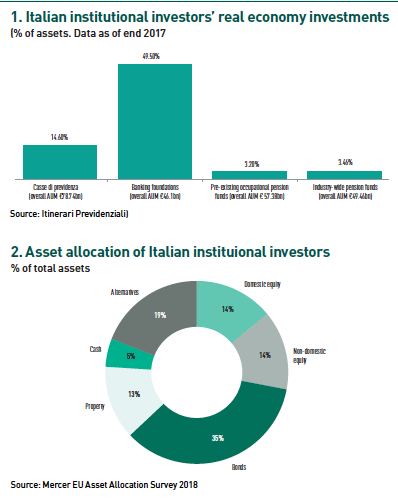 Nanni, who oversaw the project, says that this is not going to be a one-off and that other Italian pension funds are working to build alternative portfolios, individually or in tandem. With low expected yields on traditional assets, and thanks to a few inspiring examples, pension funds are ready to diversify their portfolios.
The regulatory environment is ripe too, after several small changes. Nanni points to the example of Fopen, the €2bn pension funds for employees of energy group Enel. With assistance from Prometeia, at the end of 2017 the fund launched a search for two private equity managers for a portfolio worth more than €100m.
There remains one significant limitation, however. The rules do not allow pension funds to own more than 25% of a single portfolio, which inhibits the possibility of creating tailor-made fund vehicles. This is a common habit of private equity investors globally.
That is why Nanni argues that the choice to award a mandate rather than own funds directly would be the best one for other funds stating out. He says: "Assuming an initial lack of internal skills, indirect management of alternative assets allows pension funds to increase their knowledge and awareness without having to build their organisations beforehand. This helps learn about the asset class and achieve diversification. In time, pension funds will move to direct ownership of funds."
"By focusing on private equity mandates, we have defined a new standard for Italian pension funds," adds Nanni.
Private equity: Visions of the future
1

Currently reading

Private equity: Visions of the future

2

3

4

5

6