Integrating private markets within an asset allocation can be rewarding but is also challenging. Beyond setting harmonised measures of risk and return, investors have also to manage the third dimension of investing: liquidity horizons. The cost of liquidity is central, as well as setting up cash reserves.

Key points
Integrating private markets into the asset allocation of pension funds is a challenge because of the constraints involved in such portfolios
The probability of loss can be estimated through value-at-risk and scenarios modelling
The challenge is to manage the lower liquidity associated with private markets
Simple guiding principles can help pension funds integrate private markets into their portfolios
The endowment of Yale University places private markets (PM) at the core of its investments: between 1997 and 2015, it allocated on average 23% of its assets to private equity (PE)1. Its yearly performance over 20 years reached an average of 12.6%. This represents an excess average annual performance of 1.7% over 30 years compared with other endowments.
Reproducing these results is difficult. University endowments are unconstrained investors – with the caveat that they are not allowed to spend the amounts endowed. Integrating long-term assets within an asset allocation in perpetuity therefore comes logically, if not easily, as endowments still have to contribute to university budgets.
Pension funds are different: they are bound by specific constraints and must deal with partially unplanned outflows. In that context, including PM to an asset allocation inspired by modern portfolio theory (MPT) is a challenge. Although a risk-return analysis derived from MPT can integrate PM, it requires adjustments to the standard mean-variance framework.
Setting harmonised risk and returns measurements for traditional and PM assets is a challenge. The performance of PM funds can be measured through absolute (multiple on invested capital), relative (public market equivalent method) or time-sensitive (internal rate of returns) indicators. Comparing the performance of traditional and PM assets requires standardised multi-year timeframes. We recommend that investors shift their time-horizon from yearly timeframes to a long-term approach organised around five to seven years timeframes.
Harmonised risk measurements of more and less liquid assets are more complex to construct. Risks of listed assets are often measured through volatility, but this does not apply to less liquid assets. In PM, metrics chosen for performance simultaneously define risk. For example, when US venture capital funds (see figure) perform better (as measured in multiples of invested capital), they exhibit a higher spread of performance between the best and worst. The correlation is strong, and increases with the elimination of outliers by focusing on the spread between top quartile and bottom quartile funds, for example. This approach can be applied to any asset, but requires adopting the same multi-year standardised timeframe for performance measurement.
Going further, what matters to investors when it comes to risk is the possibility of a permanent loss. The probability of loss can, up to a certain level, be estimated through reasoning such as the value-at-risk approach and scenarios modelling. This solution is adapted to manage the risk of portfolios of traditional and alternative assets, and is well suited to PM risk measurement.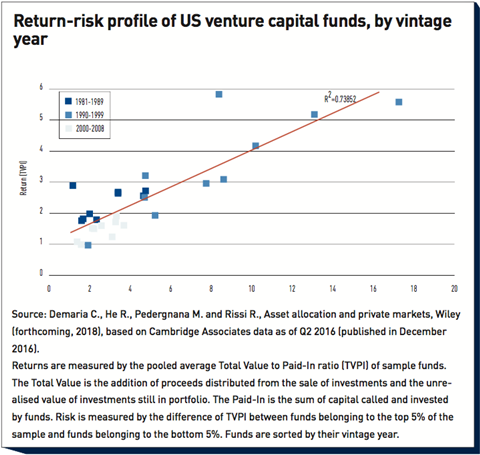 If the solution is at hand, why are investors still reluctant to utilise PM in their asset allocation? Their challenge is to manage the lower liquidity associated with PM. The crisis of 2007-09 generated an aversion to illiquidity, which was seen as a risk. If illiquidity is defined as an absolute lack of liquidity, then it is indeed a risk – but this is an exception.
Accepting a degree of illiquidity is at the heart of investing. Investing means to defer the immediate consumption of capital, which is used to generate value later materialised in a real increase of the initial amount of capital. If an investor cannot (or does not) want to, then there is no point to invest, either in traditional or alternative assets. Liquidity is a question of degree and investors have to set liquidity targets for their portfolio.
We argue that liquidity is the third dimension of investing, next to risks and returns. In that respect, PM investing is an active strategy, the notion of 'illiquidity premium' coming from the passive world of credit is erroneous. For example, fund managers use the relative illiquidity associated with PE to deploy their know-how and overcome market inefficiencies, information asymmetries and principal-agent dynamics. This reasoning applies to certain private debt strategies: creditors' protection is only one parameter among many to successfully invest in ailing companies (distressed debt), for example.
The ying to private markets yang
Long-term investments require cash reserves. Investors dislike these, as their low returns are a drag on performance. They are often replaced with 'liquid' assets supposed to simultaneously generate returns and a safe equivalent to cash reserves. This assumption is wrong: this liquidity dries up when investors need it.
Cash reserves are not only necessary to handle future payouts, but also to prevent compulsory transactions in a market where prices are depressed. The benefits in terms of risk management are significant: by helping investors avoid forced transactions, they also generate performance. The low returns generated by these highly liquid instruments represent the cost of liquidity, leading investors to assess their payout needs and establish scenarios to compute their asset allocation.
To include PM in an asset allocation, a few guiding principles stand out. First, select investments with liquidity horizons matching payout timelines. As the time-to-liquidity (which measures the average time necessary for an asset to mature and be sold) is three to five years for PE strategies, cash reserves can complement this and fulfil payout needs. Higher payout requirements can be met by other PM strategies, for example direct lending serving early and regular distributions.
Second, set a liquidity horizon to frame the assessment of risks and maximise prospective returns. Risk-return assessments routinely assume a yearly investment horizon and a matching liquidity of underlying assets. This arbitrary convention should be lifted with a long-term time horizon.
Third, as there is no direct link between risk, return and liquidity between PM strategies, include them individually in the portfolio: they diversify each other's risk and introduce differentiated drivers of performance.
1 Private equity investing aims at solving corporate finance issues by providing additional resources to companies through capital increase (venture capital to start-ups, or growth capital to small and mid-size businesses); by facilitating a transfer of ownership (leveraged buy-out); or by supporting a business restructuring (turn-around capital).
Cyril Demaria is head of private markets at Wellershoff & Partners, a buy-side research and advisory firm. He is the author of Introduction to private equity (Wiley, 2nd ed, 2013), Private equity fund investments (Palgrave, 2015) and the co-author of Asset Allocation and Private Markets (Wiley, forthcoming 2018).
Monetary policy: Too much of a good thing
1

2

3

4

Currently reading

Private markets: The integration conundrum