Big US public pension plans want listed companies to include shareholders' director nominees in company proxy statements. Christopher O'Dea reports
In a year when a tough-talking New Yorker is shaking up the Republican Party's Presidential nomination process, it is no surprise that New Yorkers are also taking the lead in shaking up another sector of the American establishment – corporate boardrooms.
A campaign by New York City comptroller Scott Stringer to win the right for shareholders in public companies to have their director nominees included in company-issued proxy statements has caught fire. It has produced the highest number of shareholder proposals ever filed in the US on a single corporate governance topic.
The shift reflects the growing influence large pension funds have on corporate governance issues they see as critical to long-term performance of their holdings. As the investment adviser to five pension funds for city employees with more than $160bn (€140bn) in assets as of November 2015, the comptroller's office is the fourth-largest pension investor in the US.
Stringer's office announced in January the list of companies to which it was sending proposals calling for the adoption of by-laws giving shareholders the right to place their director nominees on the company proxy along with the board's nominees.
By March, such proposals had been filed with 192 companies, up 70% from the number filed in 2015, according to Patrick McGurn, special counsel and head of strategic research and analysis at corporate governance advisory firm Institutional Shareholder Services, which recommends how institutions should vote on shareholder proposals.
"The trajectory of this issue in comparison to what happened with other corporate governance topics is more like a rocket than an airplane," says McGurn. In 2014, for example, there were only 20. "It went slowly down the runway for a while, but it's moved into a steep takeoff."
Two factors have fuelled the rise this year, McGurn says. First, there was broad consensus among pension funds and other institutional investors on the need for shareholders to have the right to include their director nominees on proxy statements issued by US companies. Without that right, institutions had to organise separate efforts to place their nominees in front of shareholders, a costly and confrontational process.
"The trajectory of this issue in comparison to what happened with other corporate governance topics is more like a rocket than an airplane. It went slowly down the runway for a while, but it's moved into a steep takeoff"
Patrick McGurn
Company managers in the US have long exercised tight control over proxy materials – and thereby controlled the substantive proposals that shareholders can make about the conduct of a business – with the nomination of directors being the crown jewels. When the Securities and Exchange Commission issued a rule allowing proxy access, the US Chamber of Commerce sued to block implementation, succeeding on the basis of a Washington DC Federal Circuit Court decision that said the regulator's cost-benefit analysis was defective.
The institutional investment community still wanted proxy access, McGurn says. "The band was all in place," he says. "The only thing missing was a drum major to lead the band. So when New York City jumped in front of the band, the parade took off."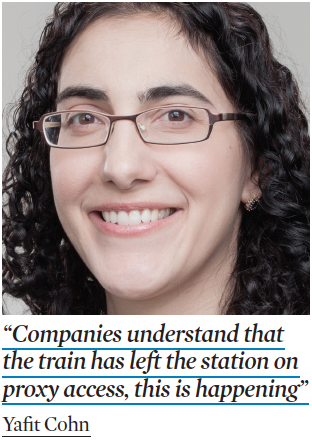 Rather than pursue a range of corporate goals, the comptroller's initiative, dubbed the Boardroom Accountability Project when annouced in November 2014, focused on persuading companies to change their by-laws to allow shareholders to place their director nominees on proxy materials.
After a modest start, the focus paid off. Although the comptroller's office says few companies would engage in discussions about adopting proxy access by-laws last year, McGurn says the proposals that were put to a vote in 2015 received an average approval of 55%. That was enough to convince companies that the tide had turned, and 78 companies adopted proxy access by-laws in the final months of 2015, in an effort to avoid shareholders submitting calls for votes on the matter at 2016 annual meetings.
The speed with which companies have conceded to investor demand has astonished the US corporate governance community. "It was pretty quick," says Yafit Cohn, an attorney in the public company advisory practice at New York City-based lawyers Simpson Thacher & Bartlett. "Companies understand that the train has left the station on proxy access, this is happening."
When Stringer's office sent proposals for votes on proxy access to 72 companies this year, the reaction was swift. Within just weeks, 19 of the proposals submitted to the 36 companies receiving the proposals for the second year had been withdrawn after the respective companies enacted or agreed to enact, suitable by-laws. Of the 36 proposals submitted to companies for the first time in 2016, 26 had been withdrawn under the same circumstances. By March, McGurn says, shareholders had withdrawn proxy access proposal at 50 more companies that agreed to adopt.
The bulk of withdrawals occurred at companies that had received proposals from the New York City comptroller's office and reached agreement on the adoption of by-laws establishing proxy access with the comptroller's corporate governance team, headed by Michael Garland.
The comptroller's office has sent proxy access proposals to companies the governance team believed had inadequate diversity among board members, paid excessive CEO compensation or faced significant risk from climate-related regulation. Those issues are vital to the long-term financial performance of companies that matter to pension fund investors, says Stringer, and with most of the equity portfolio indexed, board stewardship of each company is more important than it might be for investors with shorter-term horizons.
"We depend on corporate boards to make the right decisions to create long-term value," says Stringer. "Proxy access is the best way to ensure we have people on those boards who are independent, diverse and accountable to the concerns of shareowners."
What has emerged is a basic set of thresholds that are serving as the framework for proxy access by-laws, says Cohn. The baseline is to allow shareholders, or a shareholder group, that has owned at least 3% of a company's stock for at least three years to include on the company-issued proxy nominees for up to 25% of a board's directors, or at least two directors. A shareholder group is typically limited to 20.
Other investors have thrown their support behind proxy access. Among public pension funds, the $188bn California State Teachers' Retirement System (CalSTRS) contacted 30 US public companies and asked them to adopt proxy access by-law, noting that it would submit shareholder proposals on the matter if companies did not do so voluntarily. CalSTRS in 2012 was instrumental in securing for the first time majority approval of a non-binding resolution requiring Nabors Industries to allow shareholder-nominated candidates for up to a quarter of the board's seats to appear on the corporate proxy ballot. But reflecting how strongly companies defended proxy ballots before this year, Nabors did not adopt such by-laws until 2014, even then requiring a 5% ownership stake that is controversial. Earlier this year, Vanguard Group moved in the opposite direction to support a 3% ownership threshold instead of the 5% level it had previously supported.
Having overcome corporate resistance and won the right to include shareholder-nominated director candidates on official ballots, Cohn says the next phase will be when and how shareholders exercise that right. "The first company to receive a proxy access nomination will receive a lot of attention," she says.
The comptroller's office declined to comment on whether its governance team is planning such nominations, and indicated that the existence of the right mitigates the need to use it. "There's nothing on the horizon right now," McGurn says, "but it used to be a last resort for shareholders to vote against corporate directors." Shareholders will eventually flex their new muscles, he adds. "Yesterday's last resort has a way of becoming tomorrow's engraved invitation."
Proxy access: Flexing muscles
1

Currently reading

Proxy access: Flexing muscles

2

3

4