Equity risk is a crucial portfolio exposure for pension funds and a key driver for long-term retirement outcomes for pension plans and their beneficiaries. Yet the structure of equity markets is in transition, which changes the way pension funds choose to allocate capital to them.
Global equity market capitalisation is at all-time highs, yet in the developed markets the number of listed companies and IPOs continues to decline. This points to a profound change in the way corporates utilise equity markets, with a greater share of economic activity taking place away from the transparency of the public marketplace.
And in fixed income there is also a shift away from liquid, public issuances and towards illiquid, private or alternative credit, including real estate and infrastructure debt.
Pension funds, insurers and sovereign funds alike are allocating capital in greater proportion to private markets – both equity and debt – as they search for long-term diversified return sources, yield, cashflow matching strategies or a combination of those.
Active managers are also feeling the pinch as they seek to meet expectations of above-benchmark returns and this is prompting them to pile on liquidity risk.
Investors in GAM's suspended and liquidated unconstrained/absolute return bond funds last year, or in the Woodford Equity Income fund this year, have found to their cost that the liquidity profile of UCITS funds does not always match that advertised.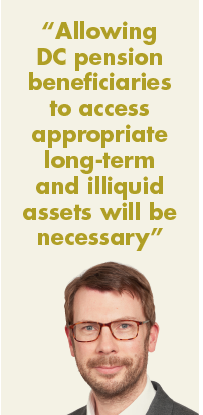 In a worst-case scenario, the manager must sell the most liquid assets to meet redemptions, thereby increasing the weighting of illiquid holdings, triggering further outflows and necessitating gating.
The results of such mismatches is usually more of a concern for the fund manager, whose reputation is on the line, than for institutional investors with diversified portfolios.
Intelligent asset allocators will of course seek to identify where managers blow off-course and avoid those likely to do so. There is no substitute for exemplary risk control and governance at the investment manager level, combined with clear and accurate reporting of risks.
Allowing DC pension beneficiaries to access appropriate long-term and illiquid assets will be necessary as the structure of capital markets changes. Sweden's AP7 €44bn default DC fund looks set to allocate to illiquid assets for the first time, following a report recently submitted to the all-party Pensions Group. In the UK, NEST has been seeking to incorporate long-term assets in its portfolios. Such moves will be closely studied by policymakers, regulators and pension providers.
It is important that any regulatory response to issues of fund liquidity does not, intentionally or otherwise, prevent well-governed DC schemes from making appropriate illiquid investments.
Liam Kennedy, Editor
liam.kennedy@ipe.com