The advent of the new MiFID II regulations is fundamentally changing the way asset managers relate to research
Independent research providers are hoping to benefit from the new research regime

What will be the consequences of technological advances upon the research industry?
IPE asked the top 120 European asset managers how they were dealing with the issue of third-party research costs
Digital Edition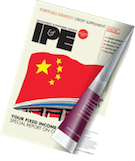 Subscribe to the digital edition of IPE magazine to view the latest issue directly in your browser.
A look at four pension funds' credit investment strategies
How are hedge funds faring as investment partners and providers in private credit?
Universal-Investment's latest investor statistics show how German institutions have started diversifying within alternatives
Many German asset managers have yet to decide how to apportion external research costs