Investing in the rise of China's middle class might seem obvious but it is a complex process
The EU wants to encourage environmentally friendly investment practices. Will its taxonomy stimulate the green bond market?
Digital Edition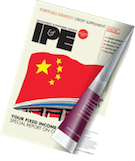 Subscribe to the digital edition of IPE magazine to view the latest issue directly in your browser.

Access to China's fixed-income market is cheaper and easier than ever

Help is at hand for institutional investors interested in pursuing, or deepening their efforts in impact investing

Brexit, Trump, unprecedented Sino-American trade tensions: country risk and political considerations have moved to the fore and pension investors and asset managers alike have had to revise their investment strategies

The world's largest pension fund is exploring the use of AI to help it select asset managers and assets in which to invest

The anticipated rise in interest rates urges pension funds to review their liability-management strategies 

One in every four professionally managed dollars is now invested sustainably according to some definition, with a total of $22.9trn run in this way overall

How German asset managers are taking up the cudgels as demand for ESG approaches continues to grow

China's growing clout in Asia is influencing investment strategies across the region

Regulators have eased concerns over competition within the UK investment consultancy and fiduciary management sectors 

The evidence of systemic risk in the asset management sector is limited but is kept under close scrutiny