Lack of trust underpins poor take-up of new plans
Key points
Employee pension plan roll-out remains below expectations
Early concentration and consolidation in provider market
Public-sector companies make an early start for the final phase
Second-pillar pension returns pummelled by WIG crash
Liquidation of second pillar has been postponed until 2021
Poland's two-year-old employee pension plans (PPKs), the Law and Justice government's flagship programme, completed its second and third phases in 2020.
The second phase – for companies with between 50 and 249 workers and originally set for completion in spring 2020 – was extended to November as part of the government's anti-pandemic policies, the date when the third phase (firms with 20-49 employees) was also completed.
By this time, companies must have signed a management contract with one of the 19 licensed providers. These consist of 16 Polish investment fund management companies (TFIs), two pension fund management companies (PTEs), and one life insurance company.
The programme is compulsory for employers, except those offering employee pension programmes with a minimum 3.5% contribution, but voluntary for employees. Workers aged 18 to 55 years are automatically enrolled but can opt out, while older workers, up to age 70, can opt in.
Employees pay a basic 1.5% contribution (0.5% in the case of the low paid), but they can increase this to 2.5%. The employer's contribution, albeit treated as a taxable benefit, ranges from a basic 2% up to 4%. Additionally, the state contributes an annual PLN240 (€54) and a welcome bonus of PLN250.
Despite these incentives, take-up remains well below the government's original expectation of 75%. In the first phase, covering companies with a minimum 250 employees, only 3.3m – about 40% of those eligible – remained in the system. Although final figures were not available as of early December, the share is expected to be even lower for the second and third phases.
"In our business case, we have assumed roughly 20% as the participation rate for both the second and third waves," says Szymon Ożóg, CEO/CIO of Nationale-Nederlanden PTE. "This is a quite pessimistic assumption, especially if you consider how advantageous this programme is for employees."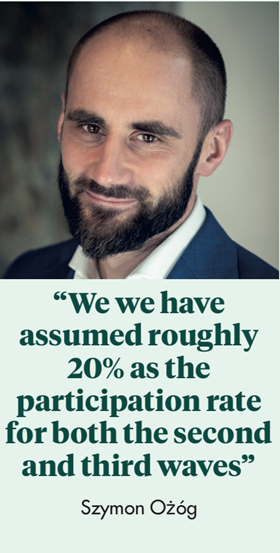 On top of the employer and state contributions, Ożóg highlights the ability of employees to withdraw money at any time.
"The employee loses tax incentives in case of early withdrawal, but they will still cash an approximate 40% net gain. Unfortunately, we already see that roughly one-third of mid and small firms, from the second and third waves, have contracted us, as their PPK provider didn't sign management contracts. This means that all their employees opted out at the very beginning of the programme," he says.
Savings challenges
Małgorzata Rusewicz, president of the Polish Pension Funds Chamber (IGTE), attributes the lower-than-expected participation partly to the underdeveloped savings culture.
"Recent research revealed that Poles have improved their financial literacy skills. We find this very optimistic and believe that more and more people will save for retirement," she explains.
The second issue concerns what Rusewicz terms the 'anti-reform' of the second-pillar pension funds in 2014 (see panel). "This betrayed people's trust in the second pillar. We are facing a lower level of confidence in the pension system and in financial institutions. It will take some time to rebuild trust. We know where the challenges are and we want to respond to them. I think that year by year the PPK participation ratio will increase."
There are more immediate reasons why the take-up in the second and third phases will be below that of the first phase.
"First, smaller firms offer smaller salaries, and less-affluent employees have simply less room to save," notes Ożóg. "The average [monthly] gross salary in Poland amounts to roughly PLN5,500 [€1,240]. Employees earning this average salary who participate in the PPK programme put aside PLN110 which translates into roughly 2.75% of their net monthly salary.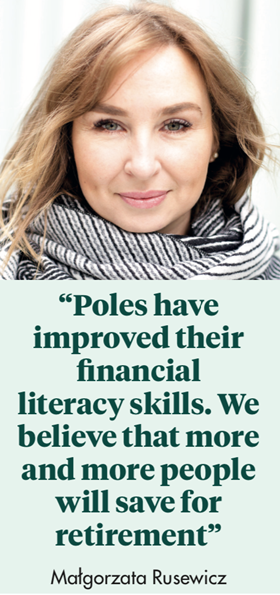 "It's simply challenging for a lot of families in Poland, where 50% of households don't have any savings. The PPK programme is actually meant to change this situation due to its rich tax incentives and obligatory support from employers.
"Second, smaller firms often operate on tiny margins. Such employers might be reluctant to support their employees with additional benefits and they can find ways to discourage people from participating in PPK. Finally, the current COVID recession is also to blame. Some sectors, dominated by SMEs, were particularly hit and struggle to survive, despite generous support from the government shield programmes."
Another factor that has not gone to plan is the PPK law's attempt to prevent market concentration. Management fees, capped at 0.5% of net assets, with up to a further 0.1% as a performance fee, are limited to the first 15% of total PPK assets acquired by a single provider or providers in the same capital group.
At the end of September 2020, five providers, including two each in the same capital group, had 73% of all PPK assets under management. PKO TFI accounted for 34%; Nationale-Nederlanden PTE and NN Investment Partners TFI 13% and 9% respectively, and TFI PZU and Pekao TFI 14% and 3% respectively (see figure).
The first sign of market consolidation came a month later when Pocztylion-Arka PTE took over the management of Aegon PTE's PPK assets.
The last phase, for the smallest firms and public-sector employees, began in January, with the final deadline on 10 April. An earlier motion by the upper house to postpone public-sector PPKs by a year was defeated by the Sejm (lower house).
In the public sector, this phase is proving especially challenging for the many cash-strapped local authorities affected by COVID-19.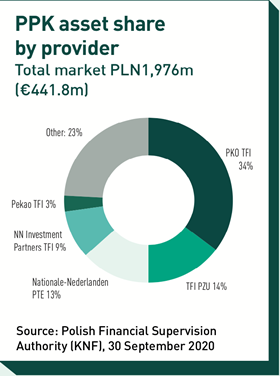 On the other hand, many entities have aimed to sign their management contract by the end of 2020 to avoid putting them to public tender, as required by a new public procurement law that took effect in January. In November the Polish Social Security Institution (ZUS), which has 45,000 employees, signed its PPK management contract with market leader PKO TFI.
Stock market crash delays liquidation of second pillar
Poland's second-pillar pension funds (OFEs) were badly hit in 2020 by the impact of COVID-19 on global stock markets. In March, the Warsaw Stock Exchange (WSE) equity indices suffered their second-biggest fall after the 2009 financial crisis, while the OFEs' returns plunged to record lows – an average annual -26.5%, and -25.1% over the three years.
Six months later, these had improved marginally, to -14.9% and -22.8% respectively, but the three-year losses in particular attracted extensive publicity as the system's 15.5m members, about 2.7m of whom are still contributing, watched the value of their savings erode.
Since 2014, when the previous government removed all domestic and sovereign bonds from OFEs' portfolios, the funds have been essentially Polish equity funds, with relatively little option for diversification. As of end October 2020, total net assets had fallen by 24.1% year on year in zloty terms to PLN154.9bn (€34.1bn).
The so-called 'slider' mechanism, which incrementally moves a member's funds at 10 years before retirement into the first-pillar Polish Social Security Institution (ZUS), has also contributed to their shrinkage. Polish brokerage house Trigon estimates that in the first 10 months of 2020, slider outflows totalled PLN4.8bn against PLN2.7bn of contributions.
Given the long-term unsustainability of the system, the current government intends to liquidate the OFEs by giving members the option of converting their fund into a newly created third-pillar individual retirement account (IKE), or transferring assets to a Polish Social Security Institution (ZUS] sub-account where they will be managed by the Polish Development Fund.
In the first option, members pay a 15% 'conversion tax' to ZUS; in the second, they pay personal income tax on their eventual pension. Also, unlike IKE assets, the ZUS pension is not inheritable.
"The OFE reform requires a new legislation process" - Małgorzata Rusewicz
The liquidation law was due to come into effect in 2020, with the lower house of parliament passing it in February. It was rejected by the upper house in March and put on hold when the pandemic hit, as both liquidation options would have generated significantly smaller budget incomes and retirement pots.
In November, after COVID-19 vaccine news boosted global stock markets, Poland's development funds and regional policy ministry, the body leading the project, predicted that the law could come into effect in February 2021.
As of December, the cabinet had still not announced any changes to the existing bill, which contains now-missed deadlines and some glaring inconsistencies. For instance, the value of an IKE pot is set on its date of conversion from an OFE, while the ZUS option uses an asset-valuation date of 15 April 2019.
"The OFE reform requires a new legislation process," says Małgorzata Rusewicz, president of the Polish Pension Funds Chamber. "This situation creates the opportunity to implement all necessary amendments to make the transformation of funds safe and responsibly prepared. It's very important to adjust the schedule of reform to new economic and pandemic conditions, including a suitable vacatio legis period, to find the solution that will make the choice between ZUS and IKE equal in terms of asset evaluation."
CEE - Poland: Auto-enrolment limps to the finishing line
1

Currently reading

CEE - Poland: Auto-enrolment limps to the finishing line

2

3

4