The pandemic has clearly shaken up the equity markets but which trends are likely to persist in the long term?
KEY POINTS
Trends in the equity markets could shift if the COVID-19 pandemic is contained
The winners from the pandemic could continue to perform well if they reflect longer-term trends
Large companies with high leverage and hence financial fragility are facing tough futures
The long-term shift from the US to China could have a greater impact than the COVID pandemic
It is clear with hindsight that in 2020 there has been a bifurcation between those firms/sectors that have thrived under the pandemic and others that have suffered. The announcement in November of vaccines that showed extremely high degrees of efficacy provided immediate boosts to global markets and a rapid change of sentiment. Yet there are still many uncertainties and dangers ahead that could reverse sentiment just as quickly. But there are also structural trends that existed before the pandemic that were exacerbated by it and will not be reversed.
Some see a roadmap to normalisation in the global economy that should result in a reversal in the relative performance of sectors before the vaccine announcements. This roadmap includes not only vaccines, but also rapid and affordable tests, more effective treatment protocols reducing hospitalisation and fatality, more cautious personal behaviours and a general progression towards broader immunity to and greater tolerability of the virus, even if vaccines only produce immunity for months rather than years – an issue still to be resolved.
"There is a high probability that on a one-year time horizon a lot of this will be in place and companies – even in the most affected sectors such as transport, leisure, more cyclical areas of industrials that had the operational and financial strength to survive the downturn without equity dilution – will recover and some may even strengthen their competitive position," says Mikhail Zverev, head of global equities at Aviva Investors.
Others argue that COVID-19 has accelerated a long-standing divergence between certain sectors. Those type of stocks that were outperforming before the pandemic might not perform as much as they did this year, but they would still be outperforming in the absence of COVID-19. Didier Saint-Georges, a member of the strategic investment committee at Carmignac, takes such a view. "Today we are obsessed by the impact of COVID. Arguably, that is justified, but I'm not totally convinced that this will be a key future driver of markets."
The bifurcation between sectors has certainly been dramatic. For example, IT stocks have been significantly up globally in 2020, while the opposite has been true for property. The strong performance of the FANGs – Facebook, Amazon, Netflix and Alphabet (Google) – has led to the weight of North American companies in global equity markets at an all-time high. Such firms represented over 60% of market capitalisation in the MSCI ACWI index at the end of October.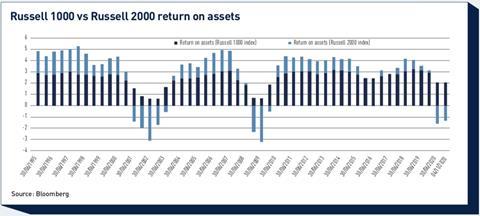 There are, of course, powerful drivers for this performance. Patrick Moonen, senior strategist at NN Investment Partners points out: "The return on equity for the IT sector is twice the market average. These are awesome companies with very strong balance sheets, which means they can continue to increase the dividend, or to continue the buybacks." They have also benefited from the structural changes in society – working from home, online shopping and even the developments in, for example, electric vehicles or climate change in general.
However, at some point the economy is likely to recover as the COVID crisis is contained and possibly even eliminated by vaccines. That may happen soon if the vaccines roll-out work as hoped. Such a shift could have a big impact on relative earnings growth between COVID winners and COVID losers, says Moonen. "Our expected earnings growth for the technology sector is 15%, which is coming on top of the good performance in 2020. But the expected earnings growth for some of the cyclical sectors are higher, with 54% for industrials, 30% for financials, 30% and 35% for materials."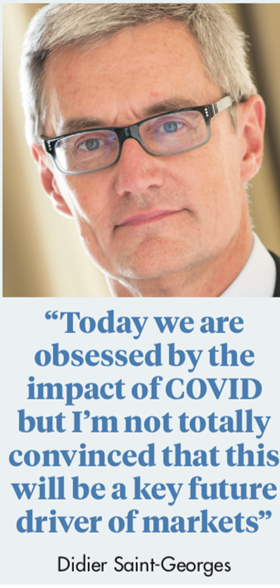 As Moonen argues, there is a short-term story in which the market will become a bit more balanced between the winners and the rest. However, there is also a long-term aspect – that the global trends for the COVID-19 winners are such that they will continue to perform well.
The increased penetration of e-commerce, for example, is evident in every geography around the world, just with different starting dates, says Alex Stanic, portfolio manager at JP Morgan Asset Management. COVID-19 has accelerated the move which, judging from historical experience, will be permanent: "When the MERS virus hit South Korea in 2015, e-commerce jumped by about 5% and then carried on growing," he says.
But not everything can be done on-line. The question is how and whether companies within sectors such as airlines and retail consumption will rebound. Former Intel CEO Andy Grove once said: "Bad companies are destroyed by crises; good companies survive them; great companies are improved by them." Coffee shops have been hard hit by the pandemic – many of the plethora of independent coffee shops will go under as the vaccine-led recovery may come too late.
In contrast, Starbucks, says Stanic, will come out of the crisis stronger, facing reduced competition with a strong enough balance sheet able to take the short-term strains. Coca-Cola is another good example. "Forty per cent of their businesses is sales to restaurants but people are not going to stop drinking Coca-Cola," he says.
The other consideration at play, is that many activities may be on hold but, of necessity, need to be undertaken at some stage. Health-related activities are a clear case in point. Hip and knee replacements may be postponed but will need to happen soon. "We are seeing some quite strong figures in dentistry with a sort of catch-up level of demand," says Stanic. He sees healthcare companies, such as robot surgery manufacturer Intuitive Surgical, having a strong recovery from the COVID-19-driven crash in March.
The crisis has also created a strong division between large caps and small. For instance, the return on assets for the Russell 2000 index of small caps in June 2018 was 1.1%, compared with 3% for the Russell 1000. Now the figures atand at -1.3% and 2% respectively (see figure for a historical perspective). Large companies with strong balance sheets are inevitably going to come out of the crisis better than small or highly leveraged companies.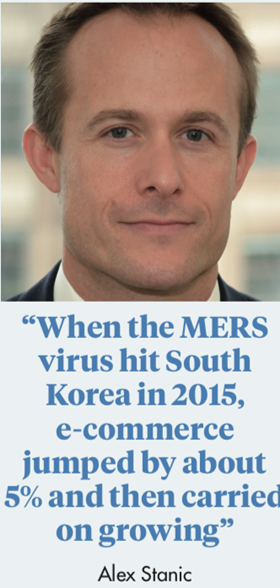 But large companies with high leverage and hence financial fragility are facing tough futures. "You could argue that airlines, as the economy grows when the virus is behind us, could recover. But the balance sheets of those companies are highly leveraged," says Saint-Georges.
Perhaps the greatest challenge for managers is in assessing those companies that cannot be easily characterised by size and financial strength metrics. Nadège Dufossé, head of cross-asset strategy at Candriam, says the firm monitors closely the behaviour of individual stocks on days when good and bad news relating to the pandemic comes out. "On days when you get good news, some stocks have double the market performance," she says.
Candriam tries to selectively pick stocks that have high correlations to good news. It may be impossible to predict the future, but Candriam's approach, she says, is to construct portfolios with asymmetric risk profiles that give better protection against bad news, while having stocks that react strongly to good news.
What may be a bigger long-term trend than COVID-19, though, says Saint-Georges, is the geopolitical shift that accelerated during the Trump administration, with the declining influence of the US in emerging markets, at least in Asia. That vacuum has, of course, been filled by China. He particularly sees South East Asia as increasingly integrated into a Chinese zone of influence. That means a potentially complete reshuffle of business models for companies: "All that is going on between China and the US right now may actually be very good news for Samsung." That, argues Saint-Georges, means that investors might need to add regional champions to the global champions they may have held over the past 15 years.
Global Equities: The COVID-19 effect
1

Currently reading

Global Equities: The COVID-19 effect

2