How are asset owners looking to scale up impact as their portfolios and experience grow?
Key points
SDGs provide multi-purpose framework for equity managers
ABP & PGGM to launch AI-driven SDI platform
Access to returns and social/environmental impact
Outcome measurement critical
'Impact investing' is not an asset class
Resilience is the noun of our times. Not just from a human perspective, but also economically. When a 'new normal' arrives, could COVID-19 bring an element of humanity into investing? Some believe that impact investing, which is often aligned with United Nations' Sustainable Development Goals (SDGs), is one mechanism for building returns-driven resilient portfolios.
"Even before 2015, when the SDGs became a potential investment framework, we were trying to invest sustainably and thematically where we could," says Piet Klop, senior adviser, responsible investment, at PGGM, PFZW's pension service organisation.
According to PGGM's annual responsible investing report, 15% of its investment portfolio, equivalent to €33.8bn in 2018, contributes to four themes and five SDGs – climate change (SDG 7) and pollution (SDG 12), water scarcity (SDG 6), food security (SDG2 ) and healthcare (SDG 3).
APG and PGGM, which together manage more than €800bn, are launching the SDI Asset Owner Platform to assist asset owners wanting to invest in alignment with the SDGs' mission. This artificial intelligence-driven platform, run by selected asset owners, will be open to other investors to assess around 10,000 listed equities on their contribution to the SDGs as possible 'sustainable development investments' (SDIs).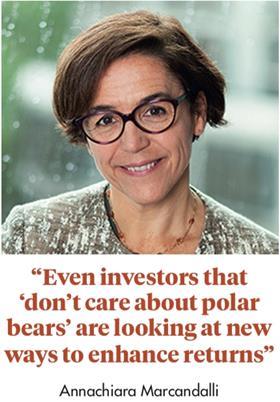 Annachiara Marcandalli, managing director at Cambridge Associates, says almost all RFPs have included questions about ESG or impact investing in the past couple of years.
"In the past, it was the stakeholders that wanted investment alignment but today the investment committees are discussing the risks and opportunities in the ESG/impact space," she says.
Marcandalli continues: "The convergence of ethical alignment with the purely financially motivated is being enabled by technology that is making sustainable investments economically viable. Even investors that 'don't care about polar bears' are looking at new ways to enhance returns."
Chris Varco, managing director and sustainable and impact investing specialist at Cambridge Associates, points to sustainability trends like environmental accountability and climate change as examples.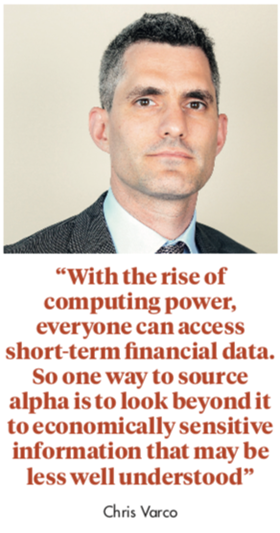 "With the rise of computing power, everyone can access short-term financial data. So one way to source alpha is to look beyond it to economically sensitive information that may be less well understood," he explains.
Both APG and PGGM are aiming to invest 20% of assets in sustainable development investments. In addition, PGGM wants to grow the actual outcomes of these investments, which it will be able to quantify. "The tricky bit is that we are not mission-driven investors, yet we still want to see our money having a measurable positive impact beyond alignment, with solutions for real problems affecting real people," Klop says.
Johanna Köb, head of responsible investment at Zurich Insurance Company, which has committed $5bn (€4.6bn) to impact investing, also believes that impact investing is about fiduciary duty first (see case study in this report). For her, however, the SDGs are a useful communication tool more than anything else. "They were created as a policy tool to guide policy action and government development spending, not as an investment tool. We need to avoid SDG washing as more providers enter this space," she cautions.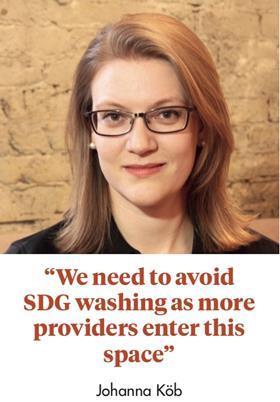 "That being said, of course the SDGs help us understand where the global community wants to be by 2030 and where there is work left to do," Köb adds. According to UNCTAD approximately $2.5trn per year will be required to achieve the SDGs by 2030.
Step by step
So far, more than $500bn of the $13trn invested according to some kind of responsible investment framework is in impact investments, according to the Global Impact Investing Network. And like many responsible investors, PGGM and Alecta, Sweden's largest pension fund, impact investing is the latest step in their sustainable investing programme.
"Our journey has been an evolution from doing [ESG] right to doing the right thing [impact], but at the end of the day we are fiduciary investors," says PGGM's Klop. Peter Lööw, head of responsible investment at Alecta agrees with that position.
"We started in 2014 when we got curious about the concept [of impact investing] and looked at green bonds. But Alecta is all about financial returns to pay pensions. Our 'job' is to maximise returns, so we thought this can't be for us," says Lööw.
Carina Silberg, head of sustainability at Alecta, adds: "It took several conversations before we were comfortable that green bonds were assessed like any other bonds but that the main difference is knowing the proceeds get used to support clean energy, low carbon and other environmental projects, for example."
The Stockholm-based pensions provider invested SEK 1.5bn (€140m) in the World Bank's green bond programme in 2014, and has since invested in other projects with its green bond portfolio now totalling SEK40bn (€4bn).
"Our impact investments play a dual role in our portfolios," says Lööw. "Our head of fixed income likes the diversification benefits of private debt in the emerging markets and I like the idea that the proceeds are being used to finance SMEs and agribusinesses, but the key is not to compromise returns."
In 2018, Alecta also committed €200m in two tranches of the NN FMO Emerging Markets Loans fund, a collaboration of NN Investment Partners and FMO Investment Management (FMO IM), the investment arm of FMO, the Dutch development bank, which sources the loans in which the fund participates.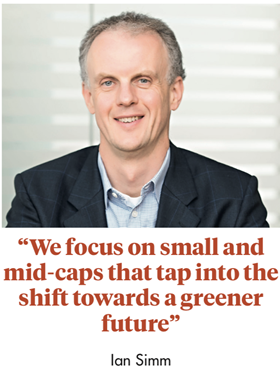 "We are learning [about impact investing] with each investment," says Silberg, referring to the €200m invested in the Amundi Planet Emerging Green One fund. "What we found attractive with the Amundi fund was that the International Finance Corporation offered a first-loss guarantee which reduces part of the risk that was challenging for us to assess," says Lööw.
And despite not having a remit to invest in sovereign debt in Africa, Alecta was able to invest SEK1bn (€100m) in a bond that securitises a loan taken by the Ivory Coast because it was insured by the African Trade Insurance Agency and managed by Japanese bank MUFG. "For this first African social bond issued by the Ivory Coast, the proceeds will go towards schools, healthcare and infrastructure," says Silberg.
In addition to the fund with NNIP and Alecta, FMO IM also launched the ACTIAM FMO SME Finance fund in 2013, and more recently the FMO Privium Impact Fund. "All our funds are private debt funds that participate in FMO loans to financial institutions, renewable energy projects and agribusiness companies in emerging and frontier markets," explains Yvonne Bakkum, managing director of FMO IM, for whom impact measurement is very much a key priority (see figure).
Across the portfolio
In 2017, Zurich was one of the first private sector investors to introduce impact targets for its portfolios (see separate article in this report). It has teamed up with BlackRock to introduce a framework to measure the environmental and resilience effects of impact portfolios. As of end 2019, Zurich's underlying investments helped to avoid 2.8m tonnes of CO₂-equivalent emissions and improved the lives of 4.2m people globally.
With experience that started nearly 50 years ago through its parent TIAA, Nuveen now invests $1bn divided roughly 50/50 between private equity and property, across three themes – affordable housing, inclusive growth (including healthcare, financial inclusion and education) and resource efficiency.
"We focus on a spot between early and late-stage growth, investing in intentional growth that scales a company's purpose and impact, leading to attractive financial opportunities," says Rekha Unnithan, managing director, co-head of impact investing at Nuveen. Having run this strategy for TIAA since 2012, Nuveen is about to launch a third-party private equity strategy with commitments of up to $400m.
Looking to the future, both Silberg and Köb believe that it is important not to look at impact investing as a single 'asset class'. "Impact decisions need to be made across all asset classes and can be done through real estate and infrastructure, and even liquid equities," says Silberg.
Köb, who is yet to be convinced that impact investing works for listed equities, is focusing on the impact investment portfolio's $5bn target, where $4.6bn is so far allocated to: green bonds ($3.1bn); social/sustainability bonds ($539m); impact infrastructure debt ($747m); and $163m in seven private equity funds, where its impact target is 10% of overall private equity NAV.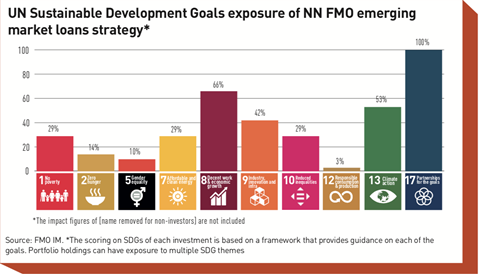 Both UBP and Impax Asset Management, however, are advocates of impact investing via listed equities. "We start with analysis based on engagement with candidate companies. We might not invest straight away, as it takes time to fully identify the impact potential of a company. However, we would hope our engagement, in particular investigation and guidance bilaterally, has the power to increase returns over, say, a five-year holding period," explains Rupert Welchman, co-manager of the UBAM Positive Impact fund.
And Ian Simm, founder and chief executive officer of Impax, which was founded in 1998, adds: "We focus on small and mid-caps that tap into the shift towards a greener future and have also launched the Impax Water Strategy and the world's first Sustainable Food and Agriculture fund".
"All impact investors have a dual objective of achieving an attractive financial return and meaningful development impact, which in our case we measure primarily in terms of jobs supported and avoided greenhouse gas emissions," says FMO IM's Bakkum.
He adds: "We aim to make the difference where it matters most, even more so in the current crisis."
As Richard Curtis – screenwriter of Notting Hill and Bridget Jones' Diary fame – states in an upcoming educational SDG campaign, it's all about Make My Money Matter