Crucial decisions loom for Dutch pension funds as low rates bite hard
Key points
Following two consecutive concessions to reduce the minimum required funding ratio, pension funds have escaped early rights cuts
New and lower allowed assumptions for future returns could undermine pension funds' recovery
Actuaries recommend taking measures to boost funding now to prevent drastic measures later
Only a minority of pension funds has raised contributions and/or reduced annual pensions accrual
Losses – or at best, minimal investment returns – for the largest Dutch pension funds in 2018 inevitably lowered expectations for future returns.
Until last summer, a large number of Dutch pension funds was heading for cuts, as their average coverage ratio had dropped to about 103% in May. This was largely the consequence of falling interest rates, the criterion for discounting liabilities. Based on the new financial assessment framework (nFTK), a pension fund's coverage had to be at least 104.3% at the end of the year after five consecutive years of underfunding to avoid a reduction of pensions and pension rights.
However, in the wake of the pensions accord reached in June, Wouter Koolmees, the Dutch minister for social affairs, decided to reduce the minimum required funding to 100% in a one-off
concession to avoid cuts, pending pensions reform. At the same time, he urged pension funds to refrain from destabilising the process by taking measures such as raising their contributions and reducing annual pensions accrual.
When further falling interest rates caused schemes' funding to drop to no more than 101%, on average, at the end of October, and with rights cuts looming again, the minister caved in for a second time. Again under pressure from trade unions, pension funds and some political parties, he granted ailing schemes a one-year reprieve from rights discounts by reducing the minimum required funding to 90%.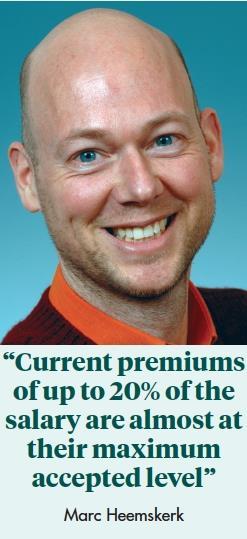 For a long time, Koolmees had resisted cuts-avoiding concessions, including raising the discount rate for liabilities. With the support of Dutch pensions supervisor De Nederlandsche Bank (DNB) he had argued that simply changing the rules would not improve pension funds' financial position.
Many schemes seemed to be keen to heed the minister's call for stability. Four of the five largest pension funds, including the €459bn civil service scheme ABP and the €238bn healthcare pension fund PFZW, say they will not adjust their contribution nor their annual accrual level in 2020. To escape cuts in 2021 their coverage ratio must, in theory at least, be at 104.3% at the end of this year. ABP's funding was below 95% at the end of November, whereas PFZW's coverage stood at 98% at the close of the year.
PMT and PME, the two large pension funds for the metal sector, which were already facing cuts in 2020 because they have been underfunded for longer, will in particular benefit from the one-year reprieve. At the end of 2019 their funding stood at slightly less than 100%. However, they have made clear that they are not considering coverage-improving measures for 2020 either. PMT says it will raise contributions from 22.2% of the pensionable salary to almost 28% as of 2021, largely by redirecting employer premiums for early retirement plans. It adds that it will assess possible accrual changes for 2021 later this year. PME says it will use a similar mechanism to raise contributions to 26.4% next year, and that accrual changes depend on returns. For now, both pension funds have stuck to the maximum fiscally allowed accrual rate of 1.875%.
Minority takes measures
Only a minority of the 187 Dutch pension funds has started anticipating further lean times. More than 20, and predominantly smaller, industry-wide pension funds have announced that they will increase their contributions, reduce the annual accrual or apply a combination of both.
Some schemes, including the pension funds for public libraries and the dairy sector, decided to decrease accrual by up to a fifth or to no more than 1.5% annually, according to Dutch pensions publication Pensioen Pro. They blamed insufficient premium coverage.
The €67bn construction sector scheme BpfBOUW is the only one of the five largest schemes taking early measures to tackle harder times ahead. Despite being in the best financial position – with a funding level of 112.4% at the end of November – it decided to raise its premium for 2020 by 10% to 22.2%. Many other pension funds argue that further contribution rises would not be accepted by their social partners.
Contribution rise
Pension funds' reluctance to take measures could turn out to be a serious underestimation of the financial challenges in the coming years. Wichert Hoekert, senior consultant for retirement at Willis Towers Watson, says that if interest rates remain at the current low level, the minimum required contribution could have to rise by up to 40%.
In his opinion, pension funds should already start taking measures to improve their 'premium coverage ratio' to 100% in 2022 as agreed in the pensions accord. The premium funding indicates what proportion of new pension claims is covered by the contribution in a given year. At some large schemes, the premium coverage is no more than 60%, a level that is considered unsustainable by actuaries. Marc Heemskerk, actuarial consultant at Mercer, warns that underfunded pension funds clinging on to excessive accrual rates risk larger rights cuts later.
Many Dutch pension funds had set a contribution level based on expected returns – and often for a five-year period – when the nFTK was introduced in 2015. As a consequence, decisions about premium changes must be made in 2020.
Return assumptions
Hoekert argues that current low interest rates must rise significantly to prevent radical measures to avoid future rights cuts. He points out that schemes must start factoring in lower assumptions for future returns for their recovery plans as of 2020. The maximum permitted figure for listed equity has dropped by 1.2% percentage points to 5.8%, including costs. The parameters for other securities and non-listed property have been reduced to 7.5% and 4.8% respectively. The committee that came up with the parameters said it expected the new limits would lead to an increase of pension contributions of at least 3%.
Mercer's Heemskerk predicts that coverage ratios of underfunded pension funds that postpone a rise in contributions or accrual reduction will drop further this year, if interest rates and returns fail to improve. The prospects for better returns in the short term do not seem rosy. A survey of asset managers by Pensioen Pro suggested that, after excellent returns last year, investors must anticipate significantly lower results for equity and bonds for 2020.
Discount rate decrease
Heemskerk also highlights the fact that pension funds must deal with a different and reduced discount rate for liabilities as of 2021. This will also negatively affect pension funds' coverage ratio. The currently applied ultimate forward rate (UFR) of 2.1% is to decrease further, adding to the reduction of pension funds' advantage on liabilities relative to market rates. However, the exact impact of the new discount rate is difficult to establish, as it will depend on the development of interest rates, says pensions supervisor DNB.
Heemskerk estimates that, based on the current interest rate level, this will lead to a drop of pension funds' coverage ratio by five percentage points on average. Schemes with a young participant population could lose up to seven percentage points, he says.
The actuary says he expects pension funds to predominantly reduce accrual, "as current premiums of up to 20% of the salary are almost at their maximum accepted level". In his opinion, by refraining from an accrual reduction now, pension funds are promising more than they can deliver. As a result, measures are likely to be much more drastic next year.
Netherlands: Still searching for yields
1

2

3

Currently reading

Netherlands: Funds delay trouble