Dutch pension funds are looking towards illiquid assets as they search for returns in the challenging low-interest-rate environment
Key points
Pension funds are shifting allocations towards illiquid assets to boost yields
Emerging market debt and equities are becoming popular
ESG is now embedded in portfolio management
Dutch pension funds are embracing illiquid assets with fervour in the search for yield, continuing the trend of the past four or five years.
Michael Jasper, country head of the Netherlands at BNY Mellon Investment Management, notes an increased flow from liquid to illiquid investments. He says alternative asset classes such as loans, private debt and direct lending are in demand, while interest continues to increase significantly for real assets like infrastructure.
He adds: "We are seeing pension funds dialling down their equity risk and increasing it through alternatives. Some pension funds have also taken risk off the table by investing in Dutch mortgages over equities."
Thijs Knaap, senior strategist at APG Asset Management, reinforces the trend towards illiquid real assets, such as trains, hotels, power plants and airports.
"The reasons for this shift lie squarely with the low-yield environment that we have seen in the euro-zone in the past couple of years, and that looks as if it will stay with us for a few years more," he says. "This makes investments in liquid markets less attractive at the margin, both because of lower expected returns and because of the increased correlation between markets."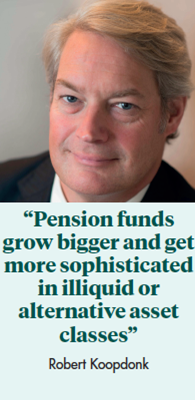 ABP, the Dutch civil service pension scheme whose assets are managed by APG, had 18.2% of its portfolio invested in alternatives as at 31 December 2019, with a further 10% in real estate. The largest allocation within alternatives was private equity (5.6%), followed by commodities (4.8%) and hedge funds (4.4%) and infrastructure (3.2%).
Adam Lygoe, senior managing director, Macquarie Infrastructure and Real Assets, says: "Dutch pension schemes continue to increase their allocation to illiquid assets, with many benefitting from an early entry into alternatives, including infrastructure investment. The large schemes are some of the most sophisticated in Europe, with a deep understanding and broad institutional awareness of the role illiquid asset allocation plays in portfolio construction."
Robert Koopdonk, country head, Netherlands at Natixis Investment Managers, says there have been significant shifts to alternatives at the expense of (liquid) equities and (lower yielding) fixed income.
He says that besides the search for yield, another motive is to lower headline volatility in pension fund returns, which are publicly available. He considers that the ongoing consolidation in Dutch pension funds facilitates this shift as well.
"Pension funds grow bigger and get more sophisticated in illiquid or alternative asset classes, with larger selection teams specialised and experienced in these asset classes," he observes. "Some of the very big funds have even established large direct investment teams in real
estate and infrastructure, to save third-party manager costs and be potentially more independent and flexible."
Diversifying
Meanwhile, Dutch mortgages are not only being seen as an alternative to some of the equity allocation, they are also being favoured within the fixed-income space itself.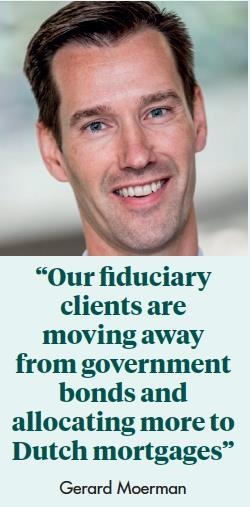 "Our fiduciary clients are moving away from government bonds and allocating more to Dutch mortgages," says Gerard Moerman, head of fiduciary services & investment solutions at Aegon Asset Management. "Within government bonds they prefer AAA-rated debt, because of its interest-rate hedge effectiveness and low impact on the risk budget. Clients are still considering high-yield to be a risky proposition, and remain underweight, compared with long-term strategic weights."
Jasper says that within fixed income, specifically liability-driven investing (LDI), a number of investors have their minimum hedge ratios at the moment.
"Over the past year, that has negatively impacted returns and it will be interesting to see how these positions develop over the next 12 months," he says.
In terms of geography, he says pension funds have also turned towards global over European credit, given the historically low regional interest rates and low spreads.
"Dutch schemes are relatively progressive in their focus on ESG factors in the investment lifecycle" - Adam Lygoe
"There is a trend for pension funds to be increasing exposure to emerging-market debt, both local and hard currency, given there is still scope for positive returns in this area," he maintains. "That said, pension funds seek assets that deliver alpha and if they're not able to get this in regular high-yield and emerging-market-debt portfolios, they're likely to allocate this money into more passive-enhanced investments."
In terms of equities, Moerman says there have been no large swings in regional allocations by clients.
"Within mature markets, they are overweighting European equities compared with the market-capitalisation-weighted index," he says. "Emerging markets also have a larger weight."
Pensioenfonds PGB, the multi-sector pension fund, has separate return and matching portfolios, the return portfolio comprising 61% of total assets.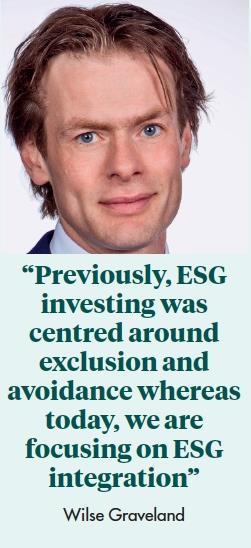 Within the return portfolio, PGB invests in listed equities (49% of total assets) based on strategic target weights across regions. These are 35% Europe, 35% US, 10% Asia Pacific and 20% emerging markets.
The return portfolio also holds alternative investments (real estate, infrastructure and private equity), US leveraged loans and emerging market corporate bonds.
The pension fund incorporates environmental, social and governance (ESG) principles into its investment portfolios by exclusion-based strategies; active engagement and proxy voting; using ESG criteria in the selection process for external managers; using environmental factors in its credit selection process within its matching portfolio; and social development investment (SDI), such as green bonds and green infrastructure investments.
Principled investment
ESG has become a mainstream feature of many Dutch pension fund portfolios.
"This was, is and will stay, a hot topic," says Harrie Dielen, manager, investment strategy at PGGM. "More and more pension funds believe that taking into account ESG is decreasing risks and raising returns."
He points out that taking ESG risk into account is required by IORP II legislation. "After signing the IMVB [international responsible investment] covenant, a number of pension funds have committed themselves to implementing the OECD guidelines on sustainable investing."
Lygoe says: "Dutch schemes are relatively progressive in their focus on ESG factors in the investment lifecycle. This has manifested itself with the rise of investment in renewable energy, and also with regards to developing a rigorous approach towards monitoring and reporting on ESG risks."
Wilse Graveland, head of fiduciary management institutional, Kempen Capital Management, says the firm's integration of ESG into the investment process is central to its fiduciary duty to act in the best interest of clients.
"Previously, ESG investing was centred around exclusion and avoidance whereas today we are focusing on ESG integration, active ownership and creating ESG impact," he says. "This means that portfolio managers perform an in-depth analysis of ESG data and material ESG risks and opportunities, which weigh into how they select and monitor their companies."
When selecting external managers, Kempen assesses their responsible investment policy and implementation capabilities.
Geopolitics: uncharted territory
Political uncertainty throughout Europe has been a feature of recent years, and seems set to continue.
One uncertainty has however ended, with the UK's departure from the EU having finally taken place in January, although how 'hard' the Brexit will be remains unknown.
However, there are varying views on how this is affecting allocations.
Robert Koopdonk, country head, Netherlands at Natixis Investment Managers says that Dutch pension funds have been holding back in terms of UK allocations, where investment decisions have been strategically postponed or scaled back, especially in illiquid asset classes with longer lock-ups.
"There is a wait-and-see mentality at the moment," he says. "Pension funds are perfectly happy to give up potential returns in UK asset classes, to lower uncertainty and minimise the tail risk of a hard Brexit."
But Gerard Moerman, head of fiduciary services & investment solutions at Aegon Asset Management says the allocation to UK equities and bonds has not changed as a result of Brexit.
He says this is because the large-cap companies listed in the UK are mostly multinationals, earning most of their revenues outside the UK.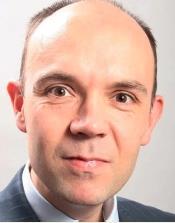 "Given the current phase of the economic cycle, we advise our clients to be cautious" - Thijs Knapp
But he adds: "Our clients did increase the sterling hedge ahead of the Brexit referendum and reduced it to strategic levels sometime thereafter." An equally significant issue for investors is the economic slowdown in Germany.
Moerman says: "Given the current phase of the economic cycle, we advise our clients to be cautious towards market risk in general. The trade-related uncertainty and slowdown in production-oriented economies have strengthened that view."
But Thijs Knaap, senior strategist at APG Asset Management asserts: "There is very little top-down country allocation in our day-to-day strategies, so we would not respond to news of a slowdown by selling out of Germany."
However, he does highlight one exception: "Insofar as the slowdown in the German industrial sector can be blamed on the failure of the automotive industry to keep up with environmental standards, our ESG policies had already made us a natural underweight in this sector."
Kempen has defined five ESG 'flavours', relating to the contribution to specific sustainable development goals (SDGs) as defined by the United Nations. These vary from (1) basic adherence to (5) impact and engagement, and are used to score the investment funds and mandates employed by clients. Kempen says there is plenty of innovation, particularly with the most advanced ESG implementation (flavours 4 and 5).
"Pension funds believe that taking into account ESG is decreasing risks and raising returns" - Harrie Dielen
Together with a client and an index provider, Kempen has constructed an index for developed market equities that explicitly incorporates the client's ESG ambitions, and hopes to extend this prototype product to other clients.
The index addresses both the client's targets such as negative selection (exclusion using ethical criteria such as UN Global Compact), as well as its positive goals by contributing to solutions that benefit society on three levels: best-in-class ESG behaviour; CO₂ reduction; and contribution to specific sustainable development goals (SDGs) by investing in companies providing products that contribute to fighting climate change as well as health and well-being.
Future trends
Turning to the future, the consensus on asset allocation trends is that there will be "more of the same".
Moerman says: "Given the current low-rates environment and rich valuations of listed investments, we expect a continuing shift towards investments that generate an illiquidity premium, such as alternative fixed income and real assets."
Graveland says that given the low-interest-rate environment, Kempen expects the search for yield to continue.
"We help our clients to attain a thorough understanding of the required level of liquidity in their asset allocation," he says. "Generally, the level of illiquidity that an investor can accept is higher than one would initially assume. We therefore expect the trend towards private markets, both for equities and fixed income, to continue."
According to Jasper, pension funds which cannot achieve the returns and alpha needed in certain asset classes will probably opt for lower fee strategies and go passive, or passive-enhanced.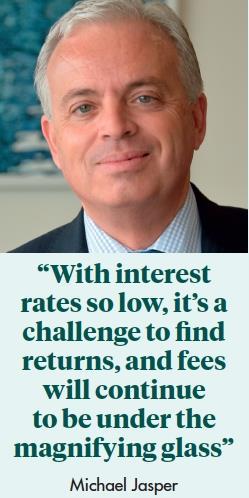 "Across the board, we are seeing increased interest in our passive-enhanced capabilities, much of it driven by the attractive fee/return profile this type of asset class offers," he says. "Especially with interest rates so low, it's a challenge to find returns, and fees will continue to be under the magnifying glass. I also believe that pension funds will continue to manage certain types of strategies internally and turn to asset managers for specialised and higher-conviction areas."
Netherlands: Still searching for yields
1

Currently reading

Netherlands: Still searching for yields

2

3