Nothing could have prepared Spain for the turmoil of 2020
Key points
The COVID-19 crisis has made the case for diversification more urgent than ever
New investment has been put on hold as pension funds re-evaluate their strategies
The pandemic reinforces the need for further ESG integration
The COVID-19 outbreak hit Spain hard. In March the first wave of infections sent the country into one of the strictest lockdowns in the world. In addition to the health emergency and devastating human cost, the economic impact of the pandemic will be felt for years to come.
In September, following a sharp rise in infection rates and numerous local lockdowns during the summer, the Banco de España, Spain's central bank, forecast a GDP contraction of between 10.5% and 12.6% this year. Moreover, the central bank warned that GDP at the end of 2022 could stand between two and six percentage points below pre-crisis levels, depending on epidemiological developments.
The coronavirus outbreak brought an abrupt end to a period of strong investment returns in the Spanish pension funds sector. Thanks to strong market performance, the occupational pension fund sector ended 2019 with average returns of 8.7%, according to data from Inverco, Spain's association of investment and pension funds.
Before the pandemic, and as the economy started showing signs of a slowdown, the largest and more active institutional investors had already taken steps towards the further diversification of their portfolios. They had searched for additional sources of returns to navigate a potential downturn in the markets and the prolonged low-interest-rate environment.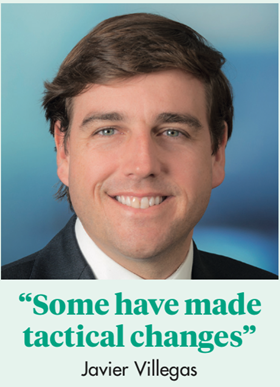 The first blow of the pandemic caused returns in the occupational pensions system to fall to -4.2% in the first quarter of the year, eroding much of the record gains of 2019.
On the whole, the first reactions from the sector were relatively calm. "Generally speaking, the sector has responded well to the challenges caused by the COVID-19 crisis as the industry remains focused on providing long-term investment solutions. While the crisis has not meaningfully altered long-term strategies of institutional portfolios, some have made tactical changes – for example, by increasing their credit exposure after the central bank's reaction in March," says Javier Villegas, head of distribution, Iberia, at Franklin Templeton.
Although the market recovery later in the year has helped mitigate some of the initial losses, the sector is likely to end 2020 with a performance rate close to zero. More significantly, return dispersion between the top-performing pension funds and those at the bottom has widened, making the need for diversification even more urgent.
"Those occupational pension funds who thought 'Europe/value' was the key have felt a big hit. Those who have a more 'value/growth' diversification, and are more global, have done better. How much better? Up to five percentage points in a universe of funds where returns hadn't been that disparate in the past," says David Cienfuegos, head of investments, Spain, at consultant Willis Towers Watson.
According to the latest Mercer's European Asset Allocation Insights survey, the broad strategic asset allocation in Spain's institutional investment portfolios is 30% equities, 48% fixed income, 15% alternatives and 7% cash.
Xavier Bellavista, principal at Mercer, points out three key recommendations for pension funds currently re-evaluating their investment strategies: to increase exposure to non-European assets; to take more risks in fixed income and reduce exposure to assets where returns are virtually zero; and to revise currency hedging strategies to make sure they are still suitable for a portfolio with more exposure to non-euro denominated assets.
"Over the last few years we have seen non-European assets gaining weight in portfolios and we are recommending our clients to carry on in that direction," Bellavista says. "On the other hand, investors need to face the challenges of the very-low-interest-rate environment. This is probably still the most important aspect, and the pandemic is only going to prolong this situation."
If this year's turmoil has reaffirmed the need for implementing asset allocation changes, the nature of the crisis, and its impact on specific sectors, has delayed the deployment of strategies and new investment ideas which were already in the pipeline.
Fernando Aguado, head of investments at Fonditel, the gestora (fiduciary manager) of the €2.7bn pension fund of employees of Telefónica, explains how the crisis has forced the company to reevaluate some of its investment plans.
Geroa Pentsioak approaches its 25th year
Geroa Pentsioak will celebrate its 25th anniversary next year. The multi-sector, occupational pension fund for workers in the Basque province of Gipuzkoa was founded in 1996 by trade unions and employers.
Geroa is classified as an Entidad de Previsión Social Voluntaria (EPSV) – a structure unique to the Basque region. It has recently been identified as a model that could potentially be replicated elsewhere in the country.
With just over €2bn under management, Geroa is a reference in the sector for its structure, strong long-term performance and, more recently, its approach to ESG integration. "We started [with ESG] only four years ago, very timidly but it is now an essential part of what we do," says CIO Ramón Nieto. "We have been very active ever since because we see it creates value."
For Nieto, who joined Geroa at the time it was founded, the prolonged low-interest-rate environment has left pension funds with no option but to take on more risk. "The recipe to navigate this environment is a difficult one, and it's constantly changing. Any changes we might implement imply taking on more risks and we need to work out whether that extra risk is worthy in terms of the returns it generates," he says.
No substantial adjustments were made to the investment portfolio as an immediate reaction to the pandemic. However, plans to increase exposure to several real estate sectors have been put on hold as valuations still look too high.
"First of all, when it comes to discussing projects for the future, you can't work at the same speed remotely as when you are working together and the sharing of ideas is more natural. But also, and more importantly, the pandemic has made us re-evaluate some of the ideas and investment themes that we had identified before the crisis," Aguado says.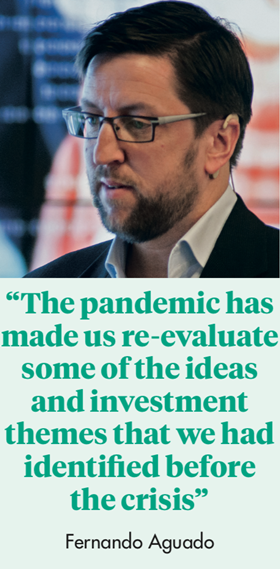 Pre-COVID, Fonditel was examining several themes linked to current demographic trends and the ageing population. These included old age tourism and care homes, which were thought to offer both good investment opportunities and positive social impact. "But all those demographic themes have changed and we need to be reevaluate our views," he added.
Similar examples of postponed plans have been common across the sector. Pensions Caixa 30 (PC 30), which only has exposure to property investment via REITs, was hoping to make a move into direct real estate this year. However, its investment manager, Vida Caixa, is holding back. Nacho Hernández, chair of the board of trustees at PC 30, says it "will keep insisting", as it believes there are opportunities out there, although he recognises the challenges of identifying the right investments at this particular time.
PC 30, Spain's largest occupational pension fund with nearly €6bn in assets, is a reference point in the sector. It is a model of diversification and a Pioneer in the integration of environmental, social and corporate (ESG) factors in its investment portfolios. This year, and for the first time, the pension fund has set sustainability targets linked to carbon footprint and engagement for its investment manager. "Those targets are now part of the mandate we have with them, meaning that their overall targets and remuneration are not just linked to returns but also to sustainability metrics," says Hernández.
The interest in ESG investments across the sector is perhaps one of the trends that have come out stronger as a result of the pandemic. "What we have seen, perhaps faster than we expected, is that sustainable indices have performed better than traditional ones, and this has reinforced our belief that there is no trade-off between performance and sustainability," he says.
"We are seeing structural changes in the economic and political order, and the opportunities are in the new economy" - Xavier Fàbregas
Xavier Fàbregas, managing director at investment manager Caja de Ingenieros Gestión, agrees. "This is not a value versus growth debate. The debate is about being in ESG or not and about what role you want to play as an institutional investor. Now, more than ever, we are seeing structural changes in the economic and political order, and the opportunities are in the new economy," he says.
Although ESG integration is a reality among the largest and more sophisticated occupational pension funds. However, the vast majority of the sector has not taken meaningful steps in terms of developing their policies and strategies. For many small and medium-sized schemes the sustainability of their portfolios will depend on the commitment of their gestoras to the sector.