China is moving from being an emulator of western technology to a hi-tech innovator in its own right
Key points
• The pace of innovation by Chinese firms is increasing.
• Firms often start to innovate after they have achieved a strong position domestically.
• The country is a world leader in clean-energy technology.
• China is making the greatest hi-tech advances in the internet and artificial intelligence.
China has often been seen purely as a low-cost manufacturer, and often as a low-tech, low-quality copycat that prospers through stealing western intellectual property. While there might be some truth in that, the overall story has too often been dominated by ignorance and prejudice.
Innovation in China is happening and the pace of it is increasing – one only has to look at the scale of China's patent applications for some evidence, albeit crude.
It is widely recognised that the era of generating growth through manufacturing alone has come to an end as wage costs go up, says Shanghai-based David Yu, managing director of Inception Aviation Holding. "To move on to the next step to catch up with the west requires climbing up the intellectual property ladder," he says. China is well positioned to do that.
As Yu says, China has a strong focus on education and is producing more graduates than ever from its higher education institutes – nine times more than the US in science and technology. This creates graduates with at least some preparation for jobs in the hi-tech areas, as well as the need to produce jobs for those graduates, which is a big challenge.
But they do have support from the top. State support of hi-tech industrys has been immense and is enabling China to shift from being an emulator of others to an innovator in its own right. Most recently, in the March 2017 session of the 12th National People's Congress – where the country's main political, economic, and social issues are discussed by the leadership – the Premier, Li Keqiang, announced that China will accelerate research and development and commercialisation of new emerging sectors such as artificial intelligence (AI), new materials, integrated circuits, bio-pharmaceuticals and fifth generation mobile networks (5G).
Clearly, what has shaken the world is the sheer scale of China's manufacturing capability. That means it has such large economies of scale that it can outspend its competitors on research, factories, fixed assets, marketing and other costs, which creates stronger competitive advantage over time.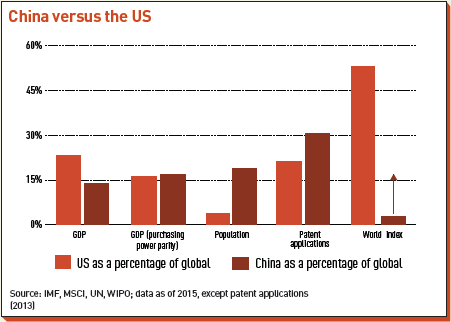 As Beijing-based academics Jonathan Woetzel and Jeffrey Towson wrote in 'The 1 Hour China Book', China produces 80% of the world's air conditioners, 90% of personal computers, 75% of solar panels, and 70% of cell phones. They argue that Chinese manufacturers win by having lower costs and that is often in hi-tech areas.
Western companies, for example, tend to focus expensive healthcare equipment on the main cities only. When Siemens and Johnson & Johnson entered China to sell ultrasound machines, they did not worry about Chinese manufacturers suddenly switching from making bicycles to ultra-sound machines. Their main competitors were other developed-market companies.
But while foreign manufacturers sell to hospitals in first tier cities such as Beijing and Guangzhou, the medium to high-end market this represents only accounts for 25% of the total Chinese market for medical equipment. Outside of the top-tier cities, hospitals are filled with products from Chinese companies. Chinese companies initially win by cost and they have the ability to distribute products to the smaller, hard-to-reach markets outside tier-one cities. They still have high margins, and profits are reinvested in achieving scale and developing technology. What they then end up doing, say Woetzel and Towson, is competing for the middle with foreign companies, as the latter drop costs and move down to second and third-tier cities.
Innovation often comes after the firm has achieved financial strength though the domestic market. Huawei is a good example of this approach, which has enabled it to succeed on a global basis. It now spends 10% of its annual income on research and development, so it can easily compete on innovation with its western peers.
In some areas, Yu says, China is already a leader – solar energy, wind and related clean technologies are good examples. In biotech, Chinese innovation is still in the early stages – but it is coming. Chinese pharmaceuticals is moving away from just producing generic drugs to the next phase. However, the stumbling block here has been an over-reliance on the promotion of Chinese traditional medicine, even at the official level. The total number of pharma-related patents in China is high. But the question has to be asked, how innovative are they? The vast majority of patents relate to Chinese traditional medicine, which would not be seen as mainstream science.
In pharmaceuticals China is far from being a world leader. It takes a long time to do clinical trials of new drugs and there is heavy regulation. It is also a specialised area, so only people who understand the industry want to invest, says Yu. But interest is increasing, driven both by high risk-adjusted returns and also the demographic pressures arising from an ageing population.
China is making the greatest hi-tech advances in areas such as the internet and AI. Dawid Krige, CEO of China focused Cederberg Capital likes to make the comparison between Facebook and the Chinese firm Tencent. While most of the revenues of Tencent come from online gaming – where it is the world leader – its social media application, WeChat, is ubiquitous in China. WeChat's functionality is superior to Facebook, but Facebook's advertising revenues are 25 times more than those of Tencent, says Krige.
The potential for Tencent to monetise WeChat is immense. China has over 700m people communicating with each other on the internet. Moreover, the potential for further capabilities is immense. "Tencent's DNA is innovation and it is far more advanced than Facebook," says Krige.
The epitome of innovation by China is the development of AI, driven by the government and private sector. Some 43% of the top academic papers relating to AI in 2015 were published with one or more Chinese researchers, regardless of where in the world the research was conducted. Baidu opened an AI focused lab in Silicon Valley in 2013; Tencent opened an AI lab in 2016 and Didi Chuxing has built a lab to focus on self-driving vehicles. Goldman Sachs in an August 2017 report found that China has the second largest AI ecosystem in the world.
The three biggest players are Baidu, the leading search engine in China, a first mover in AI and leading the technology for speech recognition and autonomous driving; Alibaba, China's mammoth e-commerce platform, which has immense potential to use AI to personalise the shopping experience for its 500m-plus customers; and Tencent, which can use AI to raise returns on what Goldman Sachs see as a generally under-monetised portfolio that includes WeChat and the world's most successful internet games.
In July 2017, China's State Council published a national development plan on AI that identifies it as the key engine for China's transformation into an economic power in the next decade. Key Chinese business leaders, says Goldman Sachs, believe that China could surpass the US as a global AI superpower. At the rate progress is being made, it is difficult to disagree.
China: Bond markets opening to foreign investors
1

2

Currently reading

China shifts to tech

3

4