The largest Canadian pension fund already has a long track-record in the Asia-Pacific region but plans to grow its presence in the region
Key points
CAD392bn (€262bn) of assets at the end of March
26.5% allocation (CAD 103.7bn) to the Asia-Pacific region (23% excluding Australia)
Public and private equity, credit, real estate and infrastructure investments across Asia
QFII and RQFII licences
Invests in Chinese stocks Alibaba, Tencent, AIA, Ant Financial, Midea Group, CITS and CATL among others
Canada Pension Plan Investment Board (CPPIB), Canada's largest pension fund, opened overseas offices in London and Hong Kong in the same year, 2008. At the time, even for large, sophisticated organisations, investing in countries such as China and India was significantly more complicated than investing in Europe. But CPPIB, like few other pension funds, had grasped the opportunity. The Asia-Pacific region was not only going to grow incomparably faster than Europe over the next few years. It would also become increasingly welcoming to foreign investors.
Fast-forward 10 years and CPPIB, which had assets of CAD392bn as of the end of March has said that it would invest up to a third of its portfolio in emerging markets (EMs) by 2025. As of the end of March 2019, 26.5% of CPPIB's total portfolio, or about CAD103.7bn, was invested in the Asia-Pacific region alone. The allocation to Asian assets, excluding Australia, is 23%. In comparison, at the end of March CPPIB had 19.4% (CAD76bn) of the portfolio invested in Europe.
The organisation invests in China, Australia, Japan, Korea and India, as well as selected countries in South East Asia. "Asia-Pacific has some of the fastest-growing economies. At the same time, we believe we can diversify our exposure and risk/return profile by investing in economies that are not completely aligned with developed markets.
The combination of the two makes the region very attractive for us," says Alain Carrier, CPPIB's head of international and head of Europe.

Carrier points out that by 2030, EMs will contribute to more than 50% of global GDP and that, as a result, the range of investable assets will become large. "As a global investor, we think we have to be exposed to emerging markets, and we think we can drive additional value by being very actively exposed to the region and by being very focused on developing teams on the ground," he says. "Among the large Western pools of capital, we recognise that our stated ambitions when it comes to emerging markets are probably on the more aggressive side. We believe that we can drive better value for the fund in this way."
CPPIB's investments in the Asia-Pacific are bound to grow as the fund pursues its wider emerging markets strategy. Its portfolio in the region is already highly diversified. CPPIB invests in real estate, infrastructure, public and private equity and debt. It does so mostly directly, but it also has some fund investments on the public side, as well as some direct and indirect hedge fund strategies.
Such a diversified portfolio is overseen effectively thanks to a strong physical presence. Aside from the Hong Kong office, which has 100 staff, the organisation has offices in Mumbai and Sydney. Carrier explains: "We have boots on the ground because we are in the region for the long term. Having a presence there allows us to understand the market, to access the right resources from an advisory standpoint and to identify the right investment partnerships, with private or public entities. There is no two ways about it, you need to be knowledgeable and to be present, and you need to have a good set of relationships, whatever the asset class you invest in. I don't think that's a secret sauce. To me it's just common sense."
CPPIB's emerging markets strategy is underpinned by a long-term approach. The organisation was set up in 1997 to invest the funds accumulated by the Canada Pension Plan (CPP), one of the two main components of Canada's public retirement system. More recently, a supplementary plan as part of the CPP was also established. This means the CPPIB's assets are on an upward trajectory for the foreseeable future. The fund is expected to hit CAD1trn within the next 15 years.
Carrier says: "There are excess contributions against benefits being paid in. The fact that we do not have to return capital to the pension system and that we can continue reinvesting makes us partial to very-long-term investments. It is easier to be ambitious and courageous when you take a very-long-term perspective." This facilitates the organisation's efforts in building a structure that is suited to invest in multiple local markets, as well as insulating the fund from short-term market disruptions.
Carrier explains that, generally speaking, CPPIB maintains the same approach across developed and emerging markets. The fund has a number of active strategies, including a long-short equity book, and a more long-term strategy called 'relationship investing'. "That is where we would take a sizeable stake in a company where there are prospects for long-term value creation," says Carrier.
There is then a 'balancing portfolio' that, as the name suggests, seeks to rebalance the overall exposure by asset class, and by geography, and would be deployed in public markets.
"We are relatively opportunistic investors, as opposed to targeting very specific types of companies," says Carrier. "We obviously like to see value, growth, proper management and governance. If we are to take a large stake, we like companies with which we can have a significant relationship that involves management and other shareholders.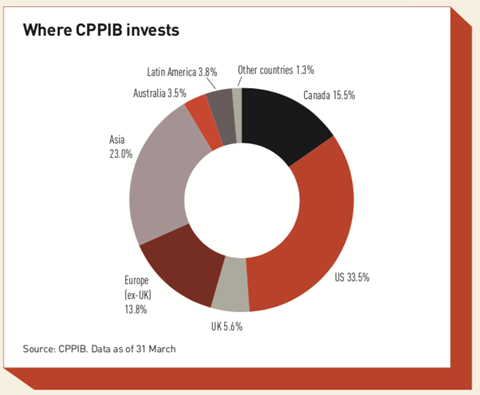 Those companies could be found across a number of different industries," he says.
For different reasons, China and India are both targets for further investment by CPPIB. The fund has both Qualified Foreign Institutional Investor (QFII) and Renminbi Qualified Foreign Institutional Investor (RQFII) licences, allowing a significant allocation to Chinese shares.
In 2018, the fund deployed an additional CAD1.9bn in Alibaba, Tencent and AIA, which are three of the fund's largest Chinese holdings. It also invested CAD600m in Ant Financial, China's leading financial services technology platform and invested a further CAD1.2bn in its China A-shares portfolio, allocating to Midea group, CITS and CATL.
The fund also has significant credit investments in China. Last year it provided RMB704m (€90m) in loan financing to support the purchase of a portfolio of Chinese non-performing loans (NPL) by a sponsor. The portfolio is mainly backed by commercial real estate properties located in the city of Guangzhou.
At the end of 2018, the fund's Asian private equity portfolio was worth CAD13.6bn by carrying value, 52% of which was invested in Greater China. CPPIB also has Chinese real estate investments as part of a 17.5% emerging markets real estate portfolio, which includes infrastructure projects.
CPPBI's portfolio of Indian investments is already diversified but Carrier anticipates that the fund will grow its investments in that country significantly. India is where CPPIB looks set to be most active over the next few years. Two years ago, it bought a stake in Kotak Mahindra Bank. Last year, it invested in Think & Learn, also known as Byju's, a leading educational technology company. CPPIB has investments in Indian public and private equities, real estate and infrastructure, and is working to build an Indian credit portfolio.
Carrier says: "We think India may be the next big emerging market where the rise of the middle class will essentially trigger a significant increase in growth and, as a result, in the investable market for goods and services. Anecdotally, if you look at India's GDP per capita, as of a couple of years ago, it was essentially the same level as China's GDP per capita around 2005.
"We feel India may be on the cusp of an economic transformation. However, it does not have the same ability as China to generate as much capital for real asset investments. This means it may be more accessible to foreign investors than was the case with China."