Investors: Focused approaches
A look at how and why pension funds are implementing alternative credit investment strategies 
PGGM: Favouring risk-sharing securitisations 
• Location: Zeist, The Netherlands
• Total assets: €188.7bn (€163.6bn for PFZW)
• PFZW's credit investments: €20.8bn, of which structured credit (risk-sharing transactions) €3.3bn; corporate bonds €4.6bn; high yield & EM debt €12.9bn
• PFZW's 2015 return: -0.1%
• PFZW's membership: over 2,500,000
The Dutch pension asset manager PGGM has been loading up with risk-sharing securitisation, exposure created in co-operation with banks, otherwise known as synthetic securitisation, which aims to generates equity-like returns at lower risk.
Under risk-sharing deals with banks, the €182bn pension provider – whose main client is the Dutch healthcare sector pension fund PFZW – agrees to take on the lion's share of default risk of a portfolio of loans to smaller corporates in exchange for a certain return.
The latest example was its risk-sharing deal with Spain's Banco Santander, announced in January, for a €2.3bn portfolio of more than 6,000 small-business loans.
PGGM has been making similar risk-sharing deals since 2006, linking up with Rabobank, Citibank Credit Suisse and many others.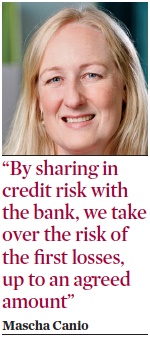 "By sharing in credit risk with the bank, we take over the risk of the first losses, up to an agreed amount," says Mascha Canio, PGGM's head of credit and insurance-linked investments."When we do that, then, in effect, the bank has done something that is very similar to having an insurance policy, and so the amount of capital the bank has to hold, going forward, becomes less."
This stimulates lending for the SME sector, she says, because it provides the bank with new capacity to grant more business loans. Because the investor agrees to take the first loss in risk-sharing deals, the return should be similar to that for equity, since equity is also a first-loss position.
"But the additional requirement we have is less risk," Canio says. PGGM is able to lower the risk on these investments in a number of ways. It is selective in the banks it does these deals with, and applies thorough due diligence, investigating such areas as credit risk management and track record.
"Another requirement is a strong alignment of interests," Canio continues. "We strongly believe the bank is the one with the best knowledge of their clients and how the credit risk of their clients is evolving over time. The alignment of interests means that for every loss, we would never pay over 80%, so the bank will always be responsible for at least 20%."
Looking back over the 10 years it has been involved in these deals, PGGM says it has realised an average annual net return of 10%. "Going forward, we expect that to be a bit lower, because returns everywhere are lower," Canio notes.
Investments so far have been spread around the world. The Santander deal is linked to lending in Spain and the Credit Suisse transaction involved domestic Swiss lending, while deals with Citibank and Standard Chartered covered loans in emerging markets.
Working on behalf of PFZW, PGGM aims to expand its investments in risk-sharing credit deals to a point where they make up at least 2.5% of the pension fund's overall assets, which were around €160bn at the end of 2015. At the moment, around 2% of these assets are invested in this sector.
But since PFZW is a young pension fund, the amount in absolute terms is expected to grow to between €4.5bn to €5bn, according to Canio.
PGGM focuses on larger risk-sharing transactions of at least €100m, which may set it apart from some other investors in the sector.
The asset manager has recently been lobbying the European Commission to try to have this type of deal – also known as synthetic securitisations – treated on the same preferential terms as true-sale securitisations within proposed regulation.
The risk-sharing deals are technically synthetic, because the loans remain on the bank's balance sheet. However, Canio prefers the term 'risk-sharing transactions' to 'synthetic securitisations', arguing that the latter description is surrounded by negativity and seen as complex.
In a recent position paper, PGGM argues that such synthetic securitisation should be afforded the same advantageous regulatory handling as STS (simple, transparent and standardised) securitisation as part of the introduction of the Capital Markets Union.
"We strongly support the initiative to draft STS criteria for synthetic balance sheet securitisations as we believe these synthetic securitisations can contribute to a more sustainable financial system, add value to the real economy, are conceptually simple and appropriate for standardisation," Canio says in the paper.
PGGM's size probably does help it to be successful within this investment niche, she admits but counters that if EU STS criteria also applied to synthetic transactions, there would be a requirement for information to be shared, which would in turn make these investments more accessible for smaller investors.
Sampension: Beefing up in-house bench strength
• Location: Hellerup, Denmark
• Total assets: DKK250bn (€34bn)
• Credit investments: credit-risk bonds make up 7.8% in the DKK176bn with-profits portfolio  compared with low-risk bonds at 44.1%.
• 2015 return: 1.4-5.2% for market rate pension and 1.0% for with-profits pensions
• Membership: just under 270,000
The Danish labour-market pension fund Sampension has been building up its in-house capabilities in fixed income and has shifted some of its focus towards strategies where it can capitalise on illiquidity premia. 
At the end of 2015, 63.9% of the DKK82bn with-profits pension portfolio was invested in bonds and the overall allocation to fixed income has stayed fairly constant.
Kasper Ullegaard, head of credit and fixed income at Sampension, says it is obvious that low-risk fixed income is expensive at the moment and offers unattractive returns. "That said, these types of investment are still low-risk and play a part in any portfolio for that exact reason," he says.
"Although impossible to rule out, the very low yields of today are unlikely to remain low forever, and the markets – and this goes for any market, more or less – have a tendency to extrapolate today's tendencies as if they are permanent. So in order to keep the powder dry, the overall asset allocation has not changed much."
Some changes have taken place within credit. Last year, Sampension hired Theis Nygaard, Nordea's chief dealer and head of derivatives structuring, appointing him to the newly-created role of credit portfolio manager. Nygaard's appointment was to enhance the pension fund's focus on credit, Ullegaard said at the time.
He said Sampension saw an increasing role for itself as a direct lender to the corporate sector, with banks becoming more constrained in their ability to lend because of the tougher regulatory environment following the global financial crisis.
With his banking background, Nygaard has brought experience and skills in structuring financing, and knowledge of the documentation needs of lending, as well as interaction with lawyers. 
Sampension has implemented a number of more illiquid investments within its credit exposure. Ullegaard says: "The strategies primarily benefit from an illiquidity premium. The credit quality is strong – probably stronger than most euro-area government bonds, and the expected return is around 200 basis points to 300 basis points above swaps for a five to seven-year investment." 
In order to control its beta exposure, he says liquid instruments such as CDS indices are used.
Ullegaard acknowledges that implementing illiquid and one-off credit investments is cumbersome and resource-intense. 
"However, Sampension finds it of immense importance to structure credit investments precisely the way we want in order to mitigate various risks. Hence, thoughtful structuring and a visible illiquidity premium is worth the effort."
Because of this focus on structuring, Sampension prefers to manage as much of its fixed-income portfolio as possible itself. Looking ahead to how the pension fund will continue to develop in this area, Ullegaard comments: "Patience is of the essence, both in terms of working carefully with new investments and in terms of enduring low yields."
• Location: Glasgow, UK
• Total assets: £15bn (€19bn)
• Credit investment: bonds make up 15.0% of overall assets
• UK corporate bonds returned 13.1% in 2014-15 
• Overall 2014-15 return: 13.4%
• Membership: over 200,000
The Strathclyde Pension Fund in Glasgow has made several investments into alternative types of credit within its direct investment portfolio recently, including putting £20m into the Muzinich UK private debt fund, alongside the Greater Manchester Pension Fund and other UK pension funds. 

Apart from this, the Scottish public sector fund has ploughed £10m into investments run by real estate credit manager Renshaw Bay and $50m (€44m) into the Markham Rae Trade Capital Partners Fund.
"The rationale for those investments is, first and foremost, the attractiveness of the individual funds' investment proposition," says Jacqueline Gillies, chief pensions officer for investment at the Strathclyde fund. 
"Broadly speaking, though, we believe that there is an opportunity for institutional pension funds, as long-term investors, to meet some of the economy's need for financing from non-bank intermediaries. That need has arisen as a result of bank retrenchment in the face of increasing regulation," she says.
The fund first started to consider alternative investments on an opportunistic basis back in 2011.
Its first alternative debt investments were £10m in the Scottish Loan Fund (SLF) and a direct lending facility to a consortium of Glasgow-based construction firms building the athletes' village for the 2014 Commonwealth Games, which Gillies says has now become a popular new community in the the city's East End.
"We agreed a revised investment strategy in 2015, and the fund is in the process of implementing the first mandate changes required to move towards a new risk-based structure," she says. As part of the first stage of that shift, the pension fund recently appointed managers for two new multi-asset credit mandates – Babson Capital and Oakhill Advisors.
"Our overall strategy is now modelled around five new asset categories, each with its own risk-return objectives. Future credit allocations will be considered in the context of two of these asset categories in particular – short-term enhanced yield and credit – rather than as part of a more traditional fixed-income allocation approach," Gillies says. 
In terms of structures, she says the Strathclyde pension fund generally invests in limited partnerships alongside other investors, with various different types of investment within each of the funds. 
While both the SLF and the Muzinich UK Private Debt Funds lend to small and medium-sized enterprises (SMEs), the SLF's target market was a pool of around 8,000 Scottish-based growth and exporting firms, with a turnover of between £1m and £43m per annum, and the fund provided mezzanine finance only.
The Muzinich fund, on the other hand, will cover the UK market, target enterprises with EBITDAs (earnings before interest, taxes, depreciation, and amortisation) of between £5m and £20m and provide a mix of types of debt from straight senior through unitranche to mezzanine.
Renshaw Bay, meanwhile, provides finance secured against property on a unitranche or mezzanine basis, while Markham Rae's investment proposition relates to the provision of regulatory capital relief to international banks to cut the cost of their capital for their trade finance operations, she says.
Strathclyde hopes to do more deals of this kind in the future. "The fund recently approved investment in two more private debt funds as part of the build out of its short-term enhanced-yield strategy and, subject to the completion of diligence, we expect to commit substantial amounts over the coming months," Gillies concludes.
Greater Manchester Pension Fund: Exploring direct loans
• Location: Droylsden, UK
• Total assets: £17.3bn (€22bn)
• Bonds/cash make up 23.5% of total assets
• Credit investment: within bonds/cash  allocation, UK corporate bonds make up  24.2% and overseas corporate bonds account for 3.0%
• 2014-15 return: 11.7%
• Membership: Over 340,000
The UK's Greater Manchester Pension Fund (GMPF) has been increasing its exposure to SME (small and medium-sized enterprise) lending. The pension fund has joined the South Yorkshire Pensions Authority and Clwyd Pension Fund to invest in a Foresight Group venture that is targeting companies in the north-west of England.
In January, it backed a £350m (€460m) UK direct lending fund launched by Muzinich & Co alongside the Strathclyde Pension Fund and other UK pension funds. 

While the current low-interest-rate environment has been one factor that prompted GMPF to turn more towards alternative forms of credit as a way of increasing yield, Paddy Dowdall, assistant executive director at the pension fund, says this is not the only reason for its choice of investments. 
"The Muzinich investment is from our local investment portfolio and has the twin aims of generating commercial returns while boosting the regional economy," he says. The pension fund has been investing locally for 25 years, and has been considering loans to SMEs as part of its investment for the past two years.
Most of the GMPF's alternative credit investments are in the form of funds, but it is now exploring gaining exposure via direct loans.
Apart from the Muzinich fund, GMPF invests in a fund run by Enterprise Ventures, backed by Santander, which invests locally. Subject to Local Government Pension Scheme (LGPS) pooling outcomes, the Manchester fund hopes to do more deals of this kind, according to Dowdall. This exercise is taking up a lot of time and focus for the fund at the moment.
LGPS pension schemes in England and Wales have been tasked by the government to find ways of pooling assets with the overall aim of bringing down investment costs.
Despite the work involved in pooling, the GMPF is still on the look out for more suitable types of alternative fixed income. "All options are being considered and the GMPF is also looking at direct infrastructure investment through its joint venture with the London Pensions Fund Authority (LPFA) which included the ability to invest in debt instruments," he says. 
Interviews by Rachel Fixsen