Private Debt Funds: The price of competition
Institutional investors' hunt for yield has led to return compression in the private debt market. Emma Cusworth assesses the dynamics 
At a glance
• Non-bank private debt is attracting capital with strong competition for assets and significant dry powder. 
• Risk-return characteristics have become less favourable than in the aftermath of the financial crisis.
• Lending to under-served and less competitive market segments should pay off.
Private debt funds had a bumper year in 2015 as Europe continued to become an increasingly important part of the market. With dry powder now at all-time highs, new managers entering the market and capital inflows expected to continue apace, the competitive landscape is increasingly intense. Borrowers are finding themselves more able to negotiate favourable rates at the expense of institutional investors' returns.
According to Preqin's 2016 Global Private Debt Report, private debt fundraising reached a six-year high in 2015, attracting $85.2bn (€74.9bn) in capital commitments, up 18% from $72.2bn in 2014. European-focused funds attracted 35% of those inflows, primarily (63%) into direct lending funds.
Alix Partners' twice-yearly mid-market debt survey reveals non-bank lenders are gathering traction in the European market as mid-market bank deal share fell 4% in terms of total deal count in 2015, while the top six non-bank lenders increased their count by 36% on average.
Looking ahead, inflows are expected to remain strong and Europe stands to be a key beneficiary as more investors plan to commit capital to funds focused on the region than the US – the first time Europe has beaten the US.
Ryan Flanders, Preqin's head of private debt products, says: "2016 is likely to be another strong year for private debt funds. Assets under management are expected to continue to grow over the next five years at a similar rate to what we have seen over the last five years."
Preqin data suggest 87% of the institutions it surveyed plan to commit the same or more capital to private debt in 2016 – good news for the 75 European funds seeking about $40bn in capital.
As yield continues to be a key, but often elusive, commodity for pension funds and other institutional investors, the premium offered by private debt compared with more liquid areas of the credit markets continues to attract institutions to the sector.
"Private debt offers steady cash flow with much higher yields than in the public markets for the equivalent level of risk – but at greater risk than some investors may have been historically willing to take," says Stefan Dunatov, CIO of the UK's Coal Pension Trustees Investment.
Among those planning to commit more capital to the sector is the €18bn Finnish State Pension Fund (VER), which has a target private debt allocation of 3% of assets with a current allocation of 1%. VER is planning to commit up to €250m in additional capital across five funds in the coming year, primarily focusing on direct lending and distressed debt.
Among those outside of Europe, the $30bn Indiana Public Retirement System, which currently allocates 1.9% of assets to private debt, is also considering two further allocations this year, while the US-based $3.6bn Kresge Foundation plans to allocate another $200m as it builds its allocation from 5.4% of assets to its 7% target. India's $12bn IIFL Capital is also planning to commit another $100m to funds targeting its domestic market. 
The £6.7bn (€8.4bn) Church Commissioners for England endowment fund, which was among the early adopters of private debt among European institutions, said it will continue to look for "dislocations in private debt markets and elsewhere". Yodia Lo, senior analyst at the fund, says: "We are prioritising things that got blown out with the market pressures that began late last year, December, January and February especially. For example, we thought the regulatory capital trade was past its prime but there are still some ideas that we have not seen before, although the space is getting hairier in terms of the work that needs to be done. Some returns are interesting as a result."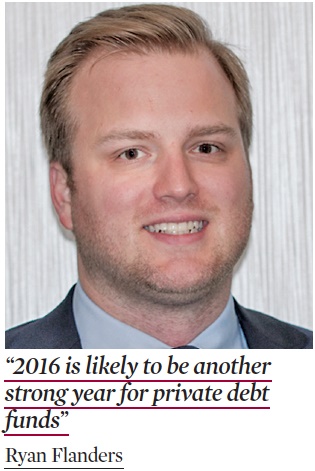 As with all asset classes, the best returns are generally reserved for those willing to step in early before competition changes the market's demand and supply dynamics. With the level of dry powder still waiting to be invested by private debt funds now up to an all-time high of $186.5bn, competition among investors is becoming increasingly intense.
Some investors suggest that the risk-return dynamics available today are already well below those available in the early days of the asset class. According to one large European institutional investor: "Returns are not what they were in the period immediately after the financial crisis. There is so much money chasing opportunities in the private debt market, both from a growing number of non-bank lenders and from banks keen to preserve their market share, that investors are having to look much harder for lower returns."
Sanjay Mistry, director of private debt and private equity funds of funds at Mercer Investment Consulting, agrees there has been some softening. "Pricing has come down since the financial crisis. Today the market is more normalised, but it has only been around for about eight years, which is not long enough to take a proper cyclical view."
Preqin's data shows the median net IRR for direct lending funds of vintage years 2012-13 is 6.9% versus net IRRs of 14.4% and 14.2% for 2008-09 and 2010-11 vintages respectively. Preqin's Flanders points to "competitive forces" in the marketplace driving spreads down as a key contributing factor to lower returns. "There is still scope for performance to improve for these relatively young funds," Flanders says. "As many of these funds focus mostly on the senior part of the capital structure, a high single-digit return, low double-digit return is probably more realistic, given the risk profile of the investment."
Jo Waldron, client director for alternative credit at M&G, says some parts of the market have been writing loans that "look like debt-style returns for equity-style risk". M&G successfully raised  nearly £1.5bn across its two funds – the UK Companies Financing fund launched in 2009, and UK Companies Financing fund 2, which launched in late 2012 and included £200m of UK government money. Yet it is finding it more challenging to deploy the capital it has attracted to its funds. 
After investing less than half of the capital committed to UK Companies Financing Fund 2, capital has been returned to investors or rolled into segregated accounts. "We will not lend money for the sake of [lending]," Waldron says. Meanwhile, the first UK Companies Financing fund has seen some of the loans refinanced at lower rates as the bank lenders have become increasingly competitive. "The fund is shrinking and will run down over the course of the next few years as planned. Investors will still achieve their expected return, although the number of years over which they will generate those returns may be less."
The developments at  M&G's two funds reflect broader developments in capital and macroeconomic markets that have had a significant effect on the private debt market, particularly the ability of central bank action to change the risk/reward dynamics of the asset class. 
Waldron says that across Europe banks have been competing much more aggressively to lend to good companies, which has brought rates down to "way inside where our investors are willing to lend". Banks are also able to leverage much broader relationships with companies than non-bank lenders.
Waldron says this underlines the need for a broader strategy with greater diversification and a long-term approach in private debt. The firm's newer £849m Illiquid Credit Opportunities fund, launched in May 2013, is designed to offer "the flexibility to react quickly to market dynamics", Waldron says, including looking at more niche or complex areas. "We are looking at good investments where the traditional buying base has disappeared," she says, pointing to asset-backed securities where insurance companies are being forced out of the sector by Solvency II.
Investors and private debt fund providers report having to look harder or further across the market for opportunities that offer attractive risk/reward dynamics. For example, Alix Partners' head of debt advisory, Jacco Brouwer, says intense competition means some large funds have been seen "dipping below their original lending threshold", typically £10m EBITDA, in order to deploy capital. Alix's survey also highlights the increasing number of partnerships between banks and funds designed to increase firepower, execution speed and capital deployment in a competitive market.
Where investors have an experience edge over other investors, they can leverage this to earn a premium. For example, Twelve Capital, which specialises in providing loans to the insurance sector, points to a near 2% premium over traditional corporate loan rates available by lending to insurers, a sector that makes up around 6% of global GDP. 
"Because of Solvency II, insurance companies require a minimum debt maturity of 10 years, but the banks, under Basel III, are unable to extend loans over this period," Daniel Grieger, Switzerland-based partner of Twelve Capital, explains. "This has created an imbalance between strong demand and limited supply of debt. Debt instruments for insurance companies may pay coupons of 6% to 12% despite relatively low default rates," he said. 
The large amount of dry powder, coupled with the expectation of further strong capital commitment to the sector in the coming years, risks creating what Mercer's Mistry describes as "flash points" in the industry where too much competition for deals leads to significant return compression. "If the dry powder is not spread appropriately – if it all goes to the same areas – that will have an impact on pricing," he says, which underlines the importance of focusing on less competitive areas of the market.