Managing credit portfolios requires particular caution owing to stretched valuations and late-cycle euphoria
Key points
• Strong fundamentals and loose monetary policy have buoyed credit.
• Valuations are high in virtually every asset class but low default rates offer safety.
• Investors are favouring low-duration portfolios in anticipation of quantitative easing (QE) unwinding.
• Lower lending standards in loans and high yield are potentially problematic.
Despite facing significant challenges over the past two years, the credit markets have extended their multi-year bull run. Their strength has been tested on several fronts. The unprecedented collapse of the oil price during 2014 and 2015 led to defaults and stress in the US high-yield sector. China's slowing growth rate cast doubts over global economic growth in 2015, which resulted in a temporary widening of credit spreads. Several geopolitical shocks, such as Brexit and the 2016 US presidential election result, also tested the credit markets.
Yet credit investors have come out unscathed each time. Support has come from the combination of strong corporate earnings in the US and Europe, extraordinarily loose monetary policy, low inflation and a generally positive outlook for global growth. Credit spreads have been pushed to levels nearly as tight as those seen on the eve of the global financial crisis.
Today, the case for investing in credit still holds. Most managers agree that the environment for corporate credit is benign, owing to the low level of default rates and inflation. More importantly, default rates are expected to stay low for the foreseeable future.
"This year we have been, and remain, in that goldilocks environment where global growth is not too hot and therefore does not stoke fears about inflation and central banks being behind the curve, or interest rates rising significantly," says David Riley, head of fixed income at BlueBay Asset Management. "But growth is not too cold either, with none of the periodic scares about global growth and deflation that were apparent in 2015 and 2016. It has been a sweet spot for credit, and we have been positioned for that, being overweight higher-yielding assets and assets with high market beta, broadly speaking."
The fact that central banks are starting to unwind their quantitative easing (QE) programmes and will eventually tighten policy, particularly if the growth outlook stays positive, is not seen as a threat by most. The argument is that while rising rates could lead to higher volatility in the credit markets, which is at all-time lows, they are not necessarily bad news for credit investors. In a positive growth environment, credit spreads generally tighten.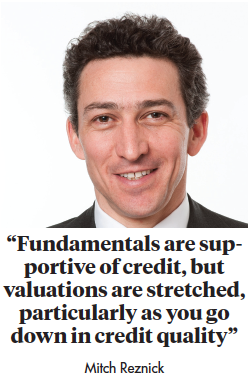 Based on these considerations, investors should maintain their existing allocations to credit or consider expanding their portfolios. However, a deeper analysis of the credit markets reveals a far more complex picture that could convince some investors to prepare for trouble.
Investors should be aware that central bank support, which will be lifted at some point, plays an important role. Tim Haywood, investment director for fixed income at GAM, says: "Traditional credit is in reasonably good shape, but expensive at this point. The fear we have is that if the rate of buying by the European and Japanese central banks of credit products were to slow down, there could be some rapid sales. With a relatively feeble broker and banking community unable to act as buffer to buyers and sellers, prices could fall faster than they would have done on other occasions."
Several clear signs show that caution is paramount at this particular time. Valuations are high in virtually every credit asset class. Yield curves have flattened, which means that investors do not value lending money for longer periods because they foresee potentially worsening economic conditions. Lending standards have loosened up significantly in many areas of the market.
"Fundamentals are supportive of credit, but valuations are stretched, particularly as you go down in credit quality. If you look at the spread between high-quality and low-quality assets, it is difficult to make a strong case for chasing default risk to deliver outperformance," says Mitch Reznick, co-head of credit and head of credit research at Hermes Investment Management. The quest for yield, amid record-low interest rates, largely as a result of loose monetary policy, has indeed driven investors down the credit quality spectrum. Reznick says the firm is focusing on avoiding low-quality risk, but sees opportunities in oversold markets such as US retail.
The flatness of yield curves says more about investors' relentless search for yield than it does about the health of the global economy. With central banks about to start unwinding QE, yield curves will probably steepen. Yet many investors see a case for reducing duration in their portfolios. "We prefer the short and medium part of the curve, as we believe support from central banks will fade in the next few months," says Céline Deroux, senior credit analyst at Candriam. Partly for duration reasons, the firm favours subordinated debt issued by European financials, and underweights industrial corporates.
The progressive relaxation of lending standards has many managers worried. It bears a grim resemblance to the pre-financial crisis spree of soft lending to consumers that brought about the crisis itself. Softening lending standards are particularly noticeable in the loan market, where 'cov-lite (covenant-light)' transactions, which impose less stringent restrictions on borrowers, now constitute most new issuance (see article on loans in this report).
Scott Roberts, head of high-yield at Invesco, says: "Deterioration in covenant quality is the biggest concern, in our view, as we evaluate US and European high yield credit. Weaker covenants allow companies more flexibility to divert assets away from creditors. This is a growing issue that speaks to a lack of discipline by the buy-side."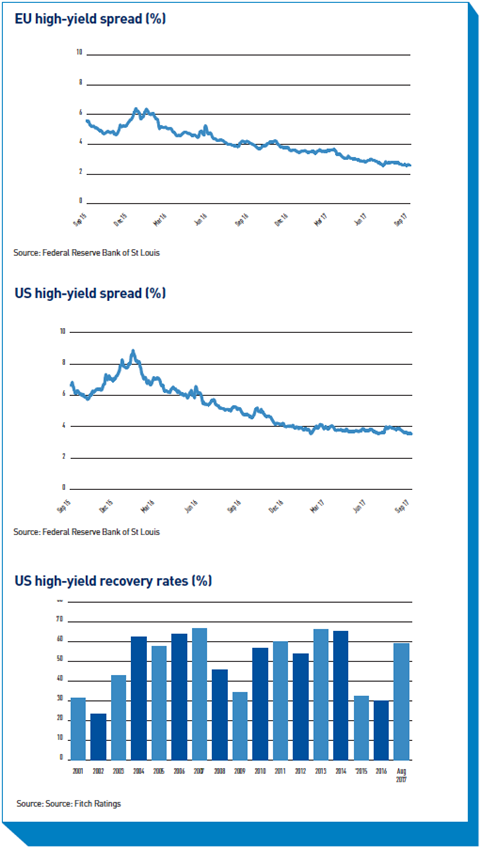 This trend is partly a result of the resurgence of the market for collateralised loan obligations (CLOs), which has grown significantly over the past years in Europe, according to Roberts.
Roberts explains: "Strong CLO demand has allowed the creation of more cov-lite loans and high-yield bonds. But many issuers skip the high-yield market altogether and go to the loan market. As a result, the average leverage ratio of companies in the loan market is higher than in the high-yield market. That is not typically how it operated in the past. That is not a risk in the short run, but the next time the markets turn due to an economic contraction, these companies could run into trouble."
This is where the covenants come into play, explains Roberts. On the loan side, the weaker covenants means companies have more options, whereas, on the bond side, the lack of meaningful covenants allows companies to sometimes do things that are inconsistent with strengthening the credit profile.
To avoid problems, a strong focus on companies' fundamental is all but necessary. Notwithstanding the potential danger posed by weakening lending standards, investors should feel reassured that, on average, balance sheets have been managed much more conservatively since the financial crisis.
At a closer look, the credit markets could be approaching a turning point. High valuations, gradually steepening yield curves and looser lending standards suggest that high-beta investments could soon stop delivering positive returns. In times such as these, a manager's individual skills in finding alpha will determine the size of the returns.
In such an environment, looking at the market from a top-down perspective may not be relevant. But even the most committed to bottom up analysis can offer clues about where value can be found. From a purely value perspective, a trending asset class is emerging market debt (EMD).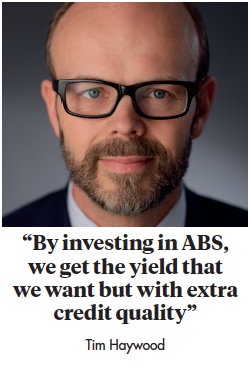 Gerard Fitzpatrick, CIO for fixed income at Russell Investments, is among those who favour local currency EMD. He says: "When we consider asset classes, we look at three factors: at which point they are in the cycle; the sentiment around them; and their valuation. We particularly like local currency EMD in terms of their cycle positioning. Growth is still trending upwards in emerging markets, and from a valuation perspective, it is still a relatively attractive asset class."
On the sentiment side, says Fitzpatrick, EMD assets are enjoying much popularity, which is not necessarily a positive, but overall the asset class remains among the favourites. Two other asset classes Fitzpatrick finds attractive are US non-agency mortgages and US bank loans.
EMD is one of the few asset classes that managers agree on. Another view that is shared broadly is that financials offer value. Renaud Champion, head of credit strategies at La Française, says: "We like financials, particularly European ones. They have been constantly deleveraging and behaving in a very creditor-friendly way. The poor performance of the equity price is evidence for that," says Champion. There are plenty of others, however, who are not convinced that financials are in better shape than industrials.
In general, there is little consensus on where investors can find value. This applies to both the traditional investment grade and high-yield space as well as less liquid asset classes such as loans and asset-backed securities (ABS).
Champion says value can be found in the equity tranches of the CLO market, whereas mezzanine debt is expensive.
Richard Ryan, senior portfolio manager at M&G Investments says: "It is very hard to find value at the moment. Investment-grade and high-yield credit, covered bonds and ABS are similarly expensive. One of the areas where we continue to see some value is the leveraged loan market. That is not to say there has not been pricing pressure, but there has been more discipline from investors. That market is trading harder than it has been, but it is a much lower beta market and I think investors are more in tune with the risks we see." Ryan, who manages M&G's Alpha Opportunities fund, also sees attractive value opportunities in financial issuers.
Loans and ABS can be seen as more defensive asset classes, according to Craig Scordellis, head of long-only multi-asset credit at CQS. These assets can, to an extent, protect investors from geopolitical risk, as they are scarcely correlated with the equity markets. "Loans and ABS both have fairly unique fundamentals and technicals, and should exhibit lower volatility in the event that geopolitical risk materialises. At the same time, they are floating-rate assets, so they can protect investors from unexpected interest rate moves, if rates move more quickly than anticipated," says Scordellis.
GAM's Haywood also likes ABS because of the implicit guarantees they offer from either corporates or governments. "By investing in such assets, we get the yield that we want but with extra credit quality", he says.
CQS also sees value in convertible bonds and high-yield. Scordellis explains: "Dispersion in markets creates opportunities in both asset classes. Convertibles perform well in rising rate environments due to their low duration. In high yield, there are pockets of value particularly in the BB space, if you adjust for long-term default rates and recovery rates. We have concerns about more distressed assets, where valuations are stretched."
Ryan points out that opportunities can be found within most credit asset classes, despite prices being high across the board.
"We do a huge amount of our work from the bottom-up because we find that even in markets that you do not like the look of from the a top-down view, there is always something in there of interest. If you can get an asset with the right value attached to it, then you have some insulation against the broader market moves", adds Ryan.
Such breadth of views on the credit markets reflects the size and complexity of the markets themselves. While there is no certainty that any of these views will hold up, it is clear that many areas of these markets should continue to deliver returns if fundamentals are supportive.
Credit: The next stage of the cycle
1

2

3

4

5

6

7

8

Currently reading

Valuations: No time for complacency