EM rally greeted with caution
Emerging market currencies have been boosted recently by strong inflows from investors seeking higher returns. But Ayşe Ferliel Barounos finds not everyone expects the rebound to last
At a glance 
• Emerging market currencies have been weak for several years.
• Slower growth in China, the decline of commodity prices and the anticipation of a rise in US interest rates have all played a role in this currency weakness.
• Some currencies, including the Indian rupee and the Thai baht, have shown resilience.
• There is a debate over whether the recent rebound in emerging market currencies is sustainable.
The currencies of the world's once booming emerging markets have been in a tailspin for the past few years. The JP Morgan Emerging Market Currency index, a basket of 10 benchmark currencies, has fallen significantly since its 2011 peak against the dollar – registering a decline of over 35% by the end of 2015, while the attraction of the dollar as a safe-haven currency went up amid a slowdown in global growth and rising geopolitical risks.
Several countries – such as Brazil, Russia, South Africa, Turkey and Indonesia, which were collectively dubbed the 'fragile five' because of their imbalances and reliance on foreign investment flows to fund their current-account deficits – have experienced a marked depreciation of their currencies. Between 2012 and 2014, for example, the Brazilian real and the Turkish lira declined by more than 20% against the dollar, while the South African rand lost over 25%. 
In fact, ever since May 2013, when former Federal Reserve chairman Ben Bernanke started warning about scaling back, or 'tapering', the bond-buying programme the US central bank had adopted in the wake of the financial crisis, there has been a sharp sell-off of emerging market assets, which triggered currency slumps, a rise in inflation, and interest rate increases in these economies, choking off growth. 
Slower growth in China, the decline in oil and other commodity prices – which hit the currencies of commodity-exporting emerging market (EM) economies – and the anticipation of a rise in US interest rates further exacerbated the weakness of the currencies of these nations in 2015. This was particularly pronounced following the financial volatility that started in August after China's shock devaluation of the renminbi. Investors fretted that such a devaluation might lead to a potential wave of currency devaluations among other major exporters that would seek to maintain their competitiveness against China.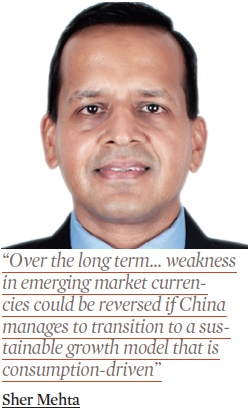 Between 1 July 2014 and 31 December 2015 EM currencies fell sharply against the dollar. The Russian rouble's value dropped by 53%, the Brazilian real by 45%, the Colombian peso by 41%, the Argentine peso by 37% and the South African rand by 31%. The JP Morgan EM currency index declined 26% during this period, accompanied by increased volatility, according to CaixaBank Research. 
Nevertheless, some of the EM currencies have been relatively resilient in recent years. As pointed out in the IMF's 2016 External Sector Report – Individual Economy Assessments, "barring the global financial crisis, the Thai baht has been appreciating in real effective terms since 2005". According to the same report, the real effective exchange rate (REER) – the value of a currency against a weighted average of several foreign currencies, adjusted for the effects of inflation – weakened during the Fed's 'tapering talk' in mid-2013 and started to appreciate from mid-2014. "During 2015, the REER appreciated by 2.5% on average," the report says. Similarly, the Indian rupee enjoyed a position of relative strength among EM currencies, thanks to its strong macroeconomic prospects and a smaller current account deficit relative to 2010-14, helped by lower commodity-import prices. 
The IMF report continues: "The average REER in 2015 appreciated by about 10% over its 2014 average," adding that, as of June 2016, India's REER was about 2% higher than  its 2015 average. Another EM currency that seems to have deviated from the pattern of sharp declines was Indonesia's rupiah. According to the IMF, compared with the 2014 average, Indonesia's REER appreciated by 3% in 2015, "a result of a temporary increase in inflation related to the reduction in domestic fuel price subsidies".  As of June 2016, Indonesia's REER has appreciated an additional 2% relative to its average level in 2015, the IMF data shows.
Following a multi-year decline which also extended into the beginning of 2016, emerging market currencies rebounded recently with strong inflows into these markets as investors continued to search for higher yields. In its September Global Economic Monitor, the Institute of International Finance (IIF), a body representing financial institutions, said: "We have seen the largest portfolio inflows to emerging markets since September 2014, with three straight months of portfolio inflows above $20bn."
According to David Griffiths, emerging markets debt portfolio manager at Stone Harbor Investment Partners, the relative improvements in both the fundamentals and the current account positions of several EMs have offered support to their currencies," he says.
As the Fed delayed the start of its rate hike campaign until December 2015 and took a cautious stance this year on further tightening, the dollar reversed course against the currencies of most emerging markets, whose economic growth continued to outpace that of the large developed economies, such as the US, the euro-zone, Japan and the UK. Against this background, emerging market currencies enjoyed a steady rally since late February, with the exception of the Chinese renminbi which weakened broadly. Another factor that helped the rebound was that many of the emerging market currencies have been regarded as being significantly undervalued.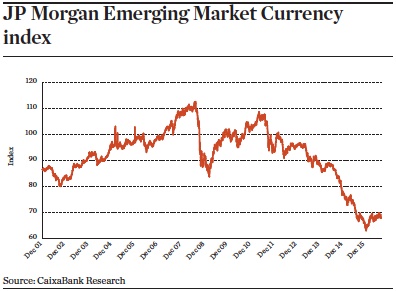 Javier Corominas, director and head of economic research and FX strategy at Record Currency Management, says the rebound in emerging market currencies could continue. "We believe that a broad universe of EM currencies are about 15% to 20% undervalued against the US dollar, and this might lead to further EM appreciation [over the medium term] assuming a benign interest rate environment in terms of the magnitude and speed of Fed interest rate hikes going forward," he says.
However, it is far from clear if the recent recovery in emerging market currencies can stretch further. Mark Farrington, managing director, portfolio manager and head of macro currency group, part of Principal Global Investors, says the rebound in emerging market currencies this year has been a "relief rally" rather than a recovery trend "because the same vulnerabilities still exist". He also emphasises the importance of political risk, macroeconomic fundamentals, currency volatility and policy execution for the long-term prospects.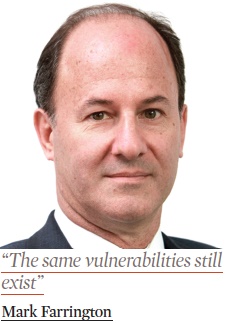 Similarly, Sher Mehta, chief economist at the Macroeconomic Intelligence Unit (MIU) of Macroeconomics School, an economic research firm and a provider of learning material in macroeconomics, argues that a serious and sustained reversal of weakness in emerging market currencies is "really possible only in the long term, rather than in the medium term" – or 3-5 years, and he emphasises China's role in this context. Mehta says the country faces a looming debt and banking crisis "and the possibility of a marked economic slowdown in the medium term as a result of serious macroeconomic imbalances, such as staggeringly high levels of debt which continue to rise". 
According to Mehta, concerns about China's escalating debt could spill over to global financial markets in the medium term, if unchecked, and lead to substantial capital outflows from emerging markets to the US and other 'safe-haven' assets – resulting in currency depreciation, tighter credit conditions and slowing growth in these emerging market economies.
"Over the long term, that is, beyond a period of three to five years, however, weakness in emerging market currencies could be reversed if China manages to transition to a sustainable growth model that is consumption-driven which, in turn, should result in more stability in many emerging market economies and their currencies, particularly those that are linked closely to China through trade, finance and supply chain linkages/channels," Mehta says.