Pensions industry commentators have long remarked on the dominance of the UK's 'big three' consultants. But Martin Steward finds that this age of dominance may have passed.
In its 2014 consultation on the fiduciary duties of investment intermediaries, the UK Law Commission asked if we ought to worry about pension funds "herding" because they are all getting the same advice from the same consultants, noting that "three firms dominate the market".
Any decent sample of UK pension funds' consulting preferences shows around half of schemes retaining one of the 'big three' – Towers Watson, Mercer or Aon Hewitt (figure 1). Split the market by assets and some surveys suggest the big three advise 80% of that money.
"If there were any other industry where the top-three players controlled 80% of the market, you'd have a regulator investigating non-competitive practices," as Shamindra Perera, managing director in institutional investment services EMEA at Russell Investments, puts it.
Of course, the big three are having none of it.
"There are no real barriers to entry and pension schemes are looking at a wide range of firms," insists Will Aitken, a senior consultant with Towers Watson. Tim Giles, partner in AonHewitt's global investment practice, points to the fact that advisory mandates are reviewed frequently.
"We wouldn't see the UK market as oligopolistic at all – we think it's pretty competitive," adds Andrew Kirton, CIO at Mercer. "The market has consolidated, but that story is 20 years old. Are the big firms making super-normal profits? Not my knowledge. Do clients have real choice? Absolutely, because there are niche players in alternatives, solvency management, fiduciary management and dynamic de-risking, who can go narrow and deep as a competitive advantage."
Bells and whistles
It would be easy to be cynical as the big players talk up the opposition, but they may just have a point. "I don't think the competition issue is as bad as is sometimes made out," says Roger Brown, founder and director of ICSelect, a firm dedicated to helping pension schemes choose the appropriate consultant for their needs. "There are quite a few niche players targeting different parts of the asset and governance spectrum. A big change of recent years is the much closer focus from trustee boards on governance, and there are some consultants that are indisputably more appropriate for some governance models than others. This is where the niche competitors can come into their own."
Put simply, there is a big difference in the way that pension funds were run in the 1980s and 1990s, when the biggest consultancies were building their businesses, and the way they are run now.
When funds were open to new members and cash-flow positive they tended to be asset-focused and heavily reliant on equities. The consultants grew during these years by tooling up for globe-spanning knowledge of asset classes and, especially, deep coverage of active equity managers.
Then came IAS19, the Myners Report, and the closure of many funds to new accruals. Now trustees and sponsors are focused on closing funding gaps below their schemes' now-crystallising liabilities, with a view to achieving run-off or buyout. Consultants are called upon less for macroeconomic forecasting or wide-ranging asset manager research, and more for asset-liability modelling, dynamic de-risking, employer covenant monitoring and buyout market expertise.
"The biggest differentiator between the big three and the rest is probably their extensive manager research," Brown summarises. "But today it's really only the largest schemes – and the sovereign wealth funds that make up an ever bigger part of the large consultants' growth – that want to use that."
At a glance
• The 'big three' UK pension consultants are often accused of oligopolising their market.
• But in fact significant differences in their own business models point to client demand for specialisation, creating opportunity for the rest of the industry.
• Increased focus on governance and scheme risk management may favour smaller providers over the giants.
• Lack of trustee awareness, increasing scheme complexity and commoditisation of high-level services threaten to extend 'big three' dominance.
Time after time, market challengers cite this evolution as the source of new business. "We win most of our business off of the big three," as Patrick McCoy, head of investment advisory at KPMG, puts it. "We feel a bit of a push back from pension funds against all of the complexity and costs of what they are being offered."
Danny Wilding, partner at Barnett Waddingham, emphasises his firm's focus on maintaining good knowledge of things like the best LDI product providers or buyout deals. "Because we don't spend a lot of time and resource searching out Japanese property managers, we only have to stay on top of a relatively small universe of providers," he explains.
At Redington, director of investment consulting Patrick O'Sullivan reports that trustees are becoming less concerned with the size or brand of their consultant, and more concerned with the seniority of the people they work with.
"It's not necessarily the case that a mid-sized firm will always give you a better relationship," he says. "It's more that the bias towards choosing the big three as a default is no longer as strong."
Pure niche players
Again, they would say that, but the evidence supports them. Very few smaller consultants feel the need to set themselves up as domain specialists and restrict themselves to competing for ad-hoc project work at the largest pension schemes. Those that do are special cases – Albourne in alternative investments or Bfinance in manager search and monitoring, for example. Specialisms are important in an increasingly bespoke environment, but they are presented as a step towards full-service mandates.
"Once pure-niche players like Redington and Cardano now compete head-on against the big players for full-service," reports Brown at ICSelect.
As O'Sullivan explains: "Often the testing ground for a fully-retained mandate has been an individual piece of work. In fact, I don't think we would be asked to do a project if the client didn't think that we'd be capable of taking on the full service eventually."
The big three themselves report the same dynamic. "Beyond a firm like Albourne in alternatives, I wouldn't say there are firms out there that focus on one speciality to the exclusion of others, working alongside other consultants providing something more like the full service," says Kirton at Mercer.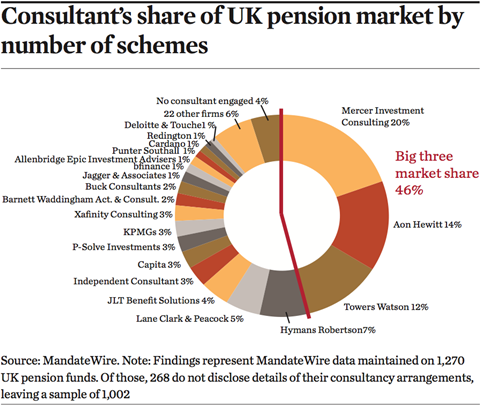 However, success in these endeavours clearly depends upon the pensions community having good knowledge of the consultants and their specialities. "My sense is that this knowledge isn't great, and I think this is one of the major drags on competition," says Brown.
To overcome this, he emphasises the importance of open-mindedness and well-drafted questionnaires in the tendering process. Others note that the growing presence of independent professional trustees at smaller funds and CIOs from the mid-market upwards is spreading awareness. Perera at Russell Investments and O'Sullivan at Redington both suggest that processes can be more open if they are initiated by the sponsor rather than the trustees because, while the CEO or CFO may not "live and breathe pensions", it is second nature to them to tender for professional services without any kind of bias to the current provider.
"It comes back to the trustee structure," agrees McCoy at KPMG. "They seem to tolerate bad service for much longer than any business would. I don't think trustees are really bounded by their knowledge of what's out there – I just think they err on the side of giving the incumbent a bit longer to turn things around."
Whether it is inertia or lack of awareness there is little doubt that, as Brown says, this stifles competition – or at least makes smaller consultants very selective in their tenders. "This is a winner-takes-all game, so selectivity is essential," he notes.
O'Sullivan says that Redington deploys the well-known 'SCOTSMAN' formula to identify worthwhile leads from clients that already know the firm and have a clear need for its specialist skills. Wilding at Barnett Waddingham concedes that his firm tends to focus energies where there is an existing relationship and "we are not coming in completely cold". If smaller firms do go in cold, success can be hard to come by.
"In truth, we often don't even get invited to the tender process because the smaller and mid-market schemes simply are not aware of us," confirms Marcus Hurd, senior consulting actuary with Buck Consultants at Xerox – hardly a minor player. "And when schemes do invite 15 companies to tender we can never be sure if it's just a big game in the run-up to going with someone they already know."
Perera comes up against the same thing in fiduciary management tenders. "We are currently engaged in a fiduciary management search process where it is between us and the incumbent consultant and the trustees haven't even bothered to meet with us," he says.
Awareness
As Perera's anecdote implies, if one problem for smaller consultants is the state of industry awareness, another is that the rising complexity that should be creating niches for them to exploit is also tempting trustees to park everything with the one-stop-shop they already know.
McCoy even suggests that the big three tend to "overcomplicate" things in order to persuade the client they are not sophisticated enough to look after pension assets themselves.
"If complexity was genuinely necessary pension funds ought to employ a range of specialists to help them with each facet of their strategy," he reasons. "In reality the incumbent consultant ends up taking it all because they have their arms wrapped around the business so tightly. The consultants have dominated fiduciary management that way, which is why the newcomers haven't done much better than they have."
This points to the way the big three – or certainly Aon Hewitt and Mercer –are commoditising some of their expensive 'bells and whistles' for lower-governance schemes that would otherwise want to avoid paying for them.
Kirton at Mercer describes this as the firm's 'investment continuum': the idea is that every client, from the mega-fund that merely taps into manager research or analytics tools, to the buyer of full fiduciary management, should receive an absolutely "consistent" service.
"That should leave us indifferent as to where a client wants to be on that continuum," he explains. "Smaller funds want to achieve exposures like alternatives or private markets that the big schemes get, but in different ways. The way Mercer has built its business, with significant expertise in different asset classes and different stages of the investment process, enables us to offer suitably-designed 'best-ideas' products like DGFs [diversified growth funds], multi-asset credit or fiduciary management, right down through the client base."
Defined contribution: the new consulting battleground
It is no secret that UK pensions is increasingly a DC world. That is interesting for the question of the structure of the consulting market because, unlike DB, DC services have tended to be provided from outside the big three.
"We've advised clients on setting up DC plans for a long time, but it's only in the past three or four years that we have built a truly cross-discipline DC team," says Andrew Kirton, CIO at Mercer.
Because it lacks the ongoing engagement necessary with DB advice, DC has never been lucrative enough for the big consultants.
"I think that is why the smaller, local advisers have had a bit of a free run on it in the past," suggests Roger Brown, founder and director of ICSelect. "But the major consultants have all set up meaningful DC teams and their distribution capabilities are a huge competitive advantage. They will quickly close that gap."
Will Aitken, senior consultant in benefits at Towers Watson, says that the firm now employs 80 people doing nothing but DC: "We have definitely been investing in this."
Both Kirton and Aitken confirm that greater digital engagement and the prospect of scheme members having to take decisions throughout their retirement, thanks to new UK annuity-market reforms, provide the opportunity for the ongoing, high-touch relationships that Brown identified as missing up to now. "Those trends have galvanised Mercer and a number of our significant competitors," says Kirton.
At the same time, Aitken suggests the end of trail commission on investment products in 2016 will put an end to advisers offering 'free' services. Along with the coming of auto-enrolment, he expects this to lead employers to question the need for high-touch services for new members, and look instead for commoditised solutions. "Potentially this works in favour of advisers with economies of scale," he argues.
The pattern of innovation in DC consulting reflects this reality. The smaller incumbents were focused on service innovation – think Hymans Robertson's 'Guided Outcomes', or LCP's communications technology. But the newer innovations coming from the big three are product-focused, from AonHewitt's partnership with BlackRock and Towers Watson's with Oxford Investment Partners, to arguably the most significant innovation, the master trust.
"The cost of setting up a master trust is prohibitive for smaller firms," says Brown.
Still, those firms argue that the very fact that DC is so fast-moving at the moment make it tricky for the big three to navigate.
"Larger firms find it difficult to adapt to changing advice needs, just because of the size of the teams they have been building," suggests Danny Wilding a partner at Barnett Waddingham.
"I don't think we have seen a lot more pressure from larger consultants, yet," adds Marcus Hurd at Buck Consultants. "Communication is increasingly important in DC, which isn't a strength of the larger players; and there is less interest in complex investment solutions, for cost-control reasons."
That may be so, but it would be foolish to bet against the fast-growing market for DC advice being seriously in play soon, in a way that it never has before.
Giles at Aon Hewitt similarly enthuses over the way services such as LDI, alternatives and even buying annuities are "being streamlined by the use of fiduciary approaches". As he argues: "If the big three weren't working with larger schemes and allowing ideas to trickle down, their smaller peers would be missing out."
But the fact that this "trickle-down" so often takes the form of fiduciary management, for which the tender process appears too often to be pre-determined or even non-existent, should make trustees ask whether this is really just an extension of big three dominance down through the market. Certainly the smaller consultants are girding to defend their turf.
"We don't see demand for commoditised approaches yet," says Hurd at Buck Consultants. "But it's no secret that the threat from commoditisation is on our agenda, particularly with the Xerox branding."
But as well as preparing to compete in a more commoditised, branded world, smaller consultants also see an opportunity for differentiation – evident in the decision of some to rule-out fiduciary management.
'We have hardened our view on the need for absolute independence," as McCoy puts it. "We don't manage money, that can't be said of the big three and some of our other competitors, and it makes a huge difference."
Wilding at Barnett Waddingham agrees. "The fact that some consultants have gone down this route means that there are now fewer pure consulting firms left," he says. "The rise of complexity means that many trustees are looking for more personal relationships with senior people."
Brown reminds us that the big three are trying to move in on the smaller firms' home turf and that, so far, the latter are winning the battle. He points to the likes of Barnet Waddingham, LCP and Hymans Robertson increasing their presence among the larger pension funds.
"Several of our multi-billion pound clients are public-sector, but our largest private-sector client has assets of £4bn (€5.4bn)," confirms Wilding at Barnett Waddingham. "You do see some dominance by the big three – after all, we are the fourth-largest UK consultant but we are still essentially a UK-only firm – but few schemes now see themselves as limited to those firms."
In the end, the incumbents can really only grow their margins, whereas the rest can grow by taking market share.
"When I was a partner at Bacon & Woodrow, 80% of our revenue came from 20% of our clients," notes Hamish Wilson, founder and managing director of HamishWilson Ltd. "That was the impetus for what I'm doing now: I realised the big firms they could afford to lose a few of those 'less valuable' clients – and we have indeed picked some of them up."
This is a tough fight. The big three's grip is tight, they will not easily give up on the prospect of packaging their considerable capabilities for the mid-tier client-base, and awareness of the alternatives is patchy. But perhaps Kirton, speaking from one of those big firms, was right to argue that the era of their true dominance has passed, especially now the wind-down of UK DB is accelerating. It is down to the many smaller consultants at work in this market to show that concerns over its competitiveness are overstated.
Consultants and pension funds: When disagreements arise
1

2

3

Currently reading

Room for smaller players in UK's 'oligopolistic' pension consulting market