The days of smart beta being all talk and no action in the pensions world are long gone, writes Martin Steward
When IPE surveyed its network of European pension fund investors about smart beta in February, we wanted to find out what they thought about the concept and what they were doing with it – but we also wanted an insight into where they think it is heading.
Our findings suggest that smart beta is achieving genuine traction with a critical mass of Europe's leading institutional investors. More pertinently, they suggest the theme of our supplement – 'smart beta beyond equities' – is already more than just a topic of discussion.
Thirty-six pension fund representatives responded. They are responsible for managing almost €200bn in assets. Nineteen of the respondents allocate to smart beta investments, and once investors decide to buy into the concept they appear to do so seriously. Allocations in double figures are the norm, and eight of the 19 allocate 20% or more of their equity portfolio according to smart beta precepts.
The reasoning focuses on improved risk-adjusted returns and the prospect of getting active management-type exposures for passive management-type fees.
"The cost aspect is very important," as one Swiss fund manager puts it. "Sometimes active managers charge high fees only to provide exposure to a risk premium which is accessible via a cheaper systematic way."
Interestingly, one Swedish finance head notes how thinking about smart beta has improved his fund's decision-making.
"Now we put more effort into the portfolio construction as it has become clear that it is two [separate] decisions – first, exposure to what? and second, who to execute?" he explains. "Earlier we just focused on finding a manager that could handle these decisions."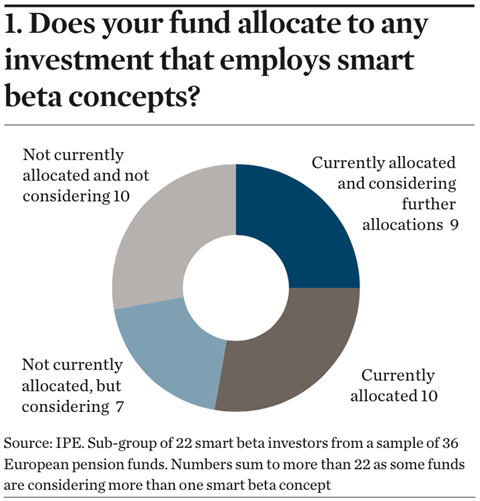 A Dutch portfolio manager agrees, but adds that this does put extra strain on governance: "Previously upheld ideas are no longer valid, [so] every choice has to be argued [for]."
As figure 4 shows, the majority of those involved in smart beta believe that it has applications in other asset classes than equities. They have seen products on offer in government bonds, corporate bonds, commodities, currencies and hedge funds and there have been allocations from our sample to each one of these areas.
"From our philosophy that 'smart beta' is a search for better portfolios with which to secure 'beta', or 'systematic risk', there is no inherent reason, in theory, why this should not apply to any asset class," says the CIO at an Irish fund.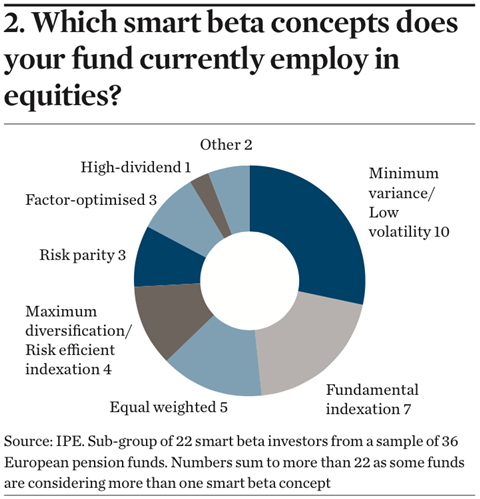 Not everyone is convinced. One Dutch finance director warns that these markets have "very different risk drivers" from equities, and a board member at a French fund thinks that, naïve equal-weighting aside, "smart beta's best territory is equities".
Outside equities, awareness of smart beta in bonds is highest among our respondents, and the sceptics are most likely to accept that the concept might have promise in the fixed-income universe, especially corporate bonds.
"The jury is still out on this," as one Dutch head of investments puts it, "[but] it looks like corporate bonds may be interesting."
Indeed, at least four respondents have allocated to smart beta government or corporate bonds – "to avoid allocating a too-large portion of our portfolio to a few issuers with very high public debts", as a Swiss pension fund manager explains. Two have made investment in commodity smart beta, the second most-recognised non-equity smart beta market.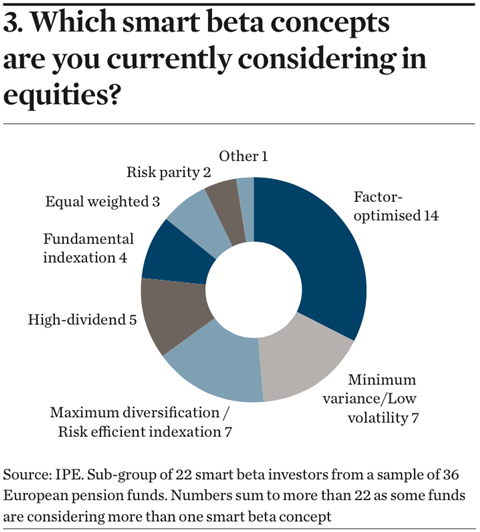 A Swedish CIO hints at something rather more involved, describing a project to "develop an alternative beta portfolio to harvest systematically other risk premiums", as does the Spanish CIO whose fund has built a "diversified, cross-asset portfolio of alternative risk premias without directional exposure to traditional betas".
The vibe from Europe's pension fund community is not all positive, though, even among those who have taken the plunge. A Swiss fund recently terminated an equal-weighted portfolio because it turned out to be "a poor proxy" for the domestic equity market. A Dutch head of investment strategy agreed that equal-weighted was one of the strategies that are "too simple and give you biases that you'd better avoid". Another CIO had little time for strategies that seek to combine multiple risk factors.
Outside the sub-group of our sample that have already allocated to smart beta, opinions are harder, as one might expect.
One UK trustee dismisses the whole thing as "another fad", saying he doesn't trust "any clever products from the financial services industry anymore". The manager of another UK fund describes smart beta as a simple variation on "old-fashioned quant", complaining that it is still "over-complicated".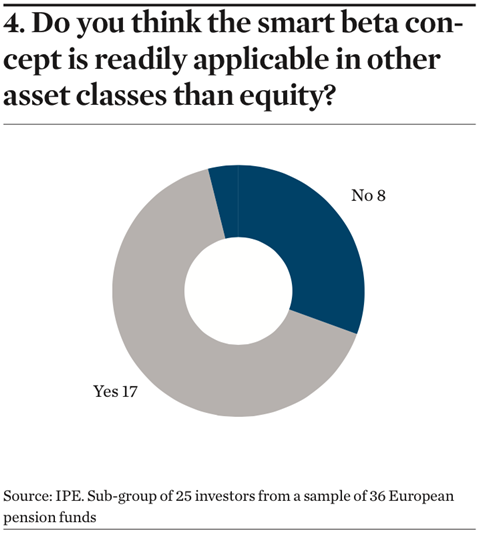 Finally, the manager of external funds for a UK corporate pension scheme notes that its definition of risk is the risk of a permanent loss of capital, and that one of the significant contributors to this risk is a disregard for value.
"Conceptually [we are] in agreement that cap-weighted indices are poor allocators of this type of risk," she says. "However, we have already captured the positive elements of a smart beta strategy with a high allocation to managers with one or a combination of high active share, valuation discipline and small-company bias."
These investors will take a lot of persuasion. But clearly the days of smart beta being all talk and no action are long gone.