The Netherlands: Managing, not matching
Dutch schemes have switched to dynamic liability-driven investment strategies. But in the current economic environment portfolios are unlikely to shift, Leen Preesman finds
At a glance
• LDI strategies in the Netherlands are geared towards the ultimate forward rate.
• Schemes hedge out interest rate risk to various degrees and strategies differ between schemes.
• Portfolios are mainly based on euro-denominated government bonds and swaps.
• Schemes are keeping their LDI strategies firm, reflecting unchanged economic scenario predictions.
In the harsh environment of low interest rates, economic headwinds and increasing longevity, Dutch pension funds are experienced users of liability-driven investment (LDI) approaches to align their pension payment targets with their portfolios. LDI is largely centred on the hedging of nominal liabilities against interest rate risk to stabilise coverage ratios. Unlike in the UK, hedging of inflation risk is a lesser priority, although some schemes do hedge a proportion of their inflation risk. 
"In contrast with insurers and banks, most Dutch pension funds do not rigidly apply LDI across their entire portfolio. They chiefly use it to match the interest risk of their fixed-income portfolio with the interest risk on their liabilities," notes Martijn Vos, managing director  of pension risk management and partner at Ortec Finance. Dutch LDI is hence more about managing than matching.
However, Ortec Finance estimates that almost three-quarters of pension funds have hedged 50% of the interest risk on average, and notes that many schemes have reduced their hedge recently as part of a one-off opportunity to adjust their risk profile offered by the financial assessment framework (nFTK). According to Onno Steenbeek, director of asset-liability management at the €417bn pension manager APG , some of its clients have significantly reduced their interest rate cover during the past few years. The €359bn civil service scheme ABP is among these, having confirmed that it has kept its interest cover at 25% this year.
Widespread use of interest rate hedges became popular about 10 years ago with the introduction of the FTK and initially focused on a fixed percentage of liabilities. But this has since changed and in the past three years, volatile interest rates have caused many schemes to switch to a dynamic hedge that moves up or down with rates, according to Vos. This can vary from as little as 30% to as much as 100%.
There are two main LDI strategies among Dutch pension funds, according to Vos: "Some of the largest have hedged between 25% and 30% of their interest risk, as they prefer a margin to enable them to benefit from a rate rise."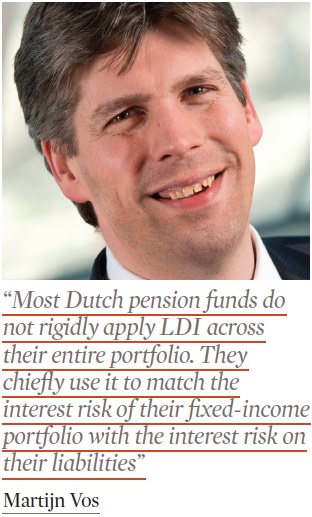 Steenbeek says APG's clients do not have an automatic mechanism in place that adjusts the cover when predetermined thresholds are reached. "Obviously, falling interest rates feed the discussion about the appropriate level of hedging. Markets have taken us into uncharted waters and it is impossible to know for how long rates can stay at these extreme levels," he says. 
The €42bn metal scheme PME applies a strategic interest hedge of 50% with a bandwidth of 40-60%, which is drawn from an ALM study, says Marcel Andringa, executive board member for asset management. The cover is part of the scheme's dynamic asset allocation, which is reviewed every three months.
PGGM, the manager for healthcare scheme PFZW , says that the interest rate level and a pension fund's coverage are the decisive factors for setting the level of their clients' interest rate hedge. According to Jacco Koopmans, senior strategist at PGGM, the healthcare scheme introduced a dynamic hedge several years ago. However, he says that PFZW does not reveal the trigger levels, as it considers the information to be market-sensitive.
Most pension funds deploy a combination of euro-denominated government bonds and interest swaps, with the latter often accounting for 50% of the hedging instruments. As swaps are flexible, they are the most important tool for adjusting the hedge, Vos adds. 
He notes that government paper has become less attractive as a hedging instrument because of declining yields. As a result, funds are partly replacing Dutch government bonds with mortgage investments. "But because the availability of mortgages is limited and spreads will narrow as pension funds' combined allocation increases, the strategic allocation is unlikely to exceed 5%," he says. Investment-grade credit is also among the hedging tools, although some schemes do not classify it as a hedging instrument because of its shorter duration. 
PGGM uses basis swaps as part of its LDI policy. The scheme has not adjusted its strategy recently, and confirmed that it is not planning to introduce new hedging instruments.
In contrast, PME's Andringa indicates that, because of the current low interest rates, the scheme has set trigger levels for potential adjustment of interest rate risk. "As soon as the 20-year swap rate drops below 1.2% over five consecutive days we will carry out economic scenario analyses. The same goes if interest rate drops below 0.8% during a five-day period." He adds that the metal scheme prefers bonds to derivatives as hedging instruments, but that the scheme is not considering major adjustments of its LDI policy. 
Both PGGM and PME indicate that they apply their interest hedge against market rates. Koopmans says: "The UFR is an artificial rate for which no hedging instruments exist. Moreover, pension funds' cashflows must be paid as an economic value."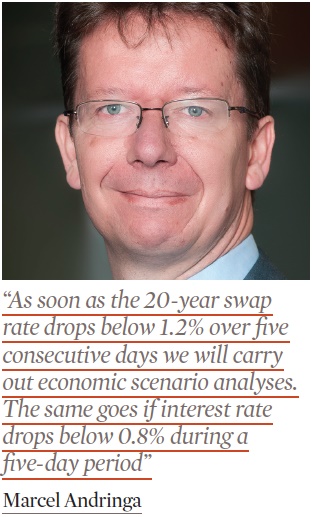 Ortec says most pension funds base their dynamic interest hedge on at least three scenarios. Under the most likely 'muddling on scenario', which sees limited economic growth, continuing low interest rates and modest equity returns, the hedge level is to remain unchanged. Rising deflation or an expected improvement of the economy should, however, trigger an increase or a reduction of the interest rate cover respectively.
A limited number of usually well-funded schemes also address inflation risk through inflation-linked bonds or inflation swaps. Vos says: "They usually cover up to 50%. But most pension funds stay away from an inflation hedge. Not only because of the low inflation, but also because their current low funding won't allow them to grant indexation anyway." PFZW has covered no more than 6% of its inflation risk.
Steenbeek points out that APG takes both interest rate and inflation risk into account within its LDI advice to clients. "We apply at least a dozen scenarios, including stress scenarios for inflation, deflation and plummeting equity markets. We also look at stochastic variables, and assess the risk from a full hedge, because a high cover of nominal interest rates would raise inflation risk."
Ortec's Vos says he does not expect a change in supervisory rules for the short term. "But if the more lenient Solvency II rules for insurers, with an UFR of 4.2%, were also to be made applicable to pension funds, schemes would benefit. However, I would not recommend it, as many rules have already been eased to accommodate the funding level. And pension funds would only benefit for the short term, because higher future returns will probably be difficult to achieve."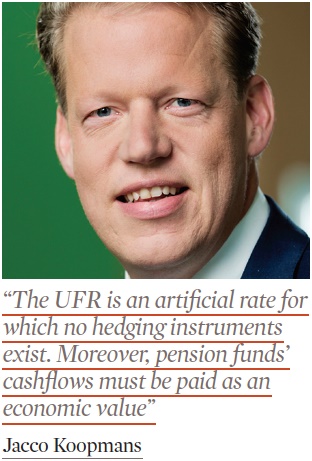 Many pension funds expect that the European Market Infrastructure Regulation (EMIR) directive will have an impact on their LDI policy. The directive changes the rules regarding derivatives and is set to also apply to pension funds as of next year. It is already making the use of swaps more expensive because of higher costs of swap clearing and different collateral requirement. Vos says: "As it will become more expensive to acquire swaps, I see a limited shift to government bonds and liquidity through money market funds." 
Steenbeek thinks that EMIR could even lead to reduced hedging rates. "Costs and risks of maintaining a large overlay portfolio are likely to rise, and we hardly see any alternatives". Andringa says PME has already appointed members for central clearing, and that it would use sale and repurchase (repo) agreements if necessary.
Dutch pension funds and liability-driven investment
LDI is widely applied in the Dutch pensions sector, and at least 90% of schemes has some kind of strategy in place, according to Ortec Finance. The main driver is pension funds' high susceptibility to interest rates. Pension funds with a predominantly young population are particularly vulnerable to the current low-interest-rate levels because of the long duration of their liabilities. 
The discount curve against which liabilities must be discounted is set by the Dutch Central Bank (De Nederlandsche Bank, DNB), which supervises the pension fund sector. The DNB sets the ultimate forward rate (UFR), whose aim is to stabilise the discount rate for long maturities, and which is similar to the UFR used to discount insurers' liabilities under Solvency II. 
For pension funds, the UFR currently stands at 3.1%. However, as it is drawn on a 10-year average, it is expected to decrease over time. In addition, pension funds must comply with the financial assessment framework (nFTK), which requires a minimum funding of approximately 105% as well as financial buffers of about 125%.