The world's largest pension fund is exploring the use of AI to help it select asset managers and assets in which to invest
Key Points
Japan's Government Pension Investment Fund (GPIF) is turning to artificial intelligence for help with the selection of assets and investment managers
GPIF is facing an unparalleled set of challenges as the world's largest pension fund
GPIF has a much smaller staff than its global peers
Asset managers will need to adjust their conventional business models to take into consideration the advances of technology
Artificial intelligence (AI)is poised to become a tool for Japan's Government Pension Investment Fund (GPIF) for selecting assets and investment managers – possibly from as early as next year.
GPIF, the world's largest pension fund with ¥151.4trn (€1.2trn) of assets, currently outsources management of all of its investments except for part of domestic bonds. But faced with an increasing imbalance between returns and management fees, it has turned to AI for help.
GPIF in October 2018 contracted Sony Computer Science Laboratories (Sony CSL) to undertake further work on an initial study of the application of technology to decision-making on investment choices.
GPIF and Sony CSL were due to start the second phase of the project this month. It will explore the use of AI in the selection of assets such as domestic bonds. The project is scheduled to be completed in March 2020.
GPIF plans to allocate up to 5% of its assets under management to private equity, infrastructure and real estate as GPIF reweighs its portfolio away from bonds and equities.
As of March 2018, GPIF had invested ¥196.8bn in global consortia in airports, ports and public utilities since 2014. These assets are located in the UK, continental Europe and Australia.
The purpose of this research is to analyse the capability to apply AI technology in the management of the pension assets, and the impact of AI technology on the business models of asset managers.
Then, in what could herald the next paradigm shift for asset owners and their investment strategies, GPIF will apply AI technology to crunch the numbers and determine the best managers.
According to GPIF spokesperson, Naori Honda: "In this commissioned research, we are expanding the number of asset classes for analysis and will make use of the results for our evaluation of asset managers and future manager selection."
To understand why technology will have a particular role in future asset allocation by GPIF, one needs first to note that GPIF has an unparalleled set of challenges as the world's largest pension fund.
GPIF is mandated to grow the funds under its management to help fund the retirement of an ageing population of Japanese who have notched up the world record for longevity. GPIF's time horizon is 100 years. Unlike its global peers, which boast deep in-house investment expertise, GPIF has a staff of only 130, including support staff, and with the exception of part of domestic bonds, it has outsourced most of its investment to asset managers.
Since taking on the role of CIO, Hiromichi Mizuno has been grappling with the issue of low returns and high fees for active funds. However, 80% of GPIF's assets were managed by passive funds, for which it paid an average fee of 3bps in 2017, according to its annual report.
Explaining the rationale for procuring AI research with Sony CSL, Mizuno has said this is necessary is to ensure that GPIF stays "ahead of the curve".
Mizuno, who was a partner with the London-based private equity firm Coller Capital, and was previously with Sumitomo Trust & Banking group in Japan, Silicon Valley and New York, sees an inevitability in technology playing a bigger role in asset management.
He told Bloomberg in December 2017 that the best opportunity the industry is overlooking is a combination of "AI and human intelligence working together". Mizuno expressed his thoughts on the biggest changes in the investment world in the next five to 10 years, and said he expected "adoption of technology, including AI and ESG integration, into all asset classes".
He also said: "I believe artificial intelligence will be able to either replace or enhance the asset managers' work, particularly for short-term trading." Mizuno sees a distinct role for AI in short-term trading of equities to free asset owners to focus more on long-term investment themes, such as ESG and, importantly, to ensure sustainability of their portfolios.
AI will be able to either replace or enhance asset managers' work, and asset managers will need to adjust their conventional business models to take into consideration the advances of technology, according to the initial GPIF-Sony CSL research report.
GPIF first commissioned the work in 2017, and the Sony CSL team – Takahiro Sasaki, Hiroo Koizumi, Takao Tajiri and Hiroaki Kitano – published their first report in March last year.
Reflecting GPIF's high outsourcing ratio compared with pension funds in other countries, the team said: "GPIF has a strong awareness of issues regarding the sourcing cost of active investment management."
Quoting GPIF's annual report for its 2016 financial year (to March 2017) the Sony CSL team said that both active returns and the excess earnings of active funds had been disappointing in the last 10 years.
GPIF reported that returns from domestic bonds fell by 0.12%, domestic stocks fell by 0.29%, and foreign stocks fell by 0.7%. Except for foreign bonds, it has not been possible to attain alpha, according to the Sony CSL report. Foreign bonds were the only asset class to perform positively, with a return of 0.64%.
GPIF incurred its single largest quarterly losses yet in the December quarter of the fiscal year ending in March 2019. It reported in February that the fund had lost ¥148bn from its investment in the three months to December 31.
The losses had reversed positive returns of ¥2.6bn in the first quarter of the current fiscal year and ¥5.4bn in the second quarter. Predictably, the losses stemmed from global equity market volatility, aggravated by trade tensions. As a result, Japan's benchmark Nikkei suffered a sharp drop, causing losses of 11.82% in GPIF's domestic equity portfolio.
The Sony CSL report contrasts these low returns with the amount GPIF paid out in fees. Asset management companies and asset managers were paid a total of ¥70.9bn over the three-year period from fiscal years 2014 to 2016.
GPIF paid ¥9.9bn in fees for managers of its domestic bond portfolio, ¥13.7bn for domestic stocks, ¥12.8bn for foreign bonds and ¥34.5bn for foreign stocks. "[The fees] are not negligible and make no sense," says the report. "This resulted in the recent contractual policy of GPIF to link management fees with active return."
The research team says the first study developed a proof-of-concept AI system that, with full deployment, enables GPIF to select and monitor investment managers based on stringent analysis of trading behaviour data.
On the basis of the report, hopefully, says the team, GPIF will foster a productive and insightful dialogue with fund managers. The introduction of a system would contribute significantly to the improvement of GPIF's investment practices while also managing risk properly, says the report.
Currently, GPIF depends on the track records and qualitative explanations of candidates and commissioned fund managers, the Sony CSL team wrote. Their report says selection of managers could be significantly improved with the use of AI, leading to better management of GPIF's assets.
The report adds that results from the proof-of-concept pilot system carried out indicate that its introduction should enable GPIF to conduct "more prudent and data-drive selection and monitoring of fund managers".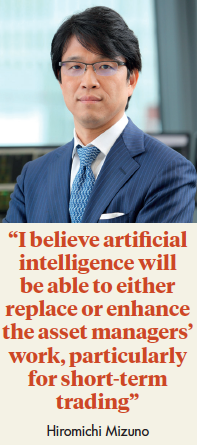 The research went through GPIF's manager structure development and maintenance processes in depth, and agreed on the need to develop a proof-of-concept prototype system to test the principle of using deep learning which would detect the investment style of managers from trading-behaviour data.
Mizuno has previously said the one thing that irks investors most is "style drift" in running investment mandates. Today, GPIF has no way of detecting when a manager starts to drift but it does have available big data in the form of 15 years' worth of daily trading information from asset managers.
Mizuno's hope is that AI can interrogate the database to find out when trading patterns changed, giving GPIF the opportunity to ask managers for information and explanations for any change.
The Sony CSL team says: "The proof of concept system is composed of a series of 'detector arrays', each reacting to the specific investment style a manager.
"The detector array is a set of neural networks that are trained beforehand with data generated by virtual fund managers, each faithfully executing one of the typical investment styles." Results from the proof-of-concept pilot system indicate that, with the introduction of such a system, GPIF should be able to conduct more prudent and data-driven selection and monitoring of fund managers.
"In addition, it may foster more constructive and in-depth dialogue between GPIF and fund managers (to) improve the robustness and performance of investment practices at GPIF in the long run."
This article has been updated to clarify GPIF's allocation plans to alternatives and to correct the spelling of Hiroaki Kitano's name
AI and Manager Selection: Will your future consultant be a machine?
1

Currently reading

AI and Manager Selection: Will your future consultant be a machine?

2