Pension fund governance - Netherlands: New models
Some Dutch pension funds have replaced the traditional board model with a new variant and are reporting positive results
KEY POINTS
More pension funds are replacing the traditional board model with the so-called 'reverse mixed' structure.
All those adopting this model deem it an improvement, often formalising existing practice.
Non-executive board members need to get used to their dual role of internal supervisory board member.
Good preparation, in particular clarifying responsibilities for the various tasks, will smooth the transition.
A skilled external chair is crucial for a correct implementation of roles.
New governance models are allowing Dutch pension funds to focus their oversight functions better and make the best use of the expertise available on their boards.
One of the five board models, introduced in 2014, is attracting particular attention. This is the so-called reverse mixed pension fund board (omgekeerd gemengd bestuursmodel), comprising executive board members and non-executive trustees, with the former responsible for the day-to-day business. The latter deal with a scheme's strategy and policy and also carry out internal supervision. 
This new legislation is a response to calls from pension funds to streamline governance principles. Small and mid-sized schemes in particular felt that the rules for governing, accounting and supervision had become too complicated. The regulation is increasingly considered as a costly burden, and often cited by smaller schemes as a reason to liquidate.
However, most pension funds have retained – at least for the time being – their traditional paritarian board model. Many of these funds are preoccupied with the introduction of the new financial assessment framework (nFTK) or are contemplating their own future independence. 
"Many pension funds had already improved their paritarian board by reducing the number of trustees, setting up a pensions bureau or hiring external experts," says Sander Baars, leader of the governance team of consultancy Montae. 
"Other schemes have appointed an independent chair or set expertise requirements for trustees as well as a minimum time to spend on their tasks."
THE FIVE DUTCH GOVERNANCE MODELS

The legislation offers pension funds a choice of five alternatives, in each of which the four governance tasks – executive governance, internal supervision, accounting and right of say – are addressed differently through checks and balances. Pensioners have a legal say on the board
Paritarian board: representatives of employers, employees and pensioners, with the addition of two external experts as an option. This model has a separate supervisory body or audit committee
Paritarian mixed board: with an executive of employer and employee representatives plus the option of two independent trustees. Non-executive board members are external experts and act as internal supervisors
Independent mixed board: external experts as executive and non-executive trustees, also in a one-tier version
Reverse mixed board: with an executive of external independent experts and representatives of the social partners acting as non-executives. The chair is independent 
In the meantime, however, pension funds have shown an increasing interest in the other options, with the reverse mixed model being the most popular. 
Almost 20 pension funds have already adopted this alternative, with some schemes in transition, according to Selma Smit, partner at the governance advice bureau GPSS. She expects more pension funds to follow, in particular as the supervisor DNB is increasingly asking pension funds to focus on their mission and strategy as well as the effectiveness of their board set up. 
Company schemes, including the ABN Amro Pensioenfonds and the Philips Pensioenfonds, and sector funds, like PME and SBZ, have chosen the single-tier option. GPSS has surveyed nine schemes with the reverse mixed board model and found that all consider the change an improvement.
Pension funds have often appointed the directors of their pensions bureaux as executive trustees and members of the existing board as non-executive trustees, GPSS found. Some have hired external executives.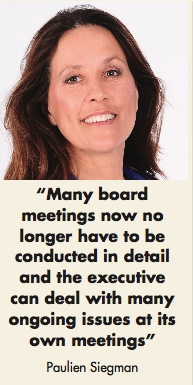 Paulien Siegman co-partner at GPSS says: "People liked that the often already existing day-to-day practices had become formalised and made transparent. Many board meetings now no longer have to be conducted in detail and the executive can deal with many on-going issues at its own meetings."
Her view was confirmed by Geraldine Leegwater, chief executive of the €27bn ABN Amro Pensioenfonds, which introduced the board model three years ago. 
Leegwater is satisfied with the reverse mixed set-up. She says: "Governance has become much more effective and efficient. As most of the issues on the agenda were about running the pension fund, we have been able to scale back the number of full board meetings from 12 to four. The board now only discusses strategy, while the executive runs the scheme. Moreover, we no longer have a separate supervisory body."
Eric Uijen, executive trustee at the €45bn metal scheme PME, also says the new board model has worked well in the past three years. He cites full-time professional management with responsibility for day-to-day business as one of the improvements. 
According to Uijen, the sector scheme's choice for the board model is, in fact, a compromise as employers favour a switch to an independent board, whereas unions want to stick to the existing paritarian model.
GPSS has found that the governance burden for non-executives has decreased, making it easier to find trustees among the social partners. The consultancy, however, did not find that the new board model  improves internal supervision, one of the goals of the new legislation. Smit notes that not all non-executives report on supervision in the study.
She says the most awkward part of the new model is that non-executive trustees must become accustomed to their dual role. 
"They are not only supervisors but are also responsible for a balanced approach, policy and strategy," she says. "In their previous position they often were 'regular' board members and, for example, received all documents. In their new role, they are no longer involved in every investment decision."
Uijen says: "As PME's board continued with the existing team, getting used to new roles as well as explicit internal supervision was a problem initially. Therefore, it is important that non-executives
deal with general matters and leave daily business to the executive function."
Siegman makes it clear that non-executives sometimes become irritated and mistrustful when they find they no longer receive the documentation they are used to receiving from executive colleagues. 
"The most important skill non-executives must learn is to have confidence in the executive board members. And the latter must make a routine of frequent and careful communication, documenting their decisions as well as accounting for them," she says.
Leegwater notes that it matters whether supervisory meetings are scheduled separately or in connection with the general board meeting. 
"Combining meetings is more practical, but blurs the separation of roles. Therefore, we have opted for separate meetings," she says.
One of the main lessons is that good preparation will smooth the transition. 
Smit stresses: "It is crucial to clarify the various tasks in advance, in particular if the new rules must be carried out by the existing team. Clarity about the roles as well as their implementation will generate confidence among executives and non-executives.
"The key rule is that policy, strategy and the assessment of interests is a matter for the entire board. As a result, the non-executives are responsible for investment, communication and outsourcing, whereas the executives are in charge of the selection process for asset managers, monitoring of the outsourced tasks as well as pension letters and website updates."
GPSS found that the dual role of non-executives – strategy and supervision – has not been properly addressed from a legal perspective. 
"Non-executives must comply with the existing norms for internal supervision, for example. The current legislation also lacks rules for how much time must be spent on this task," says Smit.
In Leegwater's opinion, supervisory function in the reverse mixed board model should be part of the evaluation of the new legislation this year. Uijen has also called for more legal guidance on internal supervision. Standards are important here, as well as clarity about how to implement them and to make the board accountable, he notes.
The GPSS survey indicates that funds have also dealt with the separation of non-executives' supervisory roles by cutting roles, with non-executives acting as a trustee in one area and as a supervisory board member in another. 
"An additional variant is outsourcing supervision to the audit committee," Smit explains.
GPSS has also found that a skilled external chair is essential.
The independent chair – a mandatory element in the reverse mixed board model – must ensure that all trustees stick to their respective tasks. 
"Pensions funds are often wary to attract somebody from outside, but afterwards they are always positive about it," Siegman concludes.
Pages in: Pension fund governance - Netherlands: New models