Building investor resilience in a downturn
Investors need to look at varied downturn scenarios that take new risks into consideration 
Key points
• Four possible causes of a downturn are monetary tightening, corporate caution, a trade war or a consumer retreat
• New risks are evident today which were not present in previous downturns
• For pension funds, the key risk today is that of impairing sponsors, especially in a corporate-caution scenario with severe equity downturns
• Building resilience in a downturn requires all investors to assess the quality of the recessionary environment and to understand the risks they bear and their capacity to bear them
Although there are reasons to be structurally optimistic about the long-term outlook, today's mature US economic environment demands that all types of investors evaluate how turning points in the cycle might lead to challenging outcomes, even in diversified portfolios. What is the risk-bearing capacity for different types of investors in various downturn scenarios and how might these risks affect them through the end of the expansion?
The shape of the next recession cannot be predicted with certainty but possible scenarios that depend on how a downturn is triggered can be considered. Four plausible causes of a downturn would be: monetary tightening (perhaps triggered by inflation); corporate caution (possibly owing to tax regime change); a trade war (prompted by further tariff measures); or, finally, a consumer retreat (owing to a labour-market downturn). Let us look at the different investor types in turn to gauge how they might be impacted by various scenarios.  
Corporate DB plans
While these pension funds have taken substantive steps to de-risk their investment strategies by shifting from risk assets to bonds, diversifying their exposure to equities and tapping the pension risk transfer markets, new risks and a different balance of risks are present today compared with previous downturns.
Many plans, particularly those that are closed or frozen, are in negative cash flow, routinely paying out more in benefits than they are receiving in contributions. Some pension funds are not only large relative to their sponsors; they are, in general, thinly capitalised despite sizeable cash injections. 
It is also evident that pension portfolios today are much more complex. While they may carry less investment risk, particularly in the form of equity risk, many are carrying greater cash flow, operational, and liquidity risks.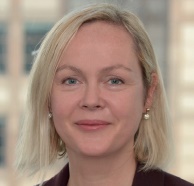 Nonetheless, the long-term outlook for pension funds is relatively benign, with the expectation that the gradual normalisation of interest rates and steady returns from risk assets will help to repair funding levels over the next 10-15 years. The principal cause of the collapse of pension funds following previous recessions was the demise of the sponsor, and this risk remains most pertinent today. But a key difference today is the concern that pension funds themselves may have the propensity to drag their sponsors under or, at least, materially affect their ability to recover from hard times.
Resilience of pensions will differ significantly based on circumstances. For example, UK corporate plans tend to make much greater use of derivatives through leveraged liability-driven investment (LDI) and currency-hedging programmes. They are, therefore, more likely to experience large operational cash flows that can create or compound liquidity challenges. US pensions plans continue, on average, to hold larger allocations to riskier growth assets than their European counterparts and so are more exposed to drawdowns. 
Generally speaking, the corporate-caution scenario, with its combination of severe equity downturns, falling interest rates and high default rates, would probably be the most challenging scenario for defined benefit (DB) pension funds. That is particularly true of those whose resilience has been weakened by being in a negative cash flow position — pointing to a need to be alert to the triggers of such a scenario.
Insurers, SWFs, foundations
Generally, the corporate-caution scenario is also the most troublesome for insurers. Insurers rely heavily on credit in investment portfolios, and low interest rates feed through to mark-to-market liability valuations in Europe and new business book yields in the US.
Institutional investors that either have less concrete liabilities – such as sovereign wealth funds (SWFs) and endowments and foundations (E&Fs) – or are free of mark-to-market balance sheet accounting (public pension funds) are arguably more resilient in a downturn and able to take a long-term view. However, there is growing tension between the investment return requirements or expectations of these investors and what is likely to be attainable. 
It is not surprising that E&Fs, public pension funds and SWFs have shifted substantially into alternatives, exploiting these institutions' perpetual horizons, less burdensome regulation and, for E&Fs and SWFs, non-contractual liabilities to harvest risk and illiquidity premia.
Nonetheless, the spending commitments of E&Fs and the negative cash flow positions of many public pension funds can undermine this resilience. SWFs, particularly those that are funded by revenues from natural resources and/or whose purpose is to smooth a nation's fiscal experience, may be faced with large and sudden divestment needs in a recessionary scenario. It is essential for all investors to avoid becoming forced sellers in illiquid markets – the degree to which investors have control over the cash flows from their funds is a critical resilience factor.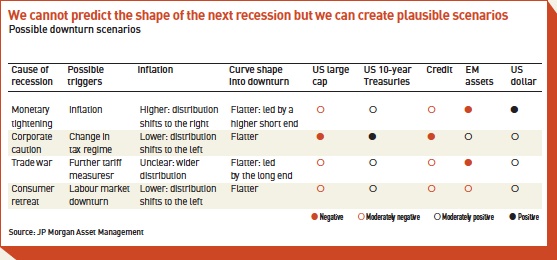 Individual investors 
The response of individual investors to recessionary environments is complicated by a gradual shift in market risk and investment decision-making toward the individual. This trend is being driven by insurers offering more market-based savings products with fewer guarantees and by the increasing role of defined contribution (DC) plans in employee retirement saving. Investors are responding, in part, by increasing allocations to mutual funds and multi-asset structures, including target date funds (TDFs). This is observable across developed economies in a move away from direct equity and bond exposure – now at the lower end of their historical ranges – in favour of mutual funds, now at the higher end. 
The delegation of asset allocation via balanced funds such as TDFs is another manifestation, particularly among US DC plan participants. These strategies can improve resilience through downturns by better aligning asset allocations with investors' changing needs as they approach retirement. Further, dynamic management of these multi-asset structures can help to steer portfolios through a downturn and, where successful, reduce the degree of stress that investors experience. These trends have the potential to help mitigate the strong cyclicality in household investing.
In general, though, there are still reasons for concern. Investor age and risk-taking are becoming more aligned but there is room for improvement. Nearly one in five participants in US 401(k) retirement plans who are in their 60s have equity allocations exceeding 80%. In contrast, 7% of those in their 20s have no allocation to equity. Such disjunctures raise concerns regarding the resilience of plan participants in a downturn. 
Building resilience
While recessions will always be painful, the intensity and nature of that pain can vary greatly. In recessions caused by monetary tightening, emerging market assets will suffer alongside a strong dollar. Recessions characterised by corporate caution pose particular risks to stocks and credit markets. A recession following a trade war is likely to come with non-linear effects on near-term growth and inflation, with emerging market assets the likely underperformer. 
For pension funds, the key risk today is that of impairing sponsors, especially in a corporate caution scenario with severe equity downturns. Managing pension portfolios through recessionary environments will require monitoring several risk factors beyond just asset price performance, such as negative cash flow risks, derivatives usage and illiquid allocations. 
Sovereign wealth funds and endowments and foundations are primed to weather recessionary environments well, but only if they can manage their spending commitments and avoid becoming a forced seller in illiquid markets. 
Building resilience in a downturn requires all investors to assess the quality of the recessionary environment and to understand the risks they bear and their capacity to bear them. Such an appraisal is critical to survive the short term and thrive in the long term.
Sorca Kelly-Scholte is global strategist, global pension solutions, at JP Morgan Asset Management