Risk Parity Performance: Looking to reduce leverage
Risk parity strategies fared poorly in 2015 owing to commodities exposure, finds Charlotte Moore. This year some managers are reducing leverage, which could affect returns 
At a glance 
• Risk parity strategies underperformed in 2015 owing to the steep sell off in commodities.
• Many investors remain concerned about the high allocation to bonds in these strategies.
• Strategies will only underperform if interest rates rise more quickly than the market currently predicts.
• Despite some countries issuing negatively yielding bonds, risk parity managers can still make returns from the term premium.
• Greater correlations between equities and bonds, however, have caused some managers to reduce the amount of leverage used in their portfolios, which could reduce returns.
The intellectual appeal of the risk parity concept to institutional investors is easy to understand. Ensuring each asset makes an equal risk contribution to the overall portfolio to provide a smoother return profile is an attractive proposition for investors with a limited appetite for volatility.
But attaining such risk nirvana means allocating a far larger proportion to fixed-income assets than would be the case in a traditional portfolio. This makes some investors nervous as interest rates appear more likely to rise than fall. As bond values fall when the cost of borrowing increases, allocating a large proportion of the portfolio to an asset which is on the cusp of revaluation appears a daft decision.
In addition, risk parity managers usually apply leverage across the entire risk parity portfolio to improve returns. The higher allocation to fixed income in these portfolios means returns will be lower than with traditional portfolios. Leverage helps to improve that return profile. However, while leverage is good at magnifying returns in a market where prices are increasing, it can be just as effective at exaggerating losses when asset values fall. By using leverage, risk parity funds risk inflating any potential losses when interest rates rise.
The performance of risk parity funds last year appears to bear out the fears of risk parity critics – in the year that the US Federal Reserve made its first increase in interest rates since the financial crisis, most risk parity funds performed badly.
But those who are bearish on risk parity may have misunderstood what was responsible for the poor performance last year. It was not the fixed-income component which caused risk parity strategies to perform badly in 2015. Michael Mendelson, principal at AQR, says: "If the risk parity portfolio had only been made up of equities and bonds, it would have performed better than a traditional portfolio."
Most risk parity portfolios, however, often also include allocations to commodities. "That's because risk parity managers like diversified sources of risk premia and commodities give access to inflation-sensitive assets," Mendelson says. Dan Mikulskis, managing director of ALM and investment strategy at Redington, adds: "The deep sell-off of this asset class last year had a negative impact on their performance."
While the poor performance of commodities caused risk parity strategies to underperform last year, there are concerns about the high allocation to bonds in a rising-interest-rate environment. For the bond portion of the portfolio to underperform, however, interest rates do not have to just increase – they must increase more rapidly than the forward curve currently predicts, says Mikulskis.
If rates increase more than the market predicts, then the value of the bonds held in the risk parity portfolio will fall. "In other words, the value of the portfolio will be less than the fund expected when the bonds were purchased and reduce the overall return of the portfolio," says Phil Tindall, director of investment at Willis Towers Watson.
In the past, forward rates have not been an accurate forecast of actual interest rates. This is because the curve has historically forecast rate rises to be much more rapid than the actual increase in the cost of borrowing. When interest rate rises were first mooted a few years ago, the forward rate curve built in similar rapid increases. But over the past couple of years the upward slope of the interest rate curve has flattened (see figure). Tindall says: "Rather than expecting a fairly rapid increase in rates, the market is now expecting a much longer and more gradual grind-up in interest rates."
The forward rate curve does seem to paint a more accurate picture of the likely progression of interest rate hikes, given the current mood music emanating from the developed world's central banks. While the US Federal Reserve has raised rates once, it appears reluctant to increase them again, let alone implement a series of rapid interest rate hikes. Both the European Central Bank and the Bank of Japan still have a very loose monetary policy.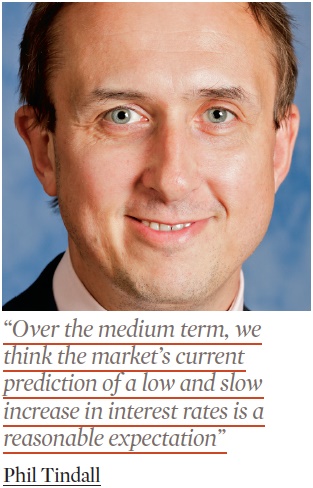 Tindall says: "Over the medium term, we think the market's current prediction of a low and slow increase in interest rates is a reasonable expectation."
Not only has the market adjusted its expectations about the likely path of interest rate increases, it has also had to adjust its views about what is the lowest level for interest rates. Mendelson says: "For many years we assumed it was 0% but markets have proven this assumption to be wrong." Central banks are able to impose penal negative short rates on investors because so many have to keep their money on deposit, he adds.
But these negative interest rates pose a serious challenge to the assumption that interest rates can only rise from here. Mendelson says: "Negative interest rates mean that both bond prices and rates can go either up or down from here." This more symmetric bond risk profile increases the probability that a risk parity manager could profit from their current fixed-income position.
That is because there is positive carry even with bonds paying negative interest rates. Hakan Kaya, portfolio manager at Neuberger Berman, says: "Risk parity managers make money out of their bond holdings as long as there is term premium." Term premium exists as long as there is positive short-term yield and an upward slope in the yield curve. Risk parity managers will roll their position every year to capture the increase in interest rates in the upward slope of the curve, known as the carry. Kaya says: "This strategy works as long as both the carry and the short-term yield are positive."
Despite some countries issuing bonds with negative interest rates, these bonds still have positive carry. However, if a bond were to develop negative carry, risk parity managers would simply move their capital allocation elsewhere. Kaya says: "Now that there is divergence in central bank macroeconomic policy, it's possible to find bonds which fit our investment criteria."
If an institutional investor believes, however, that interest rates will rise much more rapidly than the curve currently predicts then it would not be a good idea to allocate to a risk parity strategy. "If interest rates rise rapidly, this could undermine the current assumptions in a risk parity portfolio," Kaya says.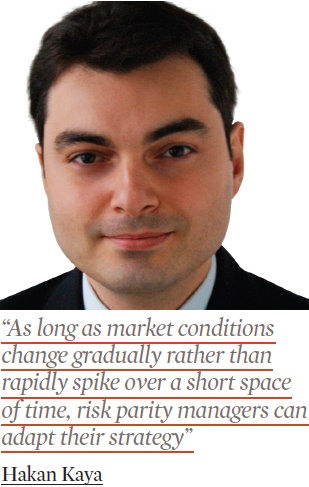 If interest rates were to rise rapidly, not only would bond values fall but so too would equities. A rising-interest environment is usually accompanied by an increase in inflation, a spike in unemployment and lower economic growth, which would cause share prices to fall. Kaya says: "The correlation between bonds and equities increases, as investors will choose to allocate capital away from both of these asset classes." Risk parity assumes these two assets are negatively correlated but, in this scenario, they are positively correlated. As risk parity overweights bonds, a positive correlation shock could result in these strategies underperforming.
However, risk parity managers are not simply a hostage to fortune – they can adapt their assumptions and allocations to take account of likely market outcomes. Kaya says: "As long as market conditions change gradually rather than rapidly spike over a short space of time, risk parity managers can adapt their strategy."
In fact, there has been an increase in the correlation between fixed income and equities over the past few years. Fixed-income volatility has also increased. Kaya says: "We have significantly reduced our bond and equity allocations by reducing the leverage in our strategies because the riskiness of both assets has increased." But using less leverage does mean these strategies are likely to produce lower returns in the future.