Tech Opportunities: Opinion divided on European tech
The iconic giant technology firms are undisputably from the US and Asia but European firms still have their attractions 
Key points
• The West's iconic technology giants are all American
• Opinions diverge over the vibrancy of the European technology sector
• Many contend that there are attractive opportunities among European small and mid-sized technology companies
• The debate is complicated by conflicting definitions of what constitutes technology
In the public imagination the phrase 'Silicon Valley' has become inextricably linked with high technology. The nickname for the southern part of the San Francisco Bay Area has become synonymous with the internet and associated technologies. This is hardly surprising since it is the home of iconic firms such as Apple, Facebook, Google and Netflix.
However, there are several problems with making such a simple connection. Perhaps the most obvious is the location of many key technology firms outside of Silicon Valley. Even Amazon, which no doubt many assume is based in Northern California, has its headquarters further north in Seattle, Washington. That is a two-hour flight or 13-hour drive from many of its peers. There is also a plan to build a second Amazon headquarters elsewhere in the US.
Then, of course, East Asia is another key hub for technology firms. Samsung, based in South Korea, has in recent years been locked in a battle with Apple for the leading position in the smartphone market. In addition, there are Chinese firms that have the advantage of a huge domestic markets and the potential to become big international players. These include Alibaba (an e-commerce firm), Baidu (an internet firm) and Tencent (specialising in gaming). Nor should it be forgotten that East Asian firms manufacture many components found inside products sold under Silicon Valley brands. For example, Taiwan's Foxconn, the world's largest contract electronics manufacturer, has a long list of Western clients including Amazon, Apple and Google.
The identification of these big players in the US and arguably Asia too, leads to an awkward question. How does Europe fit into the picture? It is generally accepted that there are no giant European firms with the iconic status of the FANG stocks (Facebook, Amazon, Apple, Netflix and Google/Alphabet). But below that august level there is considerable debate about the vibrancy of the European technology sector.
Walter Price, undoubtedly one of the leading veteran technology fund managers, is one of the most critical of the European technology sector as a whole. The San Francisco-based manager of the Allianz Technology Trust has run technology portfolios for 40 years – no doubt since before many of his peers were born – and sees European technology at a low ebb. "At one point we had 25-30% of our portfolio in Europe. There were some great powerful technology companies in Europe. But that's really faded," he says. "Now we have less than 10%."
"What we have in Europe are niche companies that have niche know-how and that are benefiting from the good cycle"

Diane Bruno
Like many critics of the sector, he puts a large part of the blame on what he sees as the inadequacies of the European venture capital industry. In his view, its time horizons are too short to invest in some of the most path-breaking technologies. "You have years and years of losses associated with this technology and European venture capitalists in general just are not comfortable with that," he says. "It's less-patient capital and it's less-enlightened capital."
He also points out that US-based companies, along with those in China, have the benefit of the huge economies of scale that give an important edge to some businesses. For example, there are numerous social networks and search engines but Facebook and Google, respectively, have an enormous advantage thanks to the sheer number of users. Few people would want to join a social network, however good, if it had a relatively small user base. In Europe, where domestic markets are much smaller, it is harder to build such scale economies.
That is not to say there are no attractive investment opportunities in Europe but Price says few can plausibly claim to be global leaders. Nokia and Ericsson, once big players in the mobile phone market, had that chance but missed the opportunity when their key products were edged out by Apple and Samsung. He accepts that SAP, the Germany-based software company, could be classified as a global leader but argues that "their reluctance to rock the boat with their existing model of technology creates the kind of vulnerability that you saw with Nokia."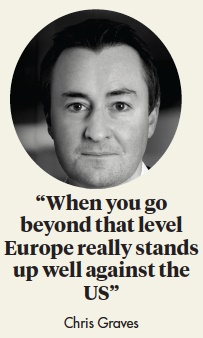 Those European firms he is upbeat about include two companies that are arguably leaders in their particular areas. They are Amadeus, a cloud-based travel platform based in Spain, and AMSL, a Dutch-based leader in the lithography business, making chip-making machines for semiconductors. Smaller companies he is keen on include Sophos, a British computer security company, and Temenos, a Swiss leader in next generation banking software.
At the other end of the spectrum are professional investors who are enthusiastic about the European technology sector. Chris Graves, the executive director of technology advisory firm GP Bullhound, concedes the dominance of the largest US technology firms but argues that "when you go beyond that level Europe really stands up well against the US". 
He points to Spotify, the Stockholm-based music-streaming company that recently listed on the New York Stock Exchange, as a prime example. JustEats, the online food order and delivery service that is based in London but was set up by Danes, is another, along with Farfetch, an online fashion platform set up by a Portuguese entrepreneur in London, are others he identifies.
Graves emphasises the broad-based character of the European technology sector. It is not just a question of what he jokingly calls "beer-drinking Europe" (Germany, Scandinavia and the UK) but also the wine-drinking countries of southern Europe. He points to Madrid and Barcelona as "fantastic hubs of innovation and start-up activity", while lauding developments in hardware and software in France.
Jonathan Ingram, manager of the Europe Dynamic funds at JP Morgan, perhaps not surprisingly points to the performance of his own fund as evidence of the vibrancy of the European technology sector. Indeed, he contends that the common perception of a lagging European technology sector works to his fund's advantage as many investors are focused elsewhere. The fund's largest holdings including several firms that have already been mentioned in this article including Amadeus, ASML and SAP. He is also keen on Infineon, a German semiconductor manufacturer.
Perhaps somewhere in between the two ends of the spectrum is Diane Bruno, manager of a fund investing in European small and mid caps at Mandarine Gestion in Paris. From her vantage point she says she sees "what we have in Europe are niche companies that have niche know-how and that are benefiting from the good cycle". In some cases they have a European headquarters, as well as their research and development, but manufacturing takes place in Asia.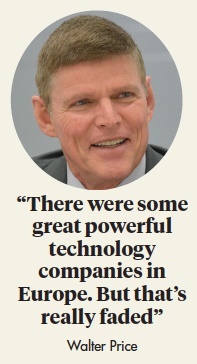 Many of her favoured companies make heavy use of IT but would not be traditionally classified as technology companies. They include specialist engineering firms such as FLSmidth, Vesuvius and the Weir Group.
Bruno's preferences point to a difficulty with accurately assessing the vibrancy of the European technology sector. The definition of what constitutes a technology stock is far from settled. The days when it was generally considered to comprise IT services, software and semiconductor stocks are long gone. That means there is considerable room to argue at cross-purposes since different people can have contrasting conceptions of what the term means.
One practice that has become widespread is use of the term 'technology' to mean information technology. For example, vehicle manufacturers and pharmaceutical firms are not in themselves considered 'technology' companies in the sense that investors seem to use it. A car may embody technology, such as computerised systems, but according to this definition the internal combustion engine is not technology.
However, if the meaning of technology has narrowed in one respect it has broadened in others. Firms that make extensive use of information technology are often referred to as technology firms. 
For Shaniel Ramjee, a multi-asset fund manager at Pictet, what he refers to as 'digital economy' firms "do not have to be in the technology sector". Instead he defines them as "those that are using technology to take market share".
Chris Graves of GP Bullhound emphasises the importance of firms that are growing rapidly and using technology to disrupt traditional business models. These can include media companies and retailers.
Within the retail arena his focus is on what he describes as 'omni-channel retail'. These are retail firms that seek to integrate the experience of online shopping with that in their physical stores. For instance, Burberry, the luxury fashion brand, makes extensive use of technology in its stores to ensure that shopping there is an interactive experience.
There is no doubt that in some respects, most clearly in relation to the largest companies, the European technology sector lags the US and arguably China too. But many investors see attractive opportunities in the other tiers of the European technology markets – particularly if it is broadly defined.
Pages in: Tech Opportunities: Opinion divided on European tech