During 2014, the M&A market sloughed off the after effects of the global financial crisis and regained its chutzpah. The total value of announced deals to the end of Q3 was $2.5trn (€2.1trn), according to Deloitte's M&A index – making it the best year since 2007.
This improvement has been driven by the return of the mega-deal, with 26 $10bn-plus deals announced, according to Deloitte. Sriram Prakash, head of M&A at Deloitte, predicts that the total number of deals would be 31,500, making 2014 the best year for deal volumes since 2011.
However, this represents only a 3% pick-up compared with 2013. While confidence has returned to large companies encouraging them to implement mega-deals, the small increase in total deal volumes indicates the rebound is not being felt throughout the market yet.
Prakash says: "The return of mega-deals has provided a much needed confidence boost and in turn will slowly trickle to the small- and mid-cap sector."
Regional
While confidence may not yet have percolated through to smaller companies, the European M&A market has recovered well despite the economic difficulties in the euro-zone. There was a sharp increase in European deal-making, which doubled from around $300bn for the first nine months of 2013 to more than $600bn in the same period of 2014, says Deloitte.
"Not only are European companies doing deals with each other, they are both targeted by US companies as well as buying firms on the other side of the Atlantic," Prakash says. "That's a trend we think will continue into 2015."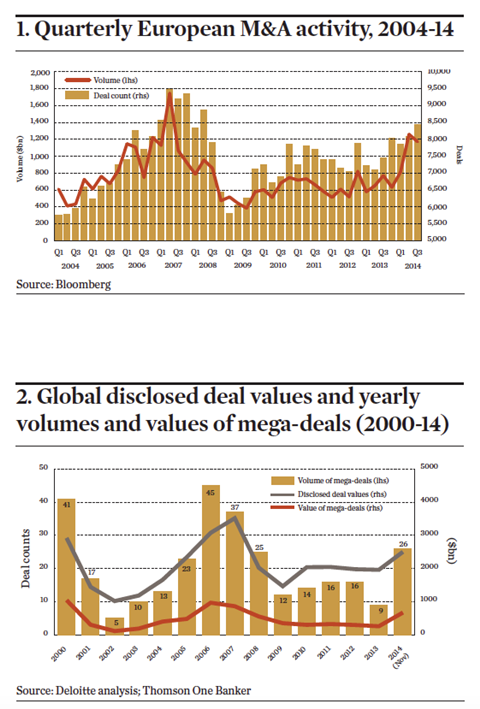 The US ended its quantitative easing programme this year and the economy is doing well. "The US corporate sector is in rude health," says Prakash.
US companies have record levels of cash reserves, have rebuilt balance sheets and stock market rallies have lifted share prices and capitalisations. "We expect them to take advantage of the appreciating dollar and do more cross-border deals," he adds.
Despite the challenging economic conditions in the euro-zone, many European companies have strong balance sheets. "At the start of this year, we estimated European companies have $1.3trn in cash reserves which they are using to acquire US firms in order to boost their growth prospects," says Prakash.
At a glance

• Total M&A deals increased only 3% in 2014, but mega-deal volumes started to take off.
• Despite lacklustre growth, both US and European corporates hold high levels of cash – and lack of organic growth incentivises growth through acquisition.
• Cross-regional deals are picking up, especially takeovers by Chinese and other Asian bidders.
• IT, media, telecoms and pharma are the sectors driving the trends.
• Cash seems to be being used to buy back stock, which is then used to acquire other businesses.
• The recovery still has a long way to go.
Patrick Moonen, senior equity strategist at ING IM, agrees: "The negative outlook for economic growth in Europe makes it difficult for companies to grow organically, so they are turning to deal-making in order to bolster revenue growth without increasing industry capacity."
But it's not only the corridor between the US and Europe that has been busy – the Chinese have taken a larger stake in the M&A market. "In 2013, the Chinese authorities raised the state-owned company threshold for investing in overseas companies to $1bn from $250m. We expect this to give a boost to non-domestic Chinese deals," says Prakash.
There was a dramatic increase in the total value of European acquisitions by Chinese companies. "In 2013, the Chinese spent $2.3bn on European assets, but by November 2014 they have already announced $7.9bn worth of deals." says Prakash. During the same time, the value of US companies acquired by the Chinese declined.
The type of companies acquired by the Chinese has changed. A few years ago, acquisitions were mainly in the manufacturing, energy and utility sectors. "But in recent years, they have moved more towards buying consumer brands and technologies with the aim of taking these into Chinese markets," says Prakash .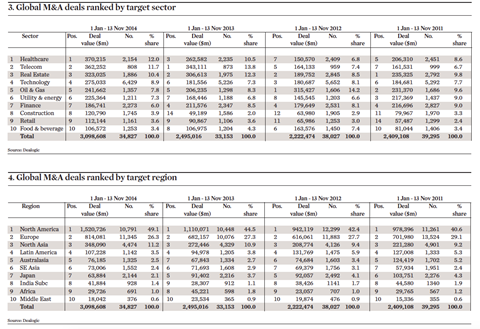 Investors should expect the Chinese to continue to acquire assets like Pizza Express and the luxury yacht company Sunseeker, he adds.
The increased Chinese activity has helped to improve the regional split of the M&A market. Anne-Gaelle Pouille, senior portfolio manager at PAAMCO, says: "In the past, the M&A market was dominated by the US but there has been a steady increase over the past decade from Asia as well as more recent pick-up in European activity."
The rebalancing of M&A deal flow among the regions has resulted in more cross-border deals. Pouille says: "This year, cross-border deals accounted for almost half of the global deals done. That is the largest proportion since we started to track this data 15 years ago."
While China can play a greater role in the international market, more traditional players have access to strong balance sheets which allow them to keep their hand in the M&A market. Prakash says: "By mid-2014, we estimated that the 1,000 largest non-financial companies in the world had around $3.1trn in cash reserves."
Moonen says: "It is the strength of these corporate balance sheets which has helped to drive the revival of the M&A market. Key financial ratios such as net debt to equity or the value of the cash held on the balance sheet are all healthy."
Consolidation
While the value of M&A was concentrated among large companies, certain industries accounted for more of these deals.
"The sectors which dominated, in terms of both size and number of deals, were healthcare as well as technology, media and telecom," says Prakash.
Many of the mega-deals in the pharmaceutical sector were driven by a number of companies facing a steep patent cliff along with so-called tax inversion – US companies looking to acquire companies headquartered in jurisdictions with lower corporate tax rates – although, this door has been closed by the US government.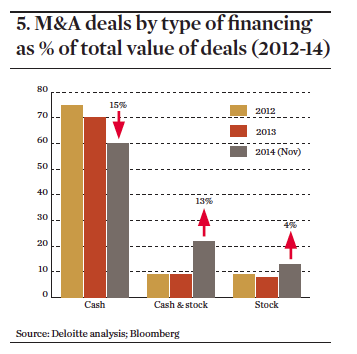 While many of the pharmaceutical deals were straightforward, there was at least one interesting innovation – Glaxo SmithKline and Novartis announced an asset swap deal. Glaxo gave Novartis its cancer treatment division and gained a vaccine unit in return. The two companies also entered a joint venture to create the world's biggest consumer healthcare business.
"Many other industries will now be looking at doing similar asset swaps which will allow companies with non-core businesses to switch these out for those which are better fit with their main business," suggets Prakash.
While consolidation was the key driver for the telecom sector, technology companies were under pressure to use their considerable cash reserves to pursue growth.
The manufacturing sector also saw a large number of deals. This is a positive development because this sector is a bellwether of economic growth. "Manufacturing deals in North America more than doubled this year," says Prakash.
While most of these deals were motivated by consolidation, future deals will be focused on looking for growth, he adds.
Recovery
Despite the large amounts of cash on balance sheets and the low cost of debt at the moment, Deloitte's research suggests that the proportion of acquisitions financed purely with cash fell by 15% during 2014. The proportion of cash-plus-stock deals was up 13% and that of stock-only deals were up four percentage points. While history suggests that cash-financed deals tend to collapse less often than stock-financed deals, this seems to have been trumped by rising valuations driven by the recent equity-market rally and the support given by the large share-buyback programmes of recent years.
Overall the M&A market indicators look positive for 2015 – in particular, the favourable outlook for the US economy because this region is the most active participant in the M&A market.
Conversely, Moonen argues that the poor economic outlook for Europe will continue to provide further impetus for European companies to keeping make deals. "M&A is the only growth option available to companies when organic growth is not on the table," he says.
In addition to the macro-economic environment providing a favourable environment for further European M&A, there is also a recovery taking place in the market micro structure.
Pouille says: "Relative to the US, there is less government intervention in European domestic deals, which gives companies greater confidence that they will be carry out their acquisition without the threat of politicians scuppering the deal."
In addition, in the fourth quarter of 2014, there were in-flows of capital into the market which, in combination with the lower valuations in the European equity market relative to US market, provides further impetus for the European M&A market next year.
While the value of deals has recovered, thanks to the re-emergence of the mega-deal, there is still plenty of depth in the market. "The M&A spend as a percentage of market capitalisation is still low relative to historic average, which implies there is appetite for more deals," says Prakash.
But, there are negative factors which slowdown the continuing revival of the M&A market off-course. "There are continuing geopolitical risks, as well as greater investor scrutiny following the withdrawal of deals worth $400bn – which is the highest seen in many years," says Prakash.
Companies will still display considerable patience and consideration before they decided to pursue a particular deal, he adds. But greater investor scrutiny and a more in-depth consideration of a deal could be a force for good and help to improve deal quality.