The private equity Pac-Man
Technology is becoming a game changer in the private equity world 
Key points
• Technology is accounting for an increasingly large share of private equity deals
• Only large funds are accessing private equity directly
• Growth areas include crypto-currency, and artificial intelligence
• High valuations remain a concern
"Software is eating the world," says Katja Salovaara, senior private equity portfolio manager at Finland's Ilmarinen pension fund, quoting a famous saying from tech entrepreneur Marc Andreessen in 2011. "And that is what has happened," Salovaara adds. "I've been an LP [limited partner] for 20 years, and have seen the market grow from the first buyouts to now, where the opportunity set has grown hugely with tech and tech-enabled opportunities." 
Since Andreessen came up with this pithy epithet, IT-orientated buyout funds have raked in money, peaking last year, when 16 funds raised almost $40bn (€32bn) – more than twice as much as the previous record, according to data and intelligence firm Preqin. The top two tech-focused buyout funds alone – Silver Lake Partners V and Vista Equity Partners Fund VI – raised more than $10bn each. On the venture capital side, $500bn has gone into tech since 2012, "and companies are staying private for longer", says Salovaara.
Stanislas Cuny, Amundi's head of direct private equity, has said that technology is its "number one" mega trend, according to a report from Preqin. Indeed, IT itself is only part of the tech story. While IT is a reasonable proxy for technology, tech bleeds into many other sectors, as the "impact from digital disruption will almost certainly outweigh any kind of cost-reduction initiative or operational streamlining", according to the Boston Consulting Group. 'Disruption' is probably the current investment buzzword, and it is even more prevalent in private equity (PE) than in the listed world. 
Recent PE tech deals include 2016's Tencent-led $8.6bn acquisition of gaming company Supercell OY. Silver Lake, a Californian PE firm, has made some the biggest tech deals – the buyout of Dell, a computer technology company, in 2013 and Dell's $67bn acquisition of EMC, a computer data storage firm, in 2015 being two noteworthy examples.
Tech is becoming an increasingly large slice of the PE pie: in 2008, IT deals represented 9% and 4% of all buyout deals and aggregate deal value respectively. By 2017, both of these figures had risen to roughly one-fifth, according to Preqin. 
"Tech is a major component in most funds," says Søren Thinggaard Hansen, head of private equity at Denmark's Industriens Pension. He explains the sector's attraction for investors: "The asset class continues to deliver strong outperformance and at very low loss ratios – to the frustration of managers of listed assets."
Allocations to tech have increased because there are a greater number and wider range of opportunities, says Chirag Patel, head of innovation and advisory in EMEA at State Street Global Exchange: "This means that dry powder typically lies undeployed for a shorter period of time. The greater depth of the market means it is also easier to price," he adds. Faster deployment of dry powder is a big deal, as it is now at record levels.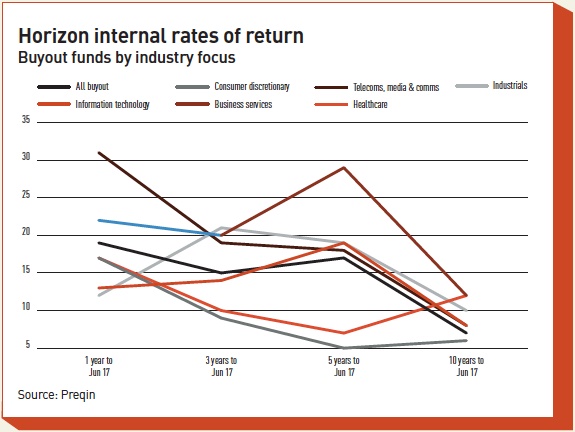 IT funds delivered the second-best PE sector performance in the third quarter of last year – the latest period for which data is available – with a return of 3.8%, according to State Street data. Over five and 10-year periods, IT-focused buyout funds have outperformed the wider market, according to Preqin. However, over the one and three-year periods, IT-orientated funds have underperformed, with healthcare and consumer discretionary sectors pulling ahead over the year to June 2017. Nevertheless, across all fund vintages, IT-focused funds are among the highest returners, with a median net internal rate of return of 14.7% . 
PE's old reputation of 'lever and launch', where investors got their returns from financial gearing and cost-cutting, has had to give way to a more growth-orientated model, with the Boston Consulting Group stating managers have had to "upgrade their approach to value creation", something which Salovaara seeks to tap into: "The value-creation strategies of GPs [general partners] is very important. For instance, buy-and-build has been a successful approach," she says.  
One result of these value-creation strategies is that holding periods are increasing, as managers seek to optimise their assets. Hansen says: "We make very long-term bets, the investments we make today, will seek to deploy the capital over the next three to five years and exit again in the following three to 10 years." 
"We're likely to see these areas continue to be high growth because of the substantial demand"

Chirag Patel
Investors can either access PE tech through funds or directly. "Historically, most pension funds went through funds of funds to get their PE exposure," says Patel. "Now they are being more granular in their allocations and so able to gain more targeted access to specific sectors. Most VC [venture capital] in the space is very geared to technology. Early stage investment does, of course, come with a higher risk than more mature opportunities." 
So far, only the large funds that have the necessary in-house investment expertise are going direct. Smaller funds are still going through funds and funds of funds, he says. Ilmarinen has been investing in PE funds since 2000 and co-investments since 2010, "the first of these being in a software company", says Salovaara.
More opportunities and higher demand have spawned an increasing number of specialist tech funds in PE, including Softbank, Vista, Silver Lake, Symphony Technology, Francisco Partners, Accel-KKR, Thoma Bravo. 
Social media and commercialisation of other data-driven information solutions are high-growth areas, says Patel, adding: "While the commercial and investment opportunity in these sectors is increasingly evident, recent issues such as those around Cambridge Analytica have highlighted the need for greater regulatory involvement and clarity, which should in turn create an environment for accelerated growth in the big data space."
Between 2012 and 2016, funds made most tech investments in software ($152bn) and services companies ($110bn). The next largest sub-sectors – networking ($44bn) and hardware ($38bn) – are a long way behind.
Growth areas include cryptocurrency, and artificial intelligence, covering everything from service delivery process automation through to sophisticated 'intelligent' product development, says Patel, concluding: "We're likely to see these areas continue to be high growth because of the substantial demand."
So how are investors getting exposure at sector level? Hansen is wary of over-specialisation, explaining: "We generally don't invest in highly specialised funds: 10 years ago it was cleantech, now it is cryptocurrency and blockchain. With these areas, a few first movers make high returns in the beginning, but once it starts to be mainstream, it is too late and you risk incurring huge losses. This happens because too many companies receive funding and the capital raised far exceeds the opportunity. You are better served with broader investment focuses, where the goal of your manager is to complete only the best deals."
Salovaara agrees, adding: "We don't take a view regarding sub-sectors, but go after opportunities in a broader way, working with managers who have strong experience and knowledge of the tech market."
Hansen says the same applies with regional focuses: "If too narrow, you end up with perhaps the best Danish AI company, or the best British fintech company – but what does that matter if there are 10 other better companies in the same spaces in Norway and Spain?"
Rich valuations remain a concern, as does the fact that we are late in the investment cycle, but PE is far from being alone in this, let alone its tech component. State Street's Patel reckons there is still a lot more to play for: "While the market is crowded due to the amount of activity in the space, it is hard to describe it as overvalued, given the size of the addressable market and how much remains to be done." 
Tech, it seems, still has a fair bit of the world to devour and as yet shows little sign of suffering indigestion.