Italy: Early retirement tops the agenda
Italy's government responds to calls to increase flexibility in accessing the state pension, while second-pillar schemes search for solutions of their own 
Regulation in summary
• The 'Anticipo Pensionistico' (APE) allows early retirement through individual loans that cover missing contributions.
• The government needs to find breathing space within the Budget to finance the plan.
• Second-pillar pension schemes are discussing automatic-enrolment measures and demanding lower taxation. 
• Covip, the regulator, has proposed a more flexible framework for contributions to the second-pillar system.
The government has tabled proposals for an overhaul of the Italian pension system, after several years of regulatory activity that have introduced small but significant measures. 
The government is looking for ways to provide for those who want to retire earlier than the statutory term, which, from 2018, will be 66 years and seven months for both sexes. Italians have voiced their anger at the rising retirement age limit, perceived as too demanding and partly responsible for the high level of youth unemployment. 
Thanks to the 2012 Fornero reform, Italy's public pension system is deemed to be sustainable for the long term. The reform shifted the system to a fully notional defined contribution (NDC) one but raised the retirement age and cut benefits. Temporary deductions on higher pensions were also introduced to balance public accounts. 
In recent years, lawmakers have focused on revitalising the country's sluggish economy with measures that focus on stimulating consumption, while developing the pension system. In 2015, a law allowed workers to access part of their statutory severance pay package prior to termination of employment. This was meant to boost spending by Italian workers. 
The severance pay package, known as 'Trattamento di Fine Rapporto' (TFR), is used by many to top up the state pension after retirement, or to transfer to occupational or private pension funds. The opportunity was largely ignored, and few cashed out on their future pension money.
Other recent measures involved higher taxation for occupational pension schemes. This was counterbalanced by a provision for tax credits for pension funds that invest in the real economy, but the rules on such tax credits are perceived as being overly complicated, and few pension funds have taken advantage. 
The government's proposal, which the country's trade unions are debating, is to allow workers who want to retire early to borrow money to finance missing contributions to the system.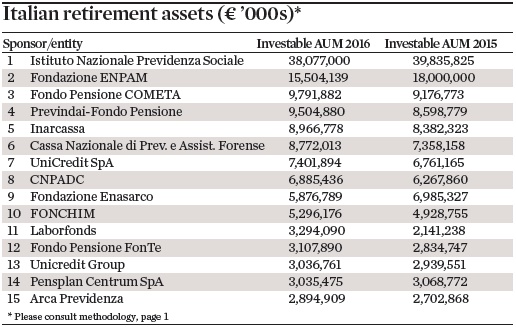 The 'Anticipo Pensionistico' (APE), which could be approved as part of the 2017 Budget law, would initially apply to workers born between 1951 and 1953. They would be allowed to retire before reaching the statutory age or contribution requirements, and the benefits supplied before they reach those requirements would be financed through individual low-rate loans. 
These early retirees would start repaying the loans once they reached retirement age. The loans would be backed by the Istituto Nazionale della Previdenza Sociale (INPS), the public pension and welfare fund, which would act as a bridge between workers and the financial institutions extending the loans.
The APE would not immediately be available to all workers, and would result in further long-term deduction in benefits. But it is seen as a possible answer to the increasing retirement-age requirement. The government claims there is scope within the state budget to cover the initial outflows from the system, expected to be €500-600m for the first year.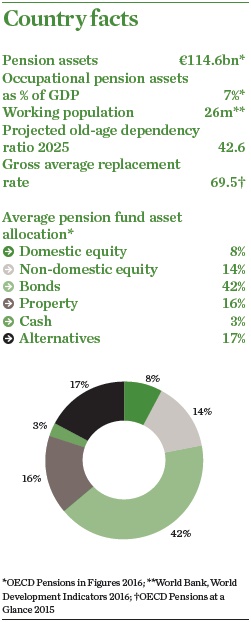 The state would have to sustain an estimated total expense of around €7bn over 10-15 years to finance the APE before deductions on future benefits absorb the outflow. However, a number of experts – including Tito Boeri, chairman of the INPS – have pointed out that the plan would not be allowed under European rules that do not allow future budget savings to be accounted for in current budgets. 
The full proposal for access to early retirement will be presented in the 2017 Budget law, expected this autumn. Recent regulatory activity has partly focused on broadening the reach of second-pillar pension schemes. 
A number of collective-labour, contract-based pension schemes have autonomously implemented a form of automatic enrolment, where stakeholders have agreed that employer contributions – but not the statutory severance pay funds – would flow to the pension funds. As a result, many employees of small and medium-sized enterprises and co-operatives, and construction-sector employees, employed under the main national labour agreement, receive and employer second-pillar pension contribution. Similar discussions are taking place in other sectors.
Covip, Italy's pension industry regulator, has said contributions to second-pillar schemes be made more flexible. It recommends employees be required to contribute only a portion of their TFR to pension funds, so the decision to join a second-pillar scheme does not deprive employees and employers of an important source of short-term financing. At the moment, employees can only choose between contributing TFR in full, or keeping it with their employers and accessing it at termination of employment. 
Parliament is likely to discuss the proposal as part of further examination of the 'decreto legge 2085' (DDL 2085), which contains, among other measures, important provisions for competition in certain industries, including the pension industry. According to one provision in the DDL 2085, employees would be allowed to carry their employer contributions freely between sector pension schemes and other private schemes. 
Trade unions and other stakeholders believe this measure will undermine the occupational second-pillar sector in favour of third-pillar arrangements. It is technically still under discussion, although it clashes with the trend of collective-labour, contract-based pension schemes implementing auto-enrolment.