Norway: Simplified Solvency II rules are on the cards
Pension funds will continue to operate under Solvency I rules this year, but there are plans for Solvency II-type requirements by 2018 
Regulation in summary
• Norway proposes introducing a simplified Solvency II requirement for pension funds in January 2018.
• Pension institutions already set aside 90% of the overall requirement for increased longevity provisions.
• New rules on disability pension schemes in tax-favoured private occupational schemes are geared towards National Insurance principles.
While the final form of the EU's long-debated IORP II Directive does not contain solvency capital requirements for the union's pension funds – unlike Solvency II for insurers – Norway does propose introducing Solvency II-like capital rules for its pension funds.
The current solvency requirements – those of Solvency I – are being retained for pension funds during 2016 and 2017, according to the Nordic country's financial supervisory authority Finanstilsynet.
But by January 2018 it is proposed that a simplified Solvency II requirement be introduced for pension funds.
This proposed requirement is based on an adjusted version of the first of the two stress tests pension funds have to report to Finanstilsynet on a quarterly or half-yearly basis, depending on their size.
The test calculates the potential loss on all relevant risks related to buffer capital.
Finanstilsynet points out that this test corresponds to the main requirements of Solvency II and is familiar to pension funds.

In the meantime, it says, risk-based monitoring of pension funds will continue until 2018.
The Norwegian finance ministry has said the new capital rules for pension funds may need to differ slightly from those for insurers – for example, regarding the effect of deferred taxes and the definition of capital.
It has also said the capital requirements might need to be further adjusted according to the size and nature of each pension fund.
In its 2016 risk outlook report, Finanstilsynet noted that the European Insurance and Occupational Pensions Authority (EIOPA) had emphasised that the opinion on a harmonised framework for risk assessment and transparency that it sent to EU institutions in April 2016 did not entail a new capital requirement. 
But the Norwegian regulator commented in the report that EIOPA's opinion may still be a first step towards a new European solvency framework for pension providers, although it said this looked to be a matter for the future.
The new mortality base table (K2013) established by the Norwegian financial regulator, which took effect at the beginning of 2014, entailed a big increase in the technical provisions pension funds and life insurers were required to hold.
In its 2016 risk outlook report, Finanstilsynet said pension institutions had already accounted for about 90% of the overall requirement for increased longevity provisions, and what remained of the need for increased provisioning referred mainly to paid-up policies.
The new mortality base table led to an increase of nearly NOK60bn (€6.4bn) in pension institutions' technical provisions – including NOK41-42bn for life insurers and NOK17-18bn for pension funds, although the increase needed for the latter group was reduced in 2015 to NOK11.5bn.
On 1 January 2016, remaining needs were around NOK500m, according to the regulator.
One change that has happened in the last year potentially affecting Norwegian pensions regulation is the annulment on 1 January 2016 of Finanstilsynet's authority to set the highest permitted guaranteed rate of return for life insurers to calculate premiums and associated technical provisions in collective annuity and pension insurance products.
At the beginning of January 2015, this rate was reduced to 2% from 2.5%. However, it has now been proposed in the draft new regulation for pension funds, that the regulator retains authority to stipulate the maximum guaranteed rate of return for pension funds.
Norway has adopted new rules on disability pension schemes within tax-favoured private occupational pension schemes as part of the Act of 22 May 2015 No. 31 on Amendments to the Occupational Pensions Act etc.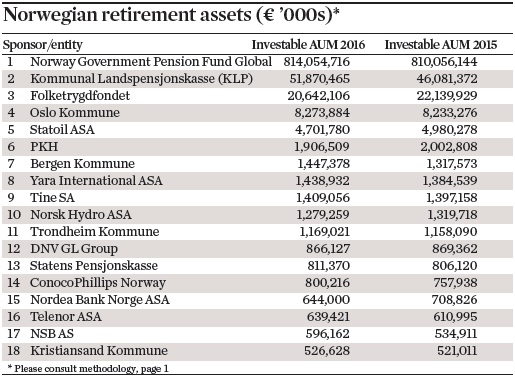 The new rules are geared towards the main principles of new disability benefits under the National Insurance regime.
Finanstilsynet was commissioned by the ministry of finance to draft supplementary regulations to the new law provisions, and these came into force on 1 January 2016.
In connection with this, the disability pension component of existing pension schemes will be wound down by 31 December 2016.
Pension funds have also been included in a new Act of 10 April 2015 on financial undertakings and financial groups (Financial Undertakings Act), which came into force on 1 January 2016.
This is a statute covering all financial institutions, including pension funds, which broadly continues current rules but takes new European legislation such as the Solvency II Directive into account.
It contains 270 enabling provisions for new regulations, Finanstilsynet says, but many existing regulations can be retained.
Norway's Act on Occupational Pensions (Hybrids) has been in force since 1 January 2014. 
The collective occupational pension products allowed are to be premium-based, with a guarantee against falls in the value of personal pension assets, according to Finanstilsynet, which says the new hybrids give providers a much lower rate-of-return risk and longevity risk than do traditional defined benefit plans.