The Netherlands: Still brooding on a new system
All stakeholders continue to work on creating a sustainable Dutch pension system 
Key points
• The four parties negotiating to form a government are likely to come up with a plan for individual choice in pensions.
• Transition costs to a new system are estimated at €60bn.
• The outgoing government has approved a bill enabling workers to cobine small pension entitlements.
While four political parties are negotiating a new Dutch government coalition, including an outline for a new pensions system, the Social and Economic Council (Sociaal-Economische Raad, or SER), is still devising a new pensions contract. The agreement is meant to be the backbone of a sustainable new system.
The four parties – the liberals (VVD), Christian democrats (CDA), liberal democrats (D66) and Christian Union (CU) – are likely to come up with plans for individual choice for tailor-made pensions and proposals for part-time workers' pensions, as well as for self-employed workers. However, the four parties combined have the smallest majority possible in the lower house and might struggle to get plans approved.
<
Meanwhile, the SER is still pondering its final proposals for a new pensions contract. Based on the information available at the end of June, the social partners have narrowed their preferred arrangements to a combination of defined contribution (DC) in the accrual phase and defined benefit (DB) after retirement. They also want to keep a degree of collective risk-sharing between the generations of participants.
The new pensions contract will probably be added to the various existing pension contracts rather than replacing any of them. However, MPs from several political parties have already expressed concerns about the new pensions system becoming too complicated.
The SER has been pondering the ideal pensions contract for two years. The delay is apparently the result of the members of the unions, who are reluctant to agree to new arrangements for fear of losing the traditional principles of collectivity, solidarity and mandatory participation of the current system. However, the advisory body is coming under increased pressure to produce a final result, to enable the negotiating government partners to integrate its crucial advice into their plans.
The current average pensions accrual (doorsneeopbouw) is likely to be replaced by a degressive one, which enables younger participants to build up proportionally more pension rights, as their contribution is to generate returns for longer. Jetta Klijnsma, the outgoing state secretary for social affairs, recently confirmed that the average accrual is to disappear.
However, there is still the hurdle of the transition. The Netherlands Bureau for Economic Policy Analysis (Centraal Planbureau, or CPB) has estimated transition costs at €60bn. No public discussion has taken place yet about how to finance such a project. The current average pensions contribution (doorsneepremie) is to stay.
The outgoing Dutch cabinet has approved a bill that allows mandatory sector-wide pension funds to merge for benefits of scale (Wetsvoorstel fuserende bedrijfstakpensioenfondsen), even if their funding differs considerably. To protect the pension rights of participants in schemes with the highest coverage ratio, the merger partners can keep their assets separated for up to five years. During this period, the partners can gradually reduce any gap between their respective funding.
The bill, which still has to be tabled in parliament and details of which have not yet been published, is scheduled to come into force in January 2018. However, Klijnsma has already made clear thatt he  supervisor, De Nederlandsche Bank (DNB), has to approve any merger plan. She also said the new pension fund resulting from a merger could not have a wider scope than the merger partners themselves, and that there must be coherence between the sectors brought together in a new scheme.
In the opinion of René Maatman, pensions lawyer at De Brauw Blackstone Westbroek, the cabinet should also enable merged schemes to keep assets ring-fenced for an indefinite period in collective compartments, as in the new general pension fund (APF). At the moment, mandatory sector schemes are not allowed to join an APF.
The bill is not on the list of controversial subjects that will only be discussed after a new cabinet has taken over from the outgoing one.
The outgoing government has also approved a bill (Wetsvoorstel overdracht klein pensioen) that enables workers to combine small pension rights, at different pension funds and insurers.
Until now, pension providers are entitled to force employees to prematurely buy off annual pension rights of less than €468, to avoid the relatively high administration costs of these small pensions. As workers tend to change jobs more often and accrue pensions at various employers, the problem of small pensions has increased. The problem is most acute for people in temporary employment as well as in the hospitality and cleaning sectors.
The bill is the result of agreement between pension funds, insurers as well as the social partners of employers and unions. Details have not yet been published, as the concept legislation still has to be tabled in parliament.
Last year, Klijnsma suggested that she wanted to change providers' right to a buyout into an obligation to transfer small pensions to a worker's new pension fund. At the time, she said that the transfer could also be to the provider where the worker had accrued most of their pension rights.
The bill is not on the list of controversial subjects that will only be discussed after a new cabinet has taken over from the outgoing one. The legislation is scheduled to come into force in January 2018.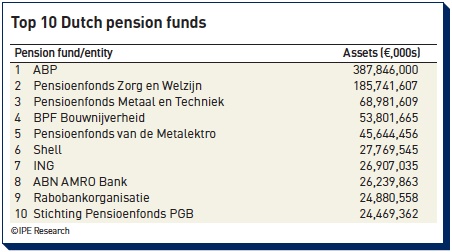 Last September, new legislation came into force allowing variable benefits in defined contribution arrangements. The aim of the Wet verbeterde premieregeling is to increase the perspectives for a higher pension. Until then, pension capital accrued under a DC contract (premieovereenkomst), had to be fully converted into fixed annuities at retirement date.
The philosophy behind the new legislation is that the current low interest rates would lead to low lifelong benefits for retiring workers. This group can now opt for converting part of their pension capital for a 10-year period, while the remaining part remains invested and generates returns. They can also receive variable benefits ahead of an agreed age after retirement. The option of fixed annuities, however, remains. Providers do not have to offer both fixed and variable benefits until January 2018.
Through an additional Bill (Verzamelwet Pensioenen 2017), the government wants to introduce the option of gradually rising benefits – albeit from an initial lower level – to higher payments at a higher age. The legal proposals also provide for extending the period over which the effect on benefits of economic head or tail wind can be smoothed out, from five to 10 years.
Company pension funds with more than €1bn of assets must also introduce a permanent supervisory board (Raad van Toezicht or RvT) for improved internal supervision. Three years ago, an RvT became mandatory for sector schemes with a paritarian or independent board. The issue is also covered by the Verzamelwet Pensioenen 2017, which has been put to the Senate for approval.
Parliament is examining an initiative bill – tabled by party for the elderly (50PLUS) – to temporaryily increase the discount rate for pension funds' liabilities to at least 2%. The current prescribed discount rate – linked to the market interest rates, with the application of an ultimate forward rate (UFR) – is approximately 1.5%. The aim of the proposal is to raise the discount rate for a maximum of five years. The measure is meant to increase pension funds' coverage ratio and reduce the chances of rights cuts.
Parliament is to decide about an implementation order from finance minister Jeroen Dijsselbloem, to earmark pension funds with assets of more than €10bn as 'organisations of public importance' (Organisaties van Openbaar Belang or OOB). The measure is meant to reinforce the audit regime and includes the introduction of an audit committee. During a consultation, the civil service scheme ABP (€389bn) and the healthcare scheme PFZW (€187bn) opposed changes to their board structure. They argued that they had recently adjusted their board set-up, following new legislation for pension fund governance. The AMvB is to come into force in January 2018.
Henk Kamp, the outgoing minister of economic affairs, has announced a dialogue with stakeholders, including pension funds, about protective measures against hostile takeovers of Dutch companies. He wants, among other things, to introduce a legal period for reflection. His initiative was triggered by the persistent efforts of US paint firm, PPG Industries, to mount a hostile takeover of Dutch multinational Akzo-Nobel.