Multi Boutiques
Can multi-affiliate boutique structures combine the benefits of consolidation with the cultural advantages of smaller, focused managers? 

Key points
Boutiques show evidence of outperforming, giving a rationale for multi-boutique structures
Strategies vary immensely but a common factor is to ensure alignment of interests
Pure multi-boutique structures are scalable in nature 
The investment management industry, by common consensus, is bifurcating between mega firms offering a wide range of active and passive products, and small, specialised boutiques. And there is strong evidence to suggest that boutiques outperform large firms. 
So where does that leave the mid-sized firms? Many will, of course, struggle to differentiate themselves. Others can survive and prosper by adopting multi-affiliate or multi-boutique structures.
Acquiring boutique firms is a different proposition to acquiring teams and integrating them within a larger organisation, which is a typical strategy for mid-sized firms. The rationale for the latter is clear – it enables new teams to take advantage of central research capabilities, data science investments, new trends such as ESG, and the credibility that large organisations may have in gaining direct access to senior management in investee companies. Acquiring boutiques can still allow them to remain, to some degree, independent of the parent organisation, with the degree of independence often dependent on the reasons for the acquisition.
At one extreme among the multi-afilliate players lies BNY Mellon Investment Management. It is one of the largest asset managers in the world with 100% ownership of the likes of Alcentra and Walter Scott & Partners but also much larger entities like Insight Investments which manages €691bn.
BNY Mellon has allowed the wholly owned subsidiaries to operate independently most of the time, but they do share some office locations and some centralised marketing. There is a BNY Mellon branded range of funds managed by different subsidiaries and as the recent merger between The Boston Company and Standish-Boston shows, there is the possibility of some major restructuring. 
Generali Asset Management embarked on a multi-boutique strategy in 2017, and late last year it acquired the Paris-based ESG specialist Sycomore.
At the other extreme, lies 'acceleration capital'. Investment funds take a minority equity interest in boutique businesses in exchange for making significant investments in their funds, thereby enabling the boutiques' total AUM to achieve sufficient size to pass minimum AUM thresholds for other potential investors. 
Between these extremes sit other multi-boutique structures. The driving force behind acquisitions varies, but a common factor is alignment of interests between the boutique and the investor/owner before any transaction is undertaken.
"What is really important is getting out there and spending years with these firms so that you understand the partnerships, their strengths and the people," says Jay Horgen, president and CEO of Affiliated Managers Group (AMG), the US listed multi-affiliate asset management group. That takes time, but it means that when founders and partners are ready to retire, they are comfortable with AMG taking the opportunity to purchase a portion of their shares. That facilitates generational transfer of ownership given that the high valuation of the shares would make it difficult for their own younger partners to completely buy them out. "In all cases, we try not to buy too much of a firm because we want to stay aligned with the future generation," says Horgen.
Buy to build
At its simplest, an acquisition – such as that of London-based quant house Wadhwani Asset Management by US-based QMA in 2018 – can fill in a gap in a firm's own capabilities without going through the laborious and uncertain approach of building organically. It still took QMA a year to get to know Wadhwani well enough to ensure there was a good enough fit to complete the deal, says Andrew Dyson, CEO of QMA. 
QMA's quant approach focuses on longer term signals and the firm was looking to supplement that with a shorter term approach. Dyson sees four key elements for a perfect fit: first, the boutique had to be a good quality business; second, there had to be a strategic fit with the existing business. "We were looking for something we did not have and we also wanted to grow outside of the US."
Third, the investment philosophy had to be consistent with the rest of the business – in this case, investment signals had to have an economic or behavioural rationale to guard against data mining. And fourth was human fit: "We operate as a team and have no tolerance for 'difficult individuals'," says Dyson. 
QMA's approach can be seen as an opportunistic acquisition to supplement in-house capabilities. Most multi-boutiques make multiple acquisitions by design. Northill Capital, for example, was set up by Jon Little – backed by the Bertarelli Foundation – with the intention of investing in boutiques and a philosophy that the ideal manager would have only one product or one core process operating in one asset class. 
That, Little argues, exploits the fact that large firms have often started as boutiques and then diversified to grow, but have ended up losing their investment edge. This limits the size a boutique that Northill owns can grow to, dependent on the asset class it operates in – $40bn (€35.6bn) may be the capacity for a US large-cap specialist, but £2.5bn might be more appropriate for a UK small cap manager. The driver for such acquisitions is, again, usually a succession issue as the founders of boutiques seek to pass on ownership to the next generation. 
Northill typically purchases 55-65% and then guarantees to act as a market-maker for shares independently valued thereafter, enabling future generations of management to gain the benefits of share ownership. Northill's strategy has led to stakes in seven firms so far and Little does not see the firm growing much beyond eight. Northhill also offers sympathetic support and advice, with some help in distribution, according to Little.
Seeking permanence
A typical multi-boutique approach can be seen in Fidante Partners, which has permanent partnerships, largely in the form of minority stakes, with 16 specialist boutiques. It is owned by Australian financial services group Challenger and began life supporting Australian equity and fixed-income boutiques, explains PeterPaul Pardi, head of EMEA and North America for Fidante Partners. 
In 2015, Challenger acquired the European alternative investments group, Dexion Capital, expanding its geographic presence and asset classes under management. As part of a life insurance company, Fidante has the backing of a large balance sheet, but decisions on allocating funds to be managed by boutiques are taken independently in Australia by the life company.
Many firms and teams have asked Fidante either to help set up a new boutique or to develop an existing one, with Fidante taking direct equity or some form of long-term economic interest. Pardi says: "The core elements of what Fidante looks for are teams with a good track record of working together – in a small team, the dynamics between team members are critical." 
But the firm is also looking for teams and founders committed to developing a sustainable business rather than just cashing in. What Fidante can offer is not only working capital or seed capital, but also a cost-efficient operational platform and distribution in Europe and Australia. US distribution is also being explored. 
AMG is an example of a firm trying to exploit the strengths of boutiques as far as it can take them, and it has grown to become one of the largest global fund managers with about $800bn AUM. "We were born out of the succession business and we are all specialists in the formulation of operating agreements and human capital," says Horgen. 
AMG looks for business that want to stay independent and attract individuals to a partnership culture – something that AMG argues clients are willing to stay with long term.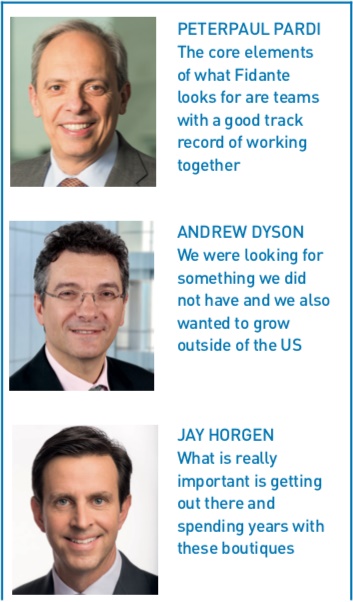 On average, AMG has a 50% stake in its affiliates. The other half is owned by individual partners, which AMG encourages for as long as practical given its strategy of acting as a perpetual partner to the boutique firms. That allows boutique management to remain independent and be recognised as such by investment consultants. 
This partnership model appears to be unique in that it relies on sharing revenues rather than taking equity stakes. It allows for a governance model that replaces the traditional structure of a board, budget and management plans. The revenue share is split into two components – operating costs and residual revenues that are split between AMG and the management team. 
Horgen says: "The real breakthrough we made years ago that has not been replicated is that the alignment of the management is through the co-ownership of that revenue which they are incentivised to grow. What is interesting about us only buying out half of a firm's equity is that the partners care a lot about the other half." That also takes some of the pressure off pricing acquisitions and gives AMG and incentive  to invest alongside its affiliates in areas like resources for distribution.
"Acquiring Boutique Firms Is A Different Proposition To Acquiring Teams And Integrating Them Within A Larger Organisation"
Where next?
For multi-boutiques there is no shortage of potential acquisitions – the boutique universe is large. AMG, for example, tracks 5,000 independent firms through data services and consulting reports. The difficulty is in finding the right partner. Fidante for example, has seen 80-100 boutiques over the past year but has invested in just two. Northill has seen 900 potential partners since 2010. 
Due diligence is a key issue for any multi-afilliate structure. Start-ups are rarely supported, although Fidante has been willing, if highly cautious. Northill has retreated from this area. "There are many individuals with good ideas, but whilst many have good investment skills, only a few have the skills necessary to run a boutique asset management organisation," says Ismail. This includes understanding what investors want; what is required to build the business; putting together a good team; and creating competitive differentiation. "The key founding team needs to be able to articulate their strategy and where it would fit to appeal to investors, and give confidence that they are able to actually execute that strategy." 
Size is clearly an issue for larger listed multi-boutiques. AMG has a size threshold and would only generally consider firms with more than $5bn in AUM, and an enterprise value typically greater than $100m. This reduces the universe to 2,000, with about 500 firms that then pass AMG's quality threshold, leading to a list of about 100 potential acquisitions. 
AMG has a barbell strategy. At one end are good-sized sustainable franchises where it can pay a reasonable price over time –  which means erring on the side of larger transactions today. The other approach is where the firm is small but there is an opportunity for market growth and for AMG to sell the strategy in other jurisdictions.
Smaller multi-boutiques have no shortage of opportunities. But even a large listed firm like AMG sees few limits to growth through new partnerships: "The combined AUM of our short-listed 100 firms is in the trillions [of dollars] and the purchase price is in the billions of dollars. The reality is that we only need to get a small fraction of those focused firms to for us to grow our business," says Horgen. 
For AMG, that translates to just one or two transactions per year to grow significantly, which leaves plenty of opportunities for others to run with.