The DC industry needs to do more to address post-retirement challenges
Key points
Members are sleepwalking into retirement and choosing the path of least resistance
The industry has been slow to address the challenges posed by pension freedoms
The best approach is seen as income drawdown in earlier years and longevity protection later in retirement
Further policy initiatives are required to build consensus and provide clarity
Five years after pensioners in the UK gained greater freedom to use their defined contribution (DC) pots, last year's Defined Contribution Investment Forum (DCIF) report has found that many members are sleepwalking into retirement and choosing the path of least resistance.
This underlines the challenge facing pension providers: how do you ensure members retain flexibility and choice, while ensuring those members can manage both the investment and longevity risk over decades of retirement?
The industry has responded slowly to this challenge in terms of making product innovation. Current retirees can choose between taking cash, an income drawdown product or an annuity.
Sophia Singleton, head of DC consulting at Aon, says: "Pension providers have been focused on designing the best default fund with little energy spent on the post-retirement phase."
The lack of innovation is unsurprising – the current generation facing retirement is not reliant on DC. According to the DCIF, about a third of those interviewed had a defined benefit (DB) pension and more than a third had more than £50,000 (€60,000) in cash savings.
But that will change relatively rapidly. Singleton says: "In less than 10 years, the legacy of DB schemes will be diluted and members will be much more reliant on their DC pots."
The next generation to retire is likely to have much lower retirement savings. Singleton says: "While they have had DC most of their life, the savings rates are low because the industry did not engage with this cohort."
Scheme members aged 40 to 55 are effectively a lost generation. They have limited defined benefit pensions as many occupational schemes closed early on in their careers and it took the government many years to develop and implement auto-enrolment.
Singleton says: "There will be a double whammy for this generation: they will be more reliant on DC and have lower savings." The industry needs to engage with them now to increase their savings by producing more innovative retirement products, she adds.
It is likely the industry will be pushing at an open door if it develops a product that provides an income in retirement.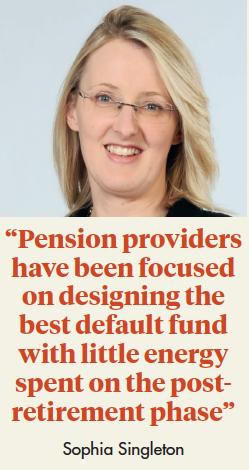 Zoe Alexander, director of strategy and corporate affairs at the €8.3bn (€9.8bn) auto-enrolment provider Nest, says: "Our research shows most members expect their pension pot to pay an income automatically." This is a reflection of the legacy of DB schemes and annuities, she adds.
When those same members are told about drawdown products, they are surprised by the level of complexity involved, she says.
Despite the lack of innovation, there is a consensus about the shape of an at-retirement approach. Scheme members need to have decent levels of income during the first two active decades of retirement and longevity protection for after 80.
Not only does this remove the burden of an unskilled person having to manage both investment and longevity risk, but it also prevents members from either underspending or overspending their pots.
Nest produced its at-retirement blueprint soon after pension freedoms were introduced in 2014. This blueprint included drawdown. The Department of Work and Pensions decided NEST should not be able to deliver drawdown itself, but said the decision was not permanent and could be reviewed.
Alexander says: "We think the industry should develop ways to support millions of DC members transitioning from saving and investing into a pension to living in retirement with a sustainable income."
The idea is to turn a DC pension pot into an income stream with minimal interaction from the scheme member.
Members would be offered guidance to ensure they understand the choices. There should be a core option delivering a sustainable income, which should feel close to a default, even though it has been selected by members.
Alexander says: "It would be consistent with freedom and choice as members could opt out at any stage. The money would stay invested, in the same way it does in current drawdowns on offer." The trustees would then make a judgement about what a sustainable income level would be for each member and then devise a product to pay this out, she added.
In addition, this product could also provide a small pot of cash for members to take tax-free on retirement as well buying later-life protection. This could take the form of deferred annuities or even a mortality pool.
One of the few providers that attempts to address these issues is Legal & General Investment Management. Emma Douglas, head of DC at LGIM, says: "We have developed a very simple retirement framework which we call 'four pots for your retirement'."
The first pot is to fund the early years of retirement. Douglas says: "We're assuming retirees will spend the first 15 years wanting to enjoy no longer working; they will travel and be active."
In later retirement, when people start to slow down, their spending will be curtailed as they spend more time at home. Douglas says: "During this period, members will need some level of certainty to ensure they do not outlive their savings." This can be provided by an annuity.
The other two pots consist of a 'rainy day' fund – so there is a pot of money for one-off expenses. Douglas says: "This should help people to avoid underspending in retirement as it will provide reassurance [that] money has been set aside for emergencies."
The final pot is for inheritance. Douglas says: "By getting people to think about what sum they would to leave to be inherited, this also ensures people spend the bulk of their pension pot during retirement."
While most providers have come to the same conclusion about how to solve the at-retirement conundrum, some think a clear policy direction is required to give the industry the impetus and reassurance required to address the issue.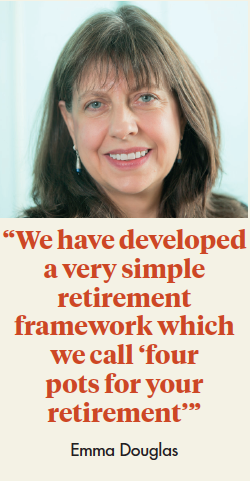 Tim Gosling, head of pensions policy at the People's Pension, says: "We think there is a need to return to the Pensions Commission model of devising policy to develop a consensus."
This would help address some of the issues surrounding adequacy, and the relationship between adequacy and retirement products, he adds.
Gosling says: "There is an assumption people will stop taking small DC pots as cash and start consolidating their small DC pots and then by buying a retirement product – either drawdown or an annuity – or both."
That would be a sensible thing to do but there are many reasons why it may not happen. Gosling says: "People may not feel they have enough money saved in small DC pots to make product selection worthwhile."
For example, they might assume £75,000 is more valuable as 10 sets of £7,500 payments than a £3,000 income boost to the state pension. In addition, there may be no easy way of taking a regular income from a DC pension that addresses longevity, investment and sequencing risks.
Gosling says: "A commission would be able to address both issues and, indeed, the linkages between the two."
The People's Pension is not alone in maintaining that a clearer policy initiative is required. Last year the Pensions and Lifetime Savings Association produced its 'Hitting the target' report that took a close look at what was being provided for DC members at retirement.
George Currie, policy lead at the Pensions and Lifetime Savings Association, says: "We think a new framework is required for members in retirement, which is supported by a new process and principles."
This included helping members – where possible – to make active decisions. Suitable options should be well signposted. And those solutions should be selected by an independent body, such as a trustee board. Any solution should also have to conform to a set of government mandated principles, he adds.
Currie says: "That would provide a safe harbour for trustees so they would have the confidence to signpost savers to appropriate solutions."
A more clearly defined policy initiative could help the UK to avoid the lack of progress in those markets where defined contribution has existed for many decades.
Douglas says: "While pension providers in both the US and Australia have come to the same conclusions as the UK about the way to address the retirement market, no-one in these markets has yet developed a viable product."
PEPP: Time to get personal
1

2

3

4

Currently reading

UK: More needs to be done to address post-retirement challenges