The rise of index investing raises important question about ownership rights and governance
Are index funds the lazy owners of companies, allowing unaccountable management to drain dynamism from the economy?
Or are they becoming too activist by venturing into controversial areas of public policy that are best handled by regulators and politicians?
These questions have come to the fore as the rise of index funds has become a foundational trend, and they have doubled their share in pension portfolios in this decade.
Their critics hold that index funds do not exercise their voice or clout sufficiently when engaging with their investee companies. Nor are they designed to do so. By mechanistically targeting the performance of their chosen indices, such funds have neither the motivation nor the resources to improve the performance of the individual constituent stocks. The result is ownerless companies.
Their supporters retort that, since index funds cannot divest their positions in poorly performing stocks, they are forced holders of the shares they own. They have every incentive to exercise their stewardship role to boost beta via the sheer weight of their shareholdings. They are the ultimate long-term investors.
This debate has intensified with the emergence of yet another foundational trend: the headlong rise of environmental, social and governance (ESG) investing, following the worldwide adoption of the UN's Sustainable Development Goals (SDGs) in 2015. Among other things, these require strong corporate engagement to a degree previously unimaginable.
Unsurprisingly, so far the debate has been dominated by active and passive asset managers or academics supporting either camp. But the reality is more nuanced. It is time to widen the scope of the debate by soliciting the views of the biggest users of index funds – pension plans.
Many among them increasingly demand that their money is run within holistic guidelines that emphasise non-financially material factors as well as financially material ones. To them, passive funds should not mean passive owners.
In response, index managers have started promoting stewardship in earnest on behalf of their clients over the past three years, according to the latest survey from CREATE-Research, Passive Funds and the Rise of Stewardship.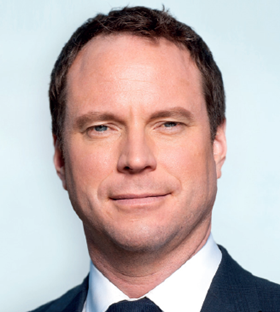 Moving into core portfolios
Based on the usual adoption cycle of funds, 66% of our survey respondents report that index funds are part of their 'already mature' portfolio, a further 19% report that they are now in the 'implementation phase', 2% report they are 'close to decision making' and the remaining 13% are still in the 'awareness raising phase' (figure 1).
Since our 2018 survey, Passive Investing: Reshaping the Global Investment Landscape, the main change has been the increase in the proportion of pension plans that have migrated from awareness raising into the implementation phase.
The key drivers are their lower costs, their continuing superior performance over active funds in this decade and their ability to slice and dice the investment universe in search of new opportunities.
In the process, there is a growing separation of alpha and beta. Index funds are advancing into the core of a typical pension portfolio that targets beta returns, leaving specialist or illiquid strategies to generate alpha.
This separation is expected to continue over the next three years. According to our latest survey, only 10% expect negative annual growth and a further 12% expect zero growth. The remaining 78% expect positive growth – with 12% anticipating growth of 6-10% and a further 14% anticipating a rate of over 10%.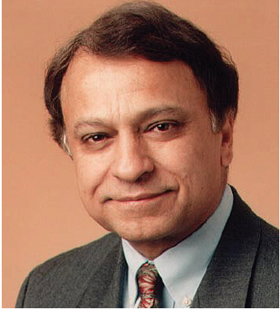 Of course, much depends upon how index funds will fare in a future market correction. For now, in that scenario, many pension schemes expect to increase their holding periods and rely on mean reversion to recover the resulting losses over time. We shall return to this point in the September issue of IPE.
The new normal
By their nature, index funds cannot deliver alpha, nor can their managers vote with their feet. Hence, pension plans are keen to enhance their beta quality via better stewardship that fosters an effective dialogue with investee companies to achieve certain targeted outcomes. The simultaneous rise of index funds and ESG investing is no coincidence.
This is essential since the pronounced concentration in the index industry gives its managers the requisite scale and reach to exercise their voice. Many index managers are among the pivotal shareholders in the firms they own, holding commanding votes in the largest quoted companies in all the key financial markets. Besides, they are also exposed to regulatory and reputational pressures to provide strong corporate oversight. As a result, they have become increasingly vocal in promoting sustainability goals linked to long-term value creation.
That these goals are also firmly anchored in the agenda of pension plans is underscored by the fact that 60% of them regard stewardship as 'very important', 38% as 'important' and only 2% as 'not important' (figure 2). There are four key contributory factors, as highlighted in the survey.
• First, the SDGs have highlighted all too vividly the ways in which the ecosystem of financial markets is changing with the emergence of new forces like global warming, artificial intelligence, mass migration and social upheavals. The risk universe is thus expanding into the unfamiliar space of fat-tail and far-off risks that are vital for companies to manage. The soft metrics of their performance matter as much as the hard ones.
• Second, 83% of our respondents say sustainable businesses need sustainable societies. This calls for a constructive dialogue on soft as well as hard areas that impact on the corporate bottom line and its long-term viability. Key areas include strategy, governance, risk, ethics, independent audits, supply chain management, corporate culture, human capital, climate change and societal needs.
• Third, 57% of respondents accept that their fiduciary responsibilities now extend beyond their members to include wider society. The legal element in their conventional 'licence to operate' is being reinforced by a moral one.
That means minimising the negative externalities that often result from day-to-day corporate activities and inflict uncompensated costs on the wider society in areas like carbon pollution, poor labour practices and governance lapses. Company boards need to not only be called to account but also held accountable. BP's Deep Horizon oil spill in the Gulf of Mexico in 2010 caused huge shareholder value destruction.
• Finally, 49% of respondents want to minimise reputational fallout from financial manipulations that eventually cause spectacular corporate collapses – like Enron, WorldCom, Lehman Brothers and Royal Bank of Scotland – that left their investors virtually penniless.
Currently, stewardship is perceived as a nascent phenomenon, on the whole. But its evolution has been gaining traction after the global adoption of the SDGs.
Early-stage scorecard
When asked the extent to which their index managers have been able to meet pension plans' stewardship goals in the last three years, views were divided: 19% cited a 'large' extent, 31% cited 'medium', 23% said 'small' and 27% said 'not at all' (figure 3).
The realists among them say stewardship as a relatively new concept whose DNA needs time and experience to evolve. The sceptics among them think index managers have a lot to do before they can be active owners in any meaningful manner.
The cynics among them doubt whether active ownership is possible, given the sheer number and range of companies covered by indices and their cumulative resolutions.
That the stewardship of index funds has more substance than hype is not in doubt; nor that it is getting more muscular. Corporate management now reportedly faces a more attentive and demanding but also a more supportive shareholder base. Progress, however, has been moderated by a number of inter-related factors, as described in the survey.
To start with, there are too many companies in indices in global financial markets to allow effective engagement on the part of index managers (identified by 60% of respondents).
As a result, they have to rely on proxy voting advisers. But the extent to which such advisers work in the best interests of their end-clients remains unclear (52%). There are contentious issues around their decision-making, transparency, accountability and conflicts of interest.
The problem is compounded by the fact that there are no widely accepted definitions of engagement, templates for their adoption and metrics of their outcomes (62%). Nothing is black and white. Apart from big splashes, for many it remains unclear as to how engagement is done and what it delivers.
Besides, engaging investee companies in customised discussions requires a breadth of knowledge and depth of experience about pertinent topics like industry dynamics, their business drivers, their capabilities, their talent pool and their business culture – not to forget the subtle nuances around each of them.
Navigating these areas requires year-round conversations instead of just annual general meetings that go well beyond setting minimum standards of business conduct. It costs time and money. This could raise fees (48%). Much of engagement so far has been a matter of 'best endeavours' on the part of index managers. Significant activism will take time and resources.
But one thing is clear. Index managers' stewardship effectiveness will not only become a key barometer of their business culture. It will also be a key point of competition.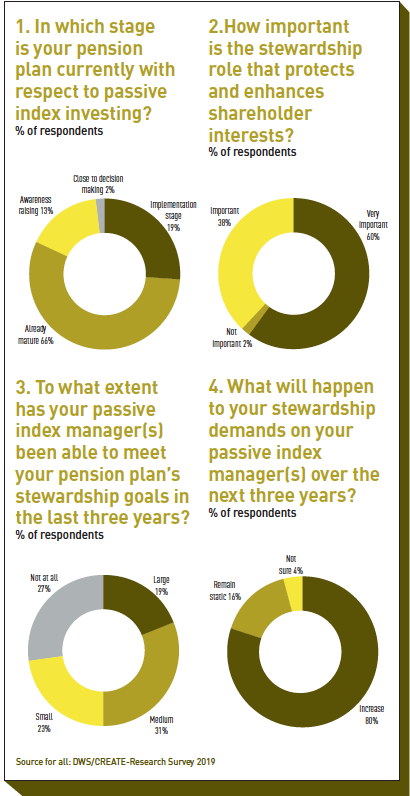 Back to basics of investing
Factors driving stewardship are set to intensify, as investors enter a low-return high-volatility setting, ushered in by the unwinding of the crisis-era ultra-loose monetary policies.
Unsurprisingly, therefore, 80% of respondents expect stewardship demands on their passive managers to 'increase', 16% expect them to 'remain static', 4% are 'unsure' and none expect a 'decrease' (figure 4).
Stewardship is no longer just a nice-to-have. Equity markets are no longer conduits between savers planning for a decent retirement nest egg and corporates that deploy savings to create wealth, jobs, skills and prosperity. Instead, they mostly promote the second-order trading of existing assets, with the main focus on trying to anticipate the behaviour of other investors. This has little to do with actual investing.
The global financial crisis has woken investors up to the design faults that produced it. A key fault has been the lack of alignment between equity ownership and the long-term health of the company.
Concluding remarks
Stewardship is thus seen as a means to revisit the basics of investing and restore the core mission of financial markets. It is set to become a key point of competition in the index industry, especially since large pension plans in France, Germany, Japan, the Netherlands, the Nordics and the UK now insist that their investments are backed by best practice stewardship guidelines as much as strong in-house stewardship teams at the index manager end. Our next article in this series will highlight the required best practices.
Amin Rajan is CEO of CREATE-Research and Simon Klein is head of passive sales, Europe and Asia Pacific, at DWS